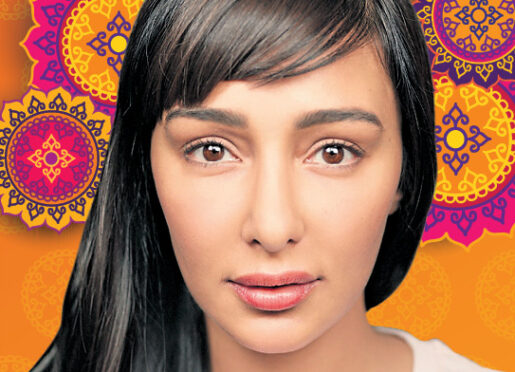 Apricots and peaches swing from sunny market stalls as a gleaming van screeches to a halt beside a crashed car, and two men drag the driver out and bundle him into back of their wagon, before roaring off at top speed.
It's an intense street scene in Iran, but the location is actually a side street in Glasgow city centre. Until the end of the month, crews for the action blockbuster Tehran are filming in the city with one of India's biggest screen stars racing cars and dodging bullets.
Scotland has been enjoying an Indian summer… thanks to the multi-million pound Bollywood movie industry, Mumbai's answer to Hollywood. Their Film City is big business: the Indian film industry is the largest and most successful on the planet. More than 2,400 movies were produced in 2019, according to the Central Board of Film Certification, attracting audiences of up to 15 million a day.
Glasgow may not seem to have a lot in common with Mumbai. It's as wet as India is dry, and there are a distinct lack of peacocks, tigers and dazzling ranks of dancers, but it's currently enjoying a boom as a Bollywood film location since the pandemic with films like Bell Bottom, Blind and now Tehran swapping Gorai Beach for Govan.
Scotland has been on Bollywood's radar in the past, with the 1998 Bollywood blockbuster Kuch Kuch Hota Hai (Something Happened In My Heart) acting as its breakthrough moment.
A love story about three students – Kajol, Rani Mukerji and India's answer to Brad Pitt, Shan Rukh Khan – it became a huge Bollywood hit, sweeping the Indian equivalent of the Oscars.
Yet at the time colleagues thought movie mogul Yash Johar was crazy to fly the cast to Scotland to film a six-minute sequence that appeared half way through the three-and-a-quarter-hour long film.
However Yash had noticed that the world was waking up to Scotland's striking scenery after Oscar-winning Braveheart, and decided to shoot a key scene here – the dream music routine when they play the title song. The romantic sequence used Tantallon Castle, East Lothian, Blackrock Cottage next to the ski lift in Glencoe, as well as Black Ness Castle and Crossraguel Abbey, with Ross Priory on Loch Lomondside doubling as an Indian university, with 20 Scottish Asians playing students.
He hired a helicopter to capture aerial views of Buachaille Etive Mor in Glencoe, and even rented a rain-making machine because, astonishingly, he had chosen the one week when the Highlands stayed dry as a bone.
Heart throb Shah still has a soft spot for Scotland and its dramatic views. "Edinburgh is steeped in history and culture and the Highlands is certainly the most photogenic area I have ever filmed in," he says. "The green pastures, the serene lochs and the magic in the Scottish summer sky are to die for."
For a while Scotland became a popular location for Indian film production companies who could use the Highlands as a substitute for Kashmir, and loved the castle and Arthur's Seat in Edinburgh. Former Miss World Aishwarya Rai danced in front of the ramparts of Eilean Donan Castle, near the Isle of Skye.
In Pyaar Ishq Aur Mohabat (Love, Love and Love) Aftab Shivdasani lives in a Scottish castle, wears a tartan jacket, goes clay-pigeon shooting, has a butler to pour him generous helpings of whisky, sports a falcon on his arm and welcomes a visitor from India with a pipe band. Even former First Minister Alex Salmond appeared in a Bollywood film, as a ghost. The widespread appeal of Bollywood also boosts interest in tourism among India's wealthy middle class and young business travellers.
"Bollywood has, for many years, had a love affair with Scotland's cities, castles, lochs and glens," confirms VisitScotland. "The films not only boost the local economy but seeing the locations on screen provides inspiration and motivation for visitors from India to make the trip. The appeal of Scotland to Bollywood filmmakers is such that we have used those Scottish links in past activity to engage with the Indian market."
The tourist board even produced a map for Indian film fans to follow a Scottish Bollywood trail.
However locations in Switzerland and eastern Europe have become cheaper since then, Prague in the Czech Republic also had beautiful buildings, while New Zealand can offer spectacular mountain scenery by the yard.
Bollywood seemed to lose interest in Scotland in recent years. Bids to use Historic Scotland properties for Indian spectaculars dried up. Then in 2020, the pandemic struck, and filmmaking everywhere shut down.
Bell Bottom was the first film in the world to be shot amid the coronavirus pandemic. A 200-plus Indian team chartered a plane from Mumbai to Glasgow, working under Scotland's Covid rules and social distancing regulations. The moment they arrived, they were put into 14-day quarantine at their hotels.
Why Glasgow? Before the pandemic, Hollywood had been dropping by to make use of its many versatile locations for everything from zombie rampages in World War Z to car chases for Fast & Furious.
It was cheaper and easier to get permission to film in Glasgow than London, and the Bollywood producers appreciated that the summer days are much longer than in other European cities, allowing more time to film.
Key locations included Glasgow's Barras market in the East End, and a 40-minute drive out to Prestwick airport. Glasgow City Council's banqueting hall became the office of the Indian Prime Minister.
Crews built props and backdrops at the back of their Govan hotel, astonishing locals as shooting range targets, flight announcement boards, and slick 80s gadgets were constructed in the August sunshine. Every night sets would be thoroughly and completely disinfected. Everyone went from hotel to the sets, then came back the same way. If even one person caught Covid, the production would have to shut down.
"We had to stick to one route only and were not allowed to go anywhere else in Glasgow," said a Bell Bottom crew member, "we had to socialise among ourselves."
Yet the stars say filming in Glasgow was one of their best experiences. Akshay Kumar one of Bollywood's most bankable stars, having appeared in more than 140 films, revelled in his relative obscurity, and the novelty of walking through Blythswood Square unnoticed.
Vaani Kapoor, who plays the devoted wife to Akshay's superspy, credits her Glasgow shoot as a life-changing experience at a fearful time. Despite the safety restrictions, she realised that she was "blessed" to be in Scotland and able to work. "Being in Glasgow, the place was pretty spaced out and the population isn't as much as back home" she said.
"I was busy and had something to look forward to every single day," says the star.
"I travelled to Glasgow to shoot, I hadn't been there before, and that was one place off my bucket list."
An action-packed hostage rescue thriller with more than a touch of the James Bonds, Bell Bottom features a heavily made up Lara Dutta as Prime Minister Indira Gandhi and a short appearance by a Margaret Thatcher lookalike, but the film's real mission was to give audiences a good time when cinemas re-opened.
It also again enthused Bollywood moviemakers to look at Scotland's potential as an exotic, inexpensive, hospitable location.
"Shooting in Scotland is actually easier than India," a Tehran crew member told The Sunday Post.
"The problem in India is that huge crowds gather to watch and that can be difficult because if they don't like something they see, they will even throw things at the set.
"In Glasgow people, are interested but they never got in the way. Your only drawback is the weather. We're used to blue skies every day in Mumbai!"
---
In Britain, I used to be told I didn't look Indian enough for roles but that all changed when I went to India
She is now one of Bollywood's biggest stars but Feryna Wazheir has revealed how British casting agents told her she did not look Indian enough.
The actress, from Glasgow, has starred in a series of blockbusters in India after building a successful career in front of the camera.
However, she told how, after training at RADA in London, she struggled to get parts here.
"They used to tell me I didn't look real enough for EastEnders or Coronation Street – and maybe I should try the American market," she said.
"For British cinema, when they want to cast an Asian they are looking for someone with much darker skin and I didn't really factor in. They want a much more southern Indian looking face, with much darker skin.
"I used to get told I didn't look Indian, but when I came to India, I got a completely different reaction, the opposite in fact."
The actress admits she still finds her success hard to take in. "Every time I walk onto a set, I still think, 'What am I doing here?' But the good thing about being Scottish is that I am very down to earth," she said.
"People come up to me and say they, 'I saw your movie' and I'm still surprised they know who I am. But it just goes to show how big Bollywood has become. It's worldwide now in all different languages. It's nice."
Wazheir, 32, found fame almost by accident. Born in Scotland to Kashmiri parents, Wazheir made her break in the industry after being spotted by photographer Farock Chotia while on holiday in India. She quickly established a successful modelling career and as offers started coming in, one thing led to another. "It was crazy," she said. "I remember stopping for a week in Mumbai and literally shot for Elle India, L'Officiel and Seventeen and a few others all in one week.
"I intended on staying a few more days and was offered film theatre work. All that happening in a short space of time made me realise the reaction to me was really good here."
It was certainly a career change for the girl who grew up thinking of a career in politics –or journalism. And even more of a surprise when it turned into acting.
"Acting was an interesting career choice," she said with a smile. "Initially I started studying law and psychology at Edinburgh University, but I quickly realised that wasn't what I wanted to do. Then I started communication, cultural and media studies which covered social psychology, popular culture and journalism, PR, photography and filming.
"I actually always liked being on the other side of the camera. I never planned on going into acting. I just fell into it naturally."
As a student in Edinburgh, Wazheir used to do voiceovers in Urdu and Punjabi, a follow-on from her young days in amateur theatre. Her performances led to commercials and short films. Now, after starring in films like Sadiyaan, Manto and Airlift, she said: "It's been a bit of a whirlwind, but the same as with any profession, it has involved a lot of hard work.
"The rules in India are very different from growing up in Britain. It's quite a culture shock. It was a whole different scenario coming to live and work here than just coming on holiday.
"I had to study language and dance and emoting. A lot of hard work goes into that."
Wazheir, who splits her time between Mumbai and Glasgow, is delighted to see that Bollywood is increasing in popularity back in the UK. She even shot two short films here, A Secret of the Heart and Khaana, directed by Cary Rajinder Sawhney.
"It's great that Britain is encouraging people to shoot there, it's great for the economy – and it's nice to see a surge in Bollywood back home," she said.
"When I was growing up in Glasgow, we were allowed to watch one Bollywood film a week. Asians did grow up around Bollywood. A lot of my British friends were aware of it.
"But now having so many films in the UK, and so many composers and dancers and actors who work in Bollywood, it's lovely to see that so much work is coming back there."
Wazheir has just returned from a spell in the UK, after coming home for a break during Covid.
"I spent the first year of Covid in India, doing yoga and learning to cook as I was unable to fly home to Scotland," she said. But as soon as she was able, she hopped on a plane for some time back in Glasgow with her family.
"It was straight after the last film was released in the UK and worldwide when Covid hit, and the next few projects I was due to work on got shelved.
"I decided it was time to take a little bit of a break and be back in the UK.
"I love Scotland and fly back home a lot. I get homesick. It's always great to come back – and I'm always very grateful to come home. Even when the weather is grey and miserable, I love it.
"And it's never as wet as Mumbai in monsoon season. You think you've seen torrential rain living in Scotland but when you come here and people are wading through the water, you realise the Scottish weather isn't so bad!"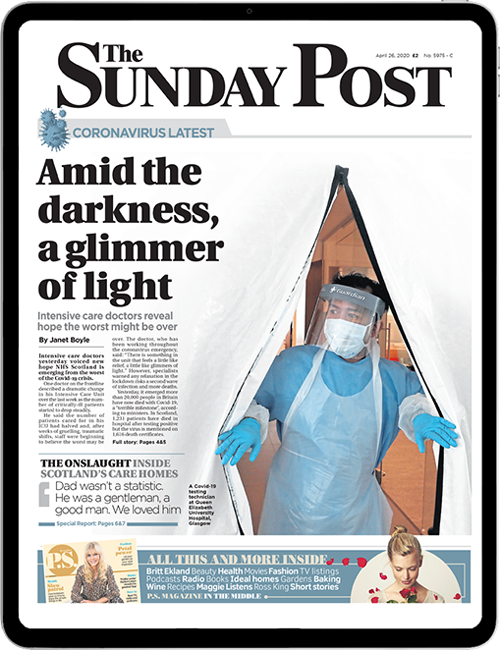 Enjoy the convenience of having The Sunday Post delivered as a digital ePaper straight to your smartphone, tablet or computer.
Subscribe for only £5.49 a month and enjoy all the benefits of the printed paper as a digital replica.
Subscribe