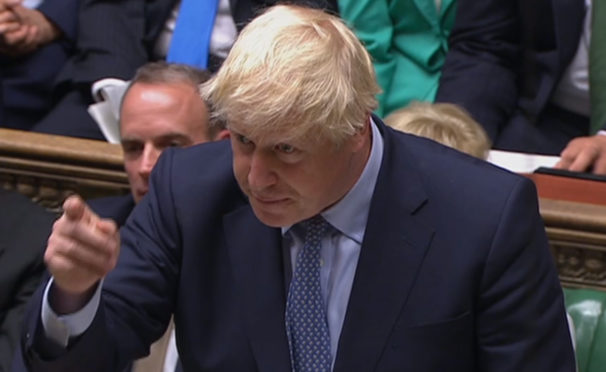 Where were you when the Prime Minister was judged by the highest court in the land to have lied to the Queen?
It was one of those existential moments when time stops and you know something seismic has just occurred.
There was a picture released of the Scottish Cabinet – the First Minister balancing a cup of tea on her knee – sitting around the television in Bute House watching Lady Hale read her damning determination on Boris Jonson's decision to prorogue parliament.
"Unlawful, void and to no effect". An unequivocal judgement that could have equally applied to the current state of our prime minister.
Boris, meanwhile, was up early in New York to watch proceedings after being woken from his dreams of becoming King of the World while a court was about to denounce him as a jester.
Then, when it seemed things couldn't get any more surreal, they did. Watching Johnson in the days that followed, robbed of all sense of credibility, accusing the 11 Supreme Court judges of having got it "wrong", there was an unease that things were spiralling out of control.
Playing to the lowest common denominator, Johnson described the extension legislation passed by parliament as the Surrender Bill. A phrase so carefully and cynically constructed to allow words such as traitor and betrayal to flow with ease.
Johnson knows a lot of big words. Mainly in Latin. But for now, he is using short, sharp, brutish ones. Every contemptuous action and every inflammatory phrase is designed to whip up a frenzy, to pitch him as the people's champion and cast him as anti-establishment.
It is pure Trump. And like Trump, Johnson is appealing to a lower base. A place where his insults of choice are steeped in a deep misogyny; "girly swot", "big girl's blouse". He really is a boor. But when he chose to take on the memory of Jo Cox, telling MPs that the best way to honour a woman who was slain while campaigning to Remain was to "get Brexit done", he also showed himself to be a man whom not even his own sister could defend.
Rachel Johnson, an ardent Remainer who has stoically stood by her brother even when their younger sibling, the MP Jo Johnson, could take it no more and left Boris's ministerial team, has said that while she loves her brother, he was using the Commons as a "bully pulpit".
There were MPs in tears in the House of Commons after one female politician after another stood up to plead with him to moderate his language. Women who suffered daily online abuse, received death threats, installed panic buttons, and who lived with the fear that what happened to Jo Cox could happen again. Johnson dismissed their words as "humbug".
And later when his Machiavellian senior aide, Dominic Cummings, was confronted by an MP in the parliament's tea rooms about the dangers of the rhetoric being used, Cummings, slouched against a wall like a truculent teen, replied with the not-too-veiled threat of "get Brexit done".
The "or else" was implicit but this is the place you get to when a prime minister has declared it is his way, "do or die".