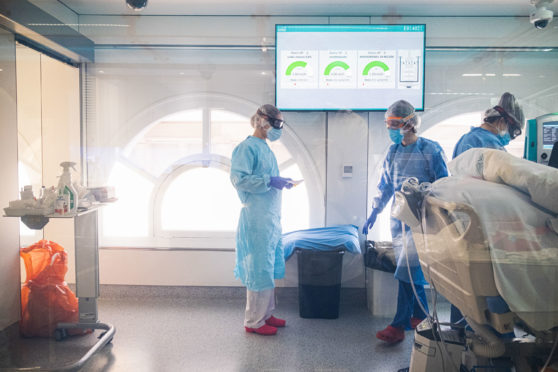 Leading medical experts are comparing the lasting effects of Covid-19 to being the victim of a terrorist attack or living in a war zone.
And, they say, even if patients survive the immediate attack on respiratory systems, the virus can still cause fatal heart attacks, strokes and organ failure.
As doctors and scientists learn more about the virus, specialists warn long-term psychological complications leave some survivors suffering symptoms of post-traumatic stress disorder.
Professor Tim Walsh said: "We're finding that for some of the most critically ill patients who have been in intensive care, the effects are similar to them being in a terrorist attack or living in a war zone.
"In fact, the effects can be even more acute because a bomb will go off once, but some of the most seriously-ill Covid patients can be on a ventilator for months and the effects of that can cause added problems.
"In many ways the long-term psychological problems can be just as hard to cope with as the physical problems with patients 'losing' months of their lives being sedated on a ventilator along with the weird dreams they may suffer as they come out of sedation.
"Even being surrounded by masked doctors and nurses for months at a time can leave a mark, and because Covid is so infectious, they're kept apart from family and friends so they don't get the support and reassurance which plays a crucial role in recovery."
Pre-Covid, it was highly unusual for ICU patients to remain on ventilators for months at a time.
Professor Walsh, professor of critical care at Edinburgh University and leader of the Edinburgh Critical Care Research Group, said: "We rarely see patients who require being on a ventilator for more than a couple of weeks or so. But with Covid, we're seeing patients needing that level of support for several months.
"There is no drug regime to get them better either, so recovery is a long hard road.
"After being sedated for months patients will develop loss of muscle strength and other issues that require multi-disciplinary teams working together to get them back up on their feet, well enough to get out of hospital, then access the support they need back home in the community.
"Right now we are working with colleagues around the world to share knowledge so we can do the very best we can for our patients by putting together a coordinated recovery programme with as much emphasis on psychological recovery as physical recovery.
"Depression and anxiety is something we're expecting to see, and not just from the patients themselves. Covid has taken a dreadful strain on families who have had to sit at home worrying and waiting for a dreaded phone call. That undoubtedly takes a toll."
Meanwhile, respected infectious diseases expert Professor Jack Lambert, who has been working on the frontline at Mater Hospital, Dublin, since the start of the pandemic, warns that patients are dying from strokes and heart attacks even after appearing to recover from Covid-19.
He said: "It isn't just attacking the respiratory system, it's attacking blood cells and causing heart attacks and strokes, and organ failure. What's deeply concerning is that even with young patients who have had a mild Covid-19 infections, we're discovering cardiomyopathy-damaged hearts.
"We're seeing people suffering seizures and brain inflammation following the completion of the Covid infection, with 2% presenting with confusion and new seizures. Those who do survive will face many months of recuperation, and we need to prepare them and the NHS to help these people get back their lives."
The professor, renowned worldwide for his work on HIV and Ebola, believes experts won't fully discover all the medical side-effects of Covid-19 for at least another year and warns many of the worst complications emerge after the patient appears to be recovering.
He said: "We're seeing these longer-term effects and complications in around a third of our intensive care patients.Persistent infection, blood clots, long-standing fatigue, shortness of breath, pulmonary fibrosis, persistent bronchospasm, and neurological issues.
"Because Covid-19 is so new to us, it will take at least a year to fully study all the effects. But it's very clear we are not just dealing with a 'bad influenza'."
Some side effects include low oxygen levels especially at night, diarrhoea, loss of balance, nausea, anxiety attacks, persistent symptoms despite repeated negative tests, and weakness, chest pain and blood clots.
Professor Colin Berry of Glasgow University, a heart expert, said: "We're concerned some Covid patients are showing evidence of complications that we can see, and some that we can't readily see. As this virus is so new, it'll take time to fully investigate just what we are up against.
"But we're already seeing for some hospitalised patients, and some who have taken ill while remaining at home, the consequences are serious and long lasting. We see those with pre-existing heart disease, high blood pressure and diabetes are most at risk.
"But other issues such as deprivation are also making a difference, particularly if people are living in flats or accommodation where they are in close contact with others.
"We know to expect flu every year, but I predict Covid will become endemic and just hope that it won't be in as many numbers as we've seen as we learn to change the way we live with it."
Consultant nephrologist Samira Bell, of Ninewells Hospital, Dundee, is concerned about the toll on Covid patients with no background of kidney problems.
She said: "We've seen it in younger patients with no previous history. We're now seeing a broad spectrum of kidney issues ranging from mild, temporary, to severe damage requiring dialysis.
"There are clearly risk factors which predispose people to complication from Covid and more severe disease such as older age and underlying healthcare conditions.
"However, this is not always the case and our experience is similar in many countries worldwide."
---
The patient: 'I am ill and constantly exhausted… as I have been for 10 weeks now'
Barbara Melville, from Edinburgh, is still bed-bound and battling for her health and answers, 10 weeks after contracting Covid-19.
At times during her lengthy home recovery, the formerly fit 37-year-old has feared for her life.
"It's hard to sleep when you can't breathe properly, which was a problem around week four. "I was never sure if I'd wake up the next morning," said the IT executive.
Barbara first developed a dry cough on March 14, followed by a sore throat, fever and shortness of breath, which quickly worsened. She was initially told by 111 call handlers that her laboured breathing was caused by anxiety. She was later admitted to Western General Hospital after she collapsed at her home – two weeks after first experiencing Covid-19 symptoms.
"When I tried to stand, I collapsed," said Barbara. "I had a fever, my heartbeat was erratic.
"The hospital put me on fluids and ran blood tests. They said it was highly likely to be Covid-19 based on my symptoms and bloodwork, but that they weren't allowed to test me for the virus. I was discharged that day when my observations were normal and I could walk again."
In the following two months, Barbara has convalesced at home, cared for by her partner Ben.
She was reassessed in hospital five weeks into her recovery. Doctors said she had Covid-induced pneumonia and that while the virus had gone, her recovery could be lengthy.
"I'm bed-bound. I cannot walk more than a few paces without feeling unwell. Standing up causes breathlessness, tachycardia and sometimes dizziness.
"I have constant fatigue and don't even have energy to wash my hair. My hands and feet are freezing. My nails initially turned blue and are still ghostly white.
"It's hard to have frightening symptoms and not know what's coming next. But I have a great support network and I do believe I'll get better."
Barbara wants to see more support for those in long-term recovery: "I have a new GP who has devised a recovery plan and is looking into post-viral conditions, but we need research into Covid-19 longevity and the longer-lasting symptoms, so GPs are better equipped to support us.
The GP: 'Recoveries are hard to predict. It's speculative'
Dr Alasdair Forbes describes the number of suspected Covid-19 patients in long-term recovery as a growing clinical concern.
"GPs are increasingly aware of a small but significant number of people with post-viral syndrome that seems to be related to Covid," said the deputy chairman of policy for the Royal College of General Practitioners Scotland.
"We're seeing people who are profoundly fatigued and have shortness of breath and chronic headaches, similar to other post-viral syndromes.
"Some people, including those who were not hospitalised, may struggle to recover from Covid-19 because they had a very marked inflammatory response when the virus kicked in.
"This can cause joint pain, fatigue and headaches that make them feel as though they've been run over by a bus."
Dr Forbes is a partner at Scotstown Medical Centre in Bridge of Don, Aberdeen, where his team are providing around 130 phone and video consultations per day on top of additional in-surgery consultations and home visits.
"The problems with a new virus is that everybody's learning all the time. We know things today that we didn't know two weeks ago.
"A lot of the questions patients will want answers to, we don't have the science and knowledge to be able to provide definitive answers.
"We can't predict recoveries in the same way we could for a chest infection, so it's harder for us to give advice and reassurance. Right now it's speculative.
"There's a huge amount of work going on in primary care. While surgeries may be quiet, hundreds of phone and video consultations are being made every day.
"Having to face this greater uncertainty is affecting GP wellbeing too, but the way primary care is quickly changing and adapting is remarkable."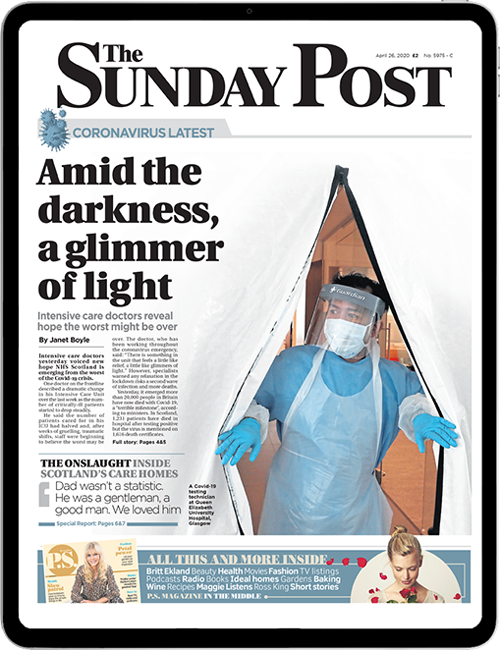 Enjoy the convenience of having The Sunday Post delivered as a digital ePaper straight to your smartphone, tablet or computer.
Subscribe for only £5.49 a month and enjoy all the benefits of the printed paper as a digital replica.
Subscribe