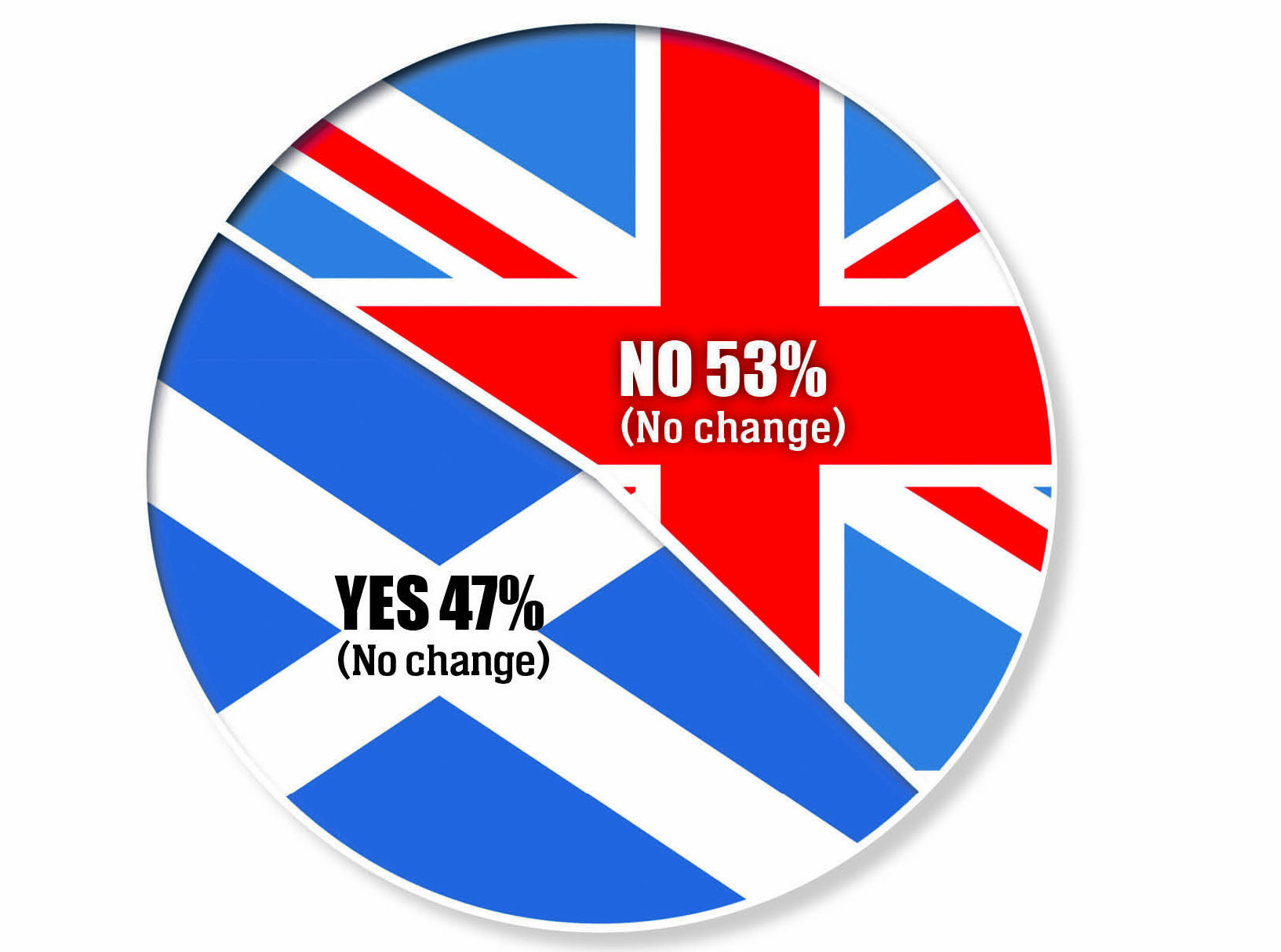 VOTERS' opinion about Brexit and Scottish independence is stuck fast despite months of heated debate, an opinion poll suggests today.
Scots' views on leaving the EU and breaking up the Union have not shifted in three months, according to our exclusive poll.
On Brexit, 66% of Scots would still vote Remain while on Scottish independence, the Yes/No split has not moved since our polling company last asked the question in July, with 53% opposing independence.
Experts yesterday said the stalemate could be down to many voters switching off from the political debate as the Brexit negotiations drag on, the implications of any or no deal remain unclear, and calls continue for another referendum.
Prime Minister Theresa May, who emerged unscathed from her party's conference when she danced on stage to Abba, got some more good news yesterday when EU leaders suggested a deal was inching closer.
Elsewhere, the poll shows just one in four Scots have any confidence that the UK Government can secure the best Brexit deal, while 49% back a second referendum on the terms of any settlement secured with the EU.
Andy Maciver, director of political and media consultancy, Message Matters, said: "Despite all the campaigning on all sides, and the relentless media coverage, Scots are not altering their view in any significant numbers on the two big issues of independence or Brexit.
"People are tending not to alter their view because politicians on all sides have discredited themselves with outlandish predictions of dire consequences of a particular course of action.
"People simply don't believe them anymore.
"The SNP has a strategic quandary – it has the parliamentary strength now to justify another referendum, but support for Yes is flatlining.
"To change either Brexit or independence numbers in any meaningful way probably requires a silver bullet, and the likelihood is that the silver bullet is a chaotic Brexit."
Polling expert Sir John Curtice said our poll of 1,036 Scots was consistent with UK-wide polling which showed little significant movement in support for Leave or Remain since the 2016 EU referendum.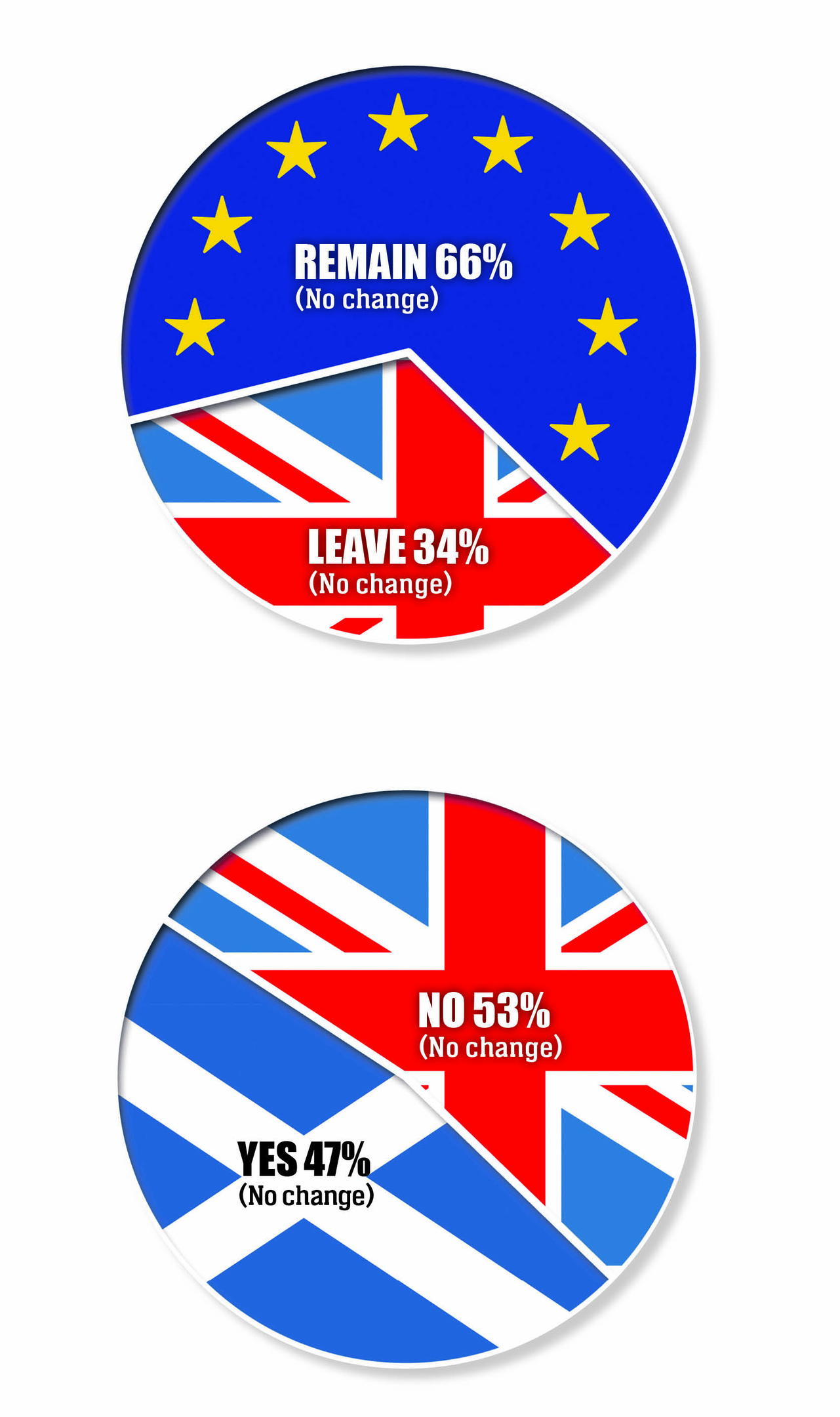 He said: "People are pessimistic about the consequences of Brexit but they blame the politicians – either the UK Government and or the EU – not their original choice in 2016. The fundamentals are viewed through a partisan lens and certainly not much will happen on indyref2 until Brexit is sorted. Nicola Sturgeon is still tantalisingly short of majority backing for independence.
"Moreover, there is no guarantee that Brexit will eventually deliver her a Yes majority.
"While 16% of those who voted No in 2014 say that it makes them more likely to back independence, 10% of Yes voters state it has the opposite effect."
He continued: "Ms Sturgeon faces a Brexit paradox.
"She and most of her party may be firmly committed to remaining part of the EU, but in truth she probably regards her shortest route to holding and winning a second independence referendum to be for the UK to leave the EU, only for the endeavour then to come to be regarded as something of a disaster by voters."
The Survation poll shows support for the SNP at Westminster has increased, with the party on course to gain 11 seats from Labour and the Tories if there was another General Election.
At Holyrood the SNP remains the biggest party but seat projections show it would still need the support of the Greens for a pro-independence majority.
The poll, conducted last week, asked what extent do you have confidence in the UK Government to secure the best Brexit deal?
Only 5% said they had a lot of confidence, while a further 20% said they had some confidence.
A total of 70% said they had not much or no confidence, while the rest did not know.
Meanwhile SNP supporters, who are gathering in Glasgow today for the party's conference, are divided over the sexual harassment allegations facing Alex Salmond, our poll reveals.
Police are currently investigating complaints against Salmond, who is in turn taking the Scottish Government to court over its handling of the allegations.
Our poll shows 41% of SNP voters are unsure if Salmond – who denies any wrongdoing – is right to take the court action. But 46% of SNP supporters who do have view back him.
Respondents were also asked how well they thought Nicola Sturgeon has handled the claims, with 29% saying she had handled it very or quite well, while 24% said very or quite badly.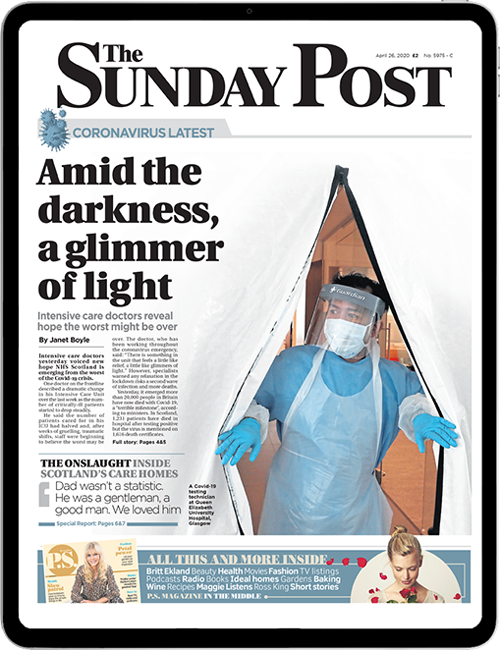 Enjoy the convenience of having The Sunday Post delivered as a digital ePaper straight to your smartphone, tablet or computer.
Subscribe for only £5.49 a month and enjoy all the benefits of the printed paper as a digital replica.
Subscribe