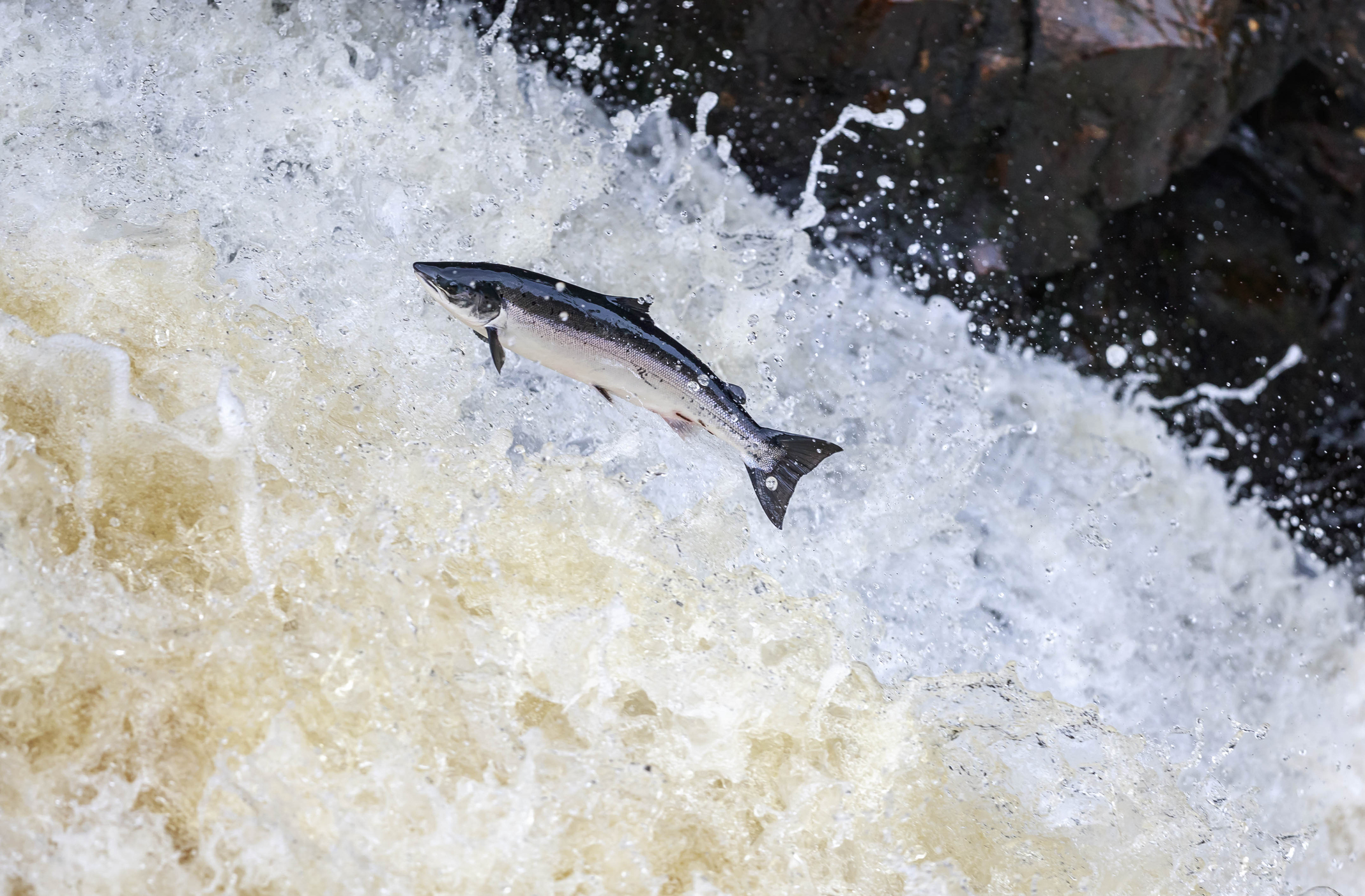 THE worst salmon season in living memory has sparked fears that global warming and fish farms are emptying Scotland's rivers.
The number of salmon caught by anglers has been so low that some estates have stopped selling permits for once-popular beats because there is no fish to catch.
Some beats on famous rivers like the Spey and the Nith recorded not a single salmon caught during the entire season.
Just two salmon were caught on the River Fyne in Argyll this year, where once more than 700 were caught each season.
Tourism has been hit, sales of salmon tackle have slumped and ghillies have lost their jobs.
Experts believe rising temperatures blamed on global warming have badly hit the salmon's feeding grounds with related changes in current patterns also affecting their migration.
Salmon may also be lost to fishing fleets as they cross paths with shoals of mackerel or herring.
Before they even reach the Atlantic, smolts are likely to fall prey to birds like cormorants and goosanders.
Smolts are also threatened by sea lice infection, a significant problem near the fish farms on the west of Scotland.
Roger Brook, director of the Argyll Fisheries Trust, believes salmon farms are a significant risk, which has been ignored by successive governments. He said: "Salmon are in decline everywhere but they're declining more on the west coast of Scotland and they're declining more the further down the west coast you go.
"So it's worse in Argyll than it is in Wester Ross.
"And that would indicate to me that the salmon farms are involved in that extra decline. And it is an extra decline.
"We've never placed all the blame on salmon farms. What we are saying is that things are bad so making it worse is particularly damaging and it's dreadful now in Argyll. It's a crisis in Argyll.
"I don't know whether it's too late now to put it right."
Online booking agency Fishpal has collated the number of catches on most stretches of river since 2013.
No salmon catches were reported on the Upper Arndilly beat on the Spey this year, compared to 52 in 2017 and 180 in 2016. None were caught on the River Nith's Blackwood beat despite a five-year average of 32.
The Traquair beat on the Tweed saw 33 salmon caught in 2018 compared to 56 last year, but in 2013 there were 265.
This year's cold spring and the summer heatwave created the "perfect storm" for poor fishing conditions.
But experts believe the steep decline in numbers since the 1960s is deep-rooted and warn the future is bleak.
Survival rates for salmon at sea have fallen as low as 3% with global warming and ocean fishing fleets among the likely causes.
The threat posed by chemicals and infection from fish farms and an increasing number of predators has also had an impact on the number of salmon returning to their spawning grounds.
Professor Ken Whelan, a leading salmon specialist investigating the downturn, said: "Absolutely there's a crisis in salmon fishing.
"What we have now is a situation where you're looking at very modest numbers of fish coming back and you really can't afford to lose any from any kind of man-made effects.
"In Scotland we're so dependent on surpluses of salmon in order to provide good angling.
"We're now at a situation where we're looking at the numbers of fish coming back being just about enough to reproduce and provide juvenile fish for the river.
"So anglers are seeing a big, big drop in terms of their catches.
"We have the combination of low numbers of fish and this incredible year in terms of water levels so it was an unholy alliance. Nobody knows exactly how steep the decline is going to be here but it's been extraordinarily steep over the past two or three decades.
"In terms of salmon as an angling species there's no doubt that this has already hit very hard economically in terms of the industry built around salmon angling.
"Salmon as a biological species is not going to disappear completely from the world but they may be located in areas that are far cooler than areas they are in at present.
"We're not saying that tomorrow there will be no salmon left, what we're saying is that to generate angling you have to have a big surplus of fish and it's not capable of producing that surplus right now because the numbers coming back are so low. But it's not linear, it's extraordinarily spiky. We could sit here now saying this is dreadful but this time next year you could have anglers reporting a fantastic return.
"It's very uneven so I'd be reticent about making any predictions about exactly what's going to happen.
"From a scientific point of view the trend that worries me most is the trend in terms of the marine survival because it has been very stubborn and has shown no sign of reversing itself. "
Scottish salmon numbers have fallen by around 70% in the last 25 years. Figures from the 1960s show that on a good year up to 30% of salmon would return from their first year at sea, with the average being around 15 to 18%. The numbers now are around 3-5%.
Prof Whelan, research director at the Atlantic Salmon Trust, is working on the Missing Salmon Project aimed at gathering marine and freshwater data to show what is killing Scotland's wild salmon.
Part of the project will involve tagging around 1,000 smolts in the Moray Firth to track their migration. Some of the state-of-the-art acoustic tags are so sensitive they will be able to tell whether a young fish has been eaten by a seal or a bird.
Researchers are also working to establish a "likely suspects framework" of potential mortality factors.
Andrew Flitcroft, editor of Trout & Salmon magazine, said: "This has been undoubtedly the worst season I've witnessed in my lifetime.
"On the back of last season, it's a really worrying trend.
"Ghillies are losing their jobs because if the estates or the people who own the fishing aren't getting the rods they can't keep the ghillies on. Something has got to go.
"You never know, nature has a way but it's not looking good."
The Scottish Salmon Producers Organisation, which represents salmon farmers, said: "Industry average lice levels during 2018 are the lowest since 2013. This reflects the continuing improvement in industry lice management."
When I was a girl, we'd catch 700 salmon a season on the river. Last year, we had four. This year? Two
Landowner Tuggy Delap remembers her childhood when more than 700 fish would be caught on the River Fyne.
Last year four were caught. This year, only two.
Two full-time workers used to be employed on the river and permits were sold for 17 weeks of the year with anglers often booking into holiday cottages on the estate.
All are gone and Mrs Delap fears her late husband Jonny's dream that their grandchildren would catch their first salmon on the Fyne has gone too.
She said: "It's been the worst year I can remember and I was born and brought up here and I'm now 70.
"This year we caught two and when I was a child we used to catch 700.
"It was always my husband's ambition that his grandchildren would catch their first fish in the river and it's just not going to happen.
"My little grandson is quite a keen fisherman and he's caught a trout or two but he hasn't caught a salmon.
"They're not there to be caught."
Mrs Delap blames the sharp decline around the Achadunan estate, near Cairndow, Argyll, on the nearby salmon farms and smolts becoming infected with deadly sea lice.
She added: "It's crippled us, completely crippled us.
"The river used to employ two people and we used to let the fishing for 17 weeks in the summer.
"And now of course we have no fish and therefore no clients and we therefore don't employ anybody, and that is really sad.
"We used to have holiday cottages which went with the fishing if you wanted it and they were let all summer too.
"I know that the fish farms employ a lot of people but what a price to the environment.
"What a thing to leave for the next generation. It's horrendous. It's just appalling.
"Last year it was terrible with lice. It's terrible to see them like that.
"It is just so sad because we have done this in our generation.
"We have one of the prettiest rivers you could wish for but the only thing we wish for now is fish."
Our empty rivers: The reasons
Climate change
Salmon are coldwater fish and will not return to the river when water temperatures are too high. Scientists also believe that warmer oceans affect the salmon's food supplies and mean they have to travel further afield.
Fishing fleets
Fishing boats on the open ocean – known as pelagic fleets – can impact salmon if they catch them by mistake while fishing for other species like herring or mackerel. Researchers want to establish how many numbers are affected.
Fish farms
Farmed salmon often become infected with heavy burdens of sea lice. Wild salmon can then pick up the deadly parasite as they swim past the farms on their way to and from the Atlantic.
Predators
Wild salmon have a number of predators including protected birds like cormorants, other fish, seals and dolphins. They are particularly vulnerable when they are smolts heading to sea for the first time.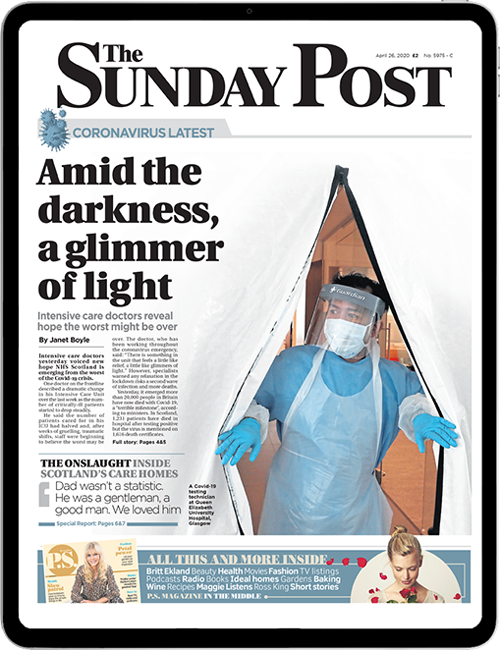 Enjoy the convenience of having The Sunday Post delivered as a digital ePaper straight to your smartphone, tablet or computer.
Subscribe for only £5.49 a month and enjoy all the benefits of the printed paper as a digital replica.
Subscribe