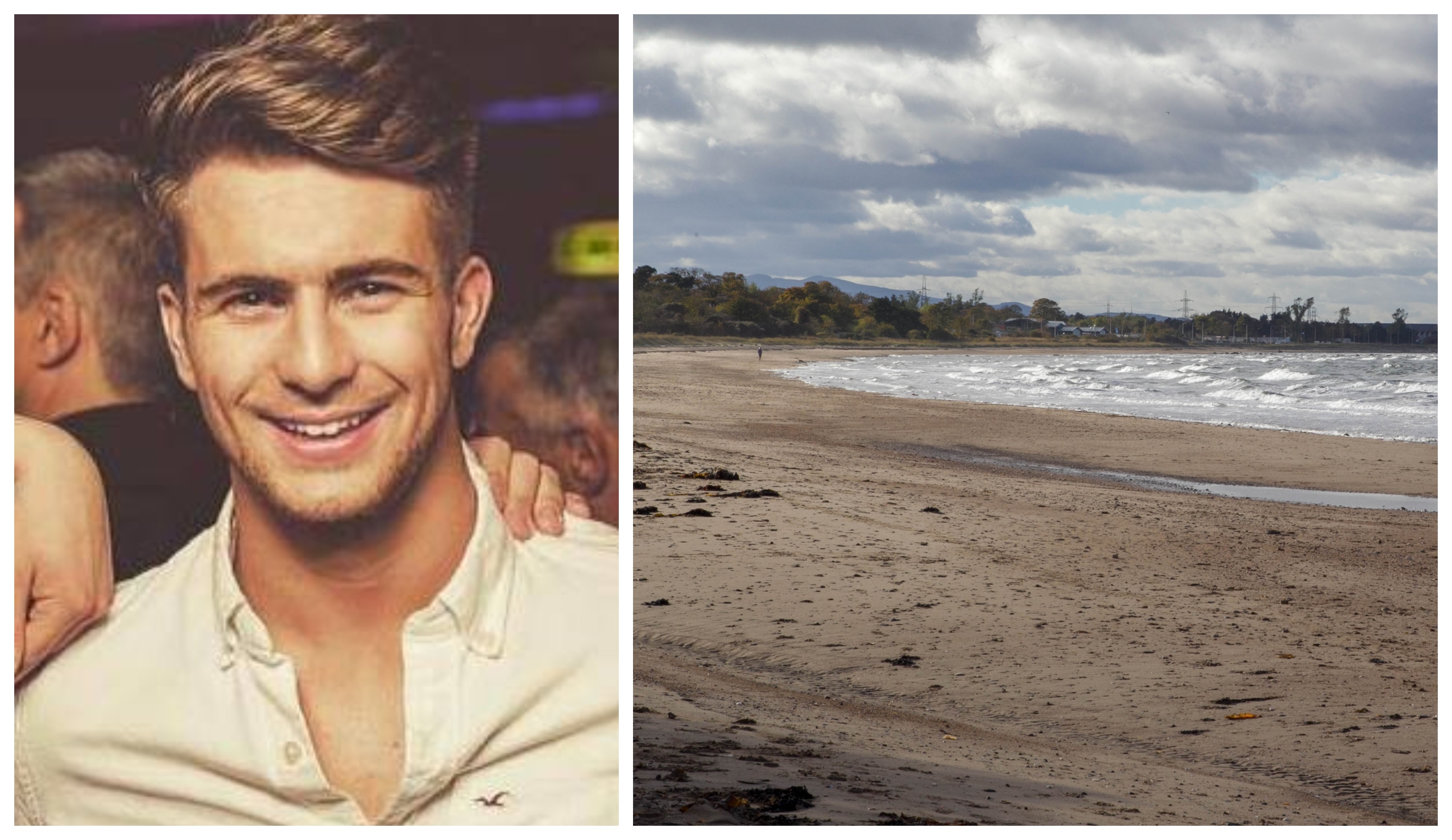 A WITNESS who saw student Scott Calder just before police took him into a patrol car after drinking too much has said he was clearly at risk.
His body was found on a beach the next morning after, according to the officers, he was driven to a bus stop and allowed to wander off alone.
Fraser Arnot, who had been at the same Oktoberfest event as Scott, describes seeing the student walking up the middle of an unlit road, when he was drunk, was struggling to talk or walk, and seemed incapable of looking after himself.
Mr Arnot, a plumber from Tranent, who had been at the beer festival with his wife and two friends, said: "It took us about 40 minutes or so to get out of the event.
"We left before the very end as we were trying to avoid the rush, but it was still really busy.
"Scott was in the middle of the road struggling to walk and there was a lot of traffic being backed up. He was in a bad state.
"We tried to give him a lift and, looking back, we wish we had done something but the police must have got to him within half an hour of us seeing him.
"When we saw the stories and heard that a man had been found on the beach, we were hoping it wasn't the same man we saw but when we saw the photos of Scott, we knew it was.
"I don't honestly know how the police could have thought it was okay to leave him alone.
"In my opinion he was in no fit state at all. He could barely walk never mind talk."
Scott, 23, was found dead exactly four weeks ago after attending the event at Longniddry, East Lothian.
Police told his family that after a concerned member of the public raised the alarm, they took Scott into a patrol car and drove him three miles along the road before dropping him off at a bus stop in Port Seton at around 11.20pm He was found dead on a beach a mile and a half away the next morning.
Mr Arnot, 36, was in a taxi travelling along the Links Road at around 10.40pm, when they passed Scott shortly before a bend in the road.
The group tried to offer him a lift, but say their taxi driver was unwilling to let him in due to his condition.
Fraser said: "We thought we could help take him away from the area, it was so dangerous on that road with no lights or any sort of pavement.
"Then when we saw a police car round the corner we thought he would be safe because they would pick him up.
"We haven't been able to stop thinking about it since that night to be honest. It's just terrible what happened to him.
"I don't know why he was dropped off in Port Seton in that state.
"I can't really understand how he would have been fine to be left."
Scott's dad Brian Calder said the information from Fraser leaves more questions unanswered about why his son was left alone.
He said: "To hear my son was holding up traffic and vehicles by stumbling and staggering in the middle of the road breaks my heart.
"It sounds like he was not capable of walking and certainly not in control of himself.
"A police officer should surely have been able to establish that and taken Scott to a place of safety, whether that was home, a hospital or a police station.
"To then leave Scott alone only moved the problem down the road, ultimately leading to his death. How can the police officers believe that was the right decision?"
Last Saturday night the Sunday Post returned to the bus stop in Port Seton where police say they dropped Scott exactly three weeks previously.
The surrounding streets were virtually empty, with only a few people heading home from nights out.
A Co-Op nearby closed at 10pm, and the petrol station opposite the bus stop was also closed.
Workers at Carlo's fish bar and restaurant remembered the night of Oktoberfest as a group of revellers had come in dressed in lederhosen at around 10.45pm.
But none had seen Scott as the chip shop closes at 11pm and most of the staff travel home by car.
DCI Stuart Reid said: "An investigation is ongoing by the Crown to establish the full circumstances which Police Scotland are supporting and the death remains unexplained.
"Our thoughts are with Scott's family. We will continue to provide support to the Calder family while the investigation is ongoing.
"Arrangements will be made to fully update the family with the outcome and hopefully provide the answers they are seeking."
Police Scotland reported Scott's death and the events surrounding it to the Police Investigations and Review Commissioner, the police conduct watchdog. Their team "assessed" the report but did not investigate it before deciding the officers involved had acted appropriately.
His girlfriend's grief
The girlfriend of student Scott Calder paid tribute to him yesterday as she spoke of her terrible loss.
Madison Watson, 22, and Scott, 23, had been inseparable since they started dating three years ago and had planned to go travelling next year.
She said: "Scott was the kindest, most caring person.
"He was a complete gentleman, not just to me but to everyone.
"When he was at university he would be the first person to go and speak to people who didn't know anyone.
"He would put other people before himself all the time."
Madison added: "In some ways I don't think I have accepted that this is real.
"It doesn't feel like he's gone, that he's not here any more.
"I still think he's going to come back through the door any minute."
The pair, who met while both working in Nando's, had planned to go travelling next year after Scott finished his masters at Napier University this summer.
Yesterday, Madison spoke of her heartbreak after her boyfriend's body was discovered on Longniddry Bents on October 14 after police, who had been warned he was at risk, allowed him to wander off alone.
A professional dancer, she spoke out to appeal for witnesses to come forward who may have seen Scott on the night he died.
Madison said the pair had been looking forward to the future, and had booked a trip abroad just weeks before the tragedy.
She said: "We had been planning to go travelling in Asia in January. We booked it about two weeks before all of this happened.
"We wanted to travel together and it was a good time, as I wasn't on any dancing contracts and he had finished his degree so was free from his studying. He had been working on his masters all summer and hadn't really had a break.
"He had been working so hard, and while all his friends were going out he had been going to the library and studying.
"The Oktoberfest thing was the first time in ages he was out, as he had just finished his degree and it was going to be a fun event. He was really looking forward to it."
Madison explained that on the night of the event at Gosford House, she had been working and hadn't been able to get hold of Scott.
She had contacted his friends who said he wasn't with them after the event and immediately felt that something was wrong.
She said: "I just felt as though there was something going on, something wasn't right.
"It couldn't' sleep all night, and I started phoning the police and hospitals and things around 4am asking if Scott was there. I went to work the next day but got sent home, and that's when my mum told me that a body had been found.
"I couldn't believe it, that this was really happening.
"I didn't understand it and I still don't.
"I just want to help get the answers we all need."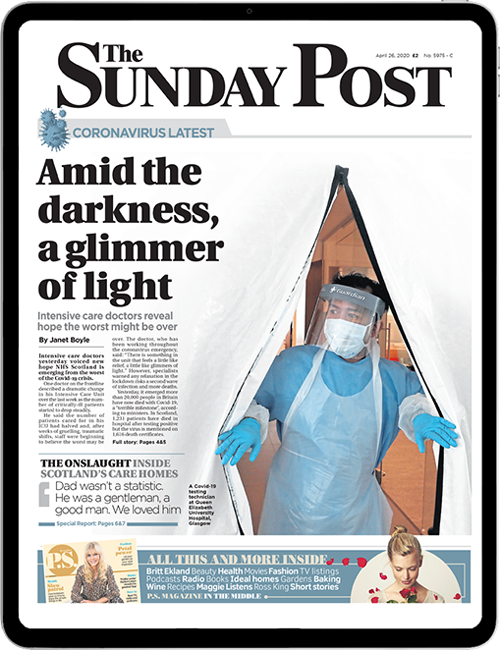 Enjoy the convenience of having The Sunday Post delivered as a digital ePaper straight to your smartphone, tablet or computer.
Subscribe for only £5.49 a month and enjoy all the benefits of the printed paper as a digital replica.
Subscribe