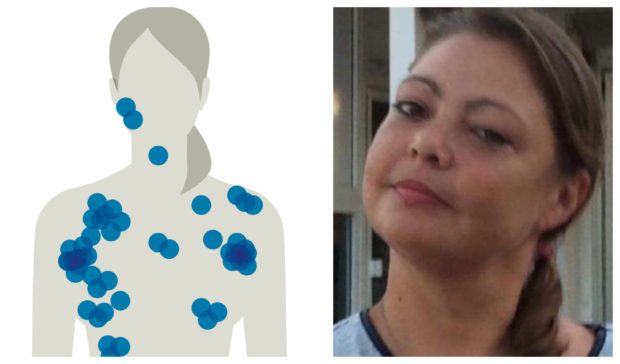 The extent of the injuries suffered by a Scots hotel worker before her death in Israel can be revealed today.
Autopsy reports show Julie Pearson had scores of bruises all over her body and serious internal bleeding before she died in 2015.
Police insist she died of natural causes but her family believe her death may be linked to a beating inflicted by her boyfriend the day before.
Her ex-partner, Amjad Khatib, who had served time in prison for assaulting her, was questioned about Julie's death, before being released without charge.
Now, after four years of requests to the Israeli authorities, her family has obtained the full police and post mortem reports.
Julie's aunt, Deborah Pearson, of Blackburn, West Lothian, believes the police could – and should – have done more to investigate her niece's death.
She said: "Julie had been repeatedly abused by Khatib, but instead of helping her, Israel turned its back."
Julie's father, John, was born in Israel and served in the Israeli army, and Julie had been living in Eilat for a couple of years, working as a waitress and in tourism jobs.
Despite bruises across Julie's face, arms and abdomen, some almost seven inches across, Israeli authorities insist her death was not suspicious.
Her family fear failures by Israeli police mean they will never know if she had also been sexually assaulted before she died at a B&B in the tourist town of Eilat in November, 2015.
Police had been called to help Julie, 38, from Kinross, the night before she died, when they believe she had been attacked by Khatib.
The police reports reveal that when officers arrived, they saw Julie's extensive facial bruising and noted she was incoherent and "falling asleep after each sentence even though she did not smell of alcohol".
Despite the warning signs, they did not take her to a hospital. Instead, the officer filing the report blamed Julie adding: "There is no criminal offence".
Police did not arrest Khatib, and Julie was dead within a few hours. Two weeks later Khatib, who had served a month in jail for beating Julie and a previous girlfriend, was arrested, but denied having anything to do with her Julie's death. He was later released.
He told police: "After I went to prison, I did not raise my hand on any girl."
Khatib told officers Julie had been at his house on the day before her death, but said he had told her to leave.
He was asked how he got her out of the house and told there were "many signs of fresh violence" on Julie, but replied: "I did not hit her. I do not lie."
Julie's family weren't informed of her death for three days, despite protocol that means they should have been.
Julie's aunt Deborah, 58, said: "We will never forgive the Israeli police and authorities for failing to protect Julie and not properly investigating what happened.
"For three days we carried on with our lives while she lay dead because they couldn't be bothered telling us."
Dr Ricardo Nachman carried out the post mortem which concluded that, although he could not "rule out the deceased being hit by someone" the cause of death was a spontaneous haemorrhage, causing internal bleeding, due to high levels of alcohol. Tests revealed Julie was just over the UK drink drive limit.
MP Hannah Bardell has supported Julie's family fight for justice and said: "This new information will be deeply distressing for Julie's family and I am appalled that this is only coming to light now. What will it take to make someone examine this case in detail, applying compassion and common sense to the investigation?
"In light of these findings, I am seeking another meeting with the Israeli ambassador Mark Regev as a matter of urgency."
The MP, who has launched the Deaths Abroad, Consular Services and Assistance All-Party Parliamentary Group at Westminster, said: "We have taken evidence from over 60 families across the UK and will report shortly. I hope then we can really have a conversation about how to make things better for families."
Julie's injuries
The police reports obtained by The Sunday Post reveal the post mortem examination found cuts, bruises and possibly broken bones across Julie's body.
Dr Ricardo Nachman, who carried out the autopsy, blamed her death on internal bleeding in her abdomen, caused by a haemorrhage.
He said the bleeding, that left 1.2l of blood in her abdomen cavity, was linked to a high level of alcohol but would not rule out the possibility that Julie had been struck.
But tests revealed Julie was just over the UK drink drive limit when she died, around two glasses of wine, while the findings also contradicted police claims that she had taken drugs before her death.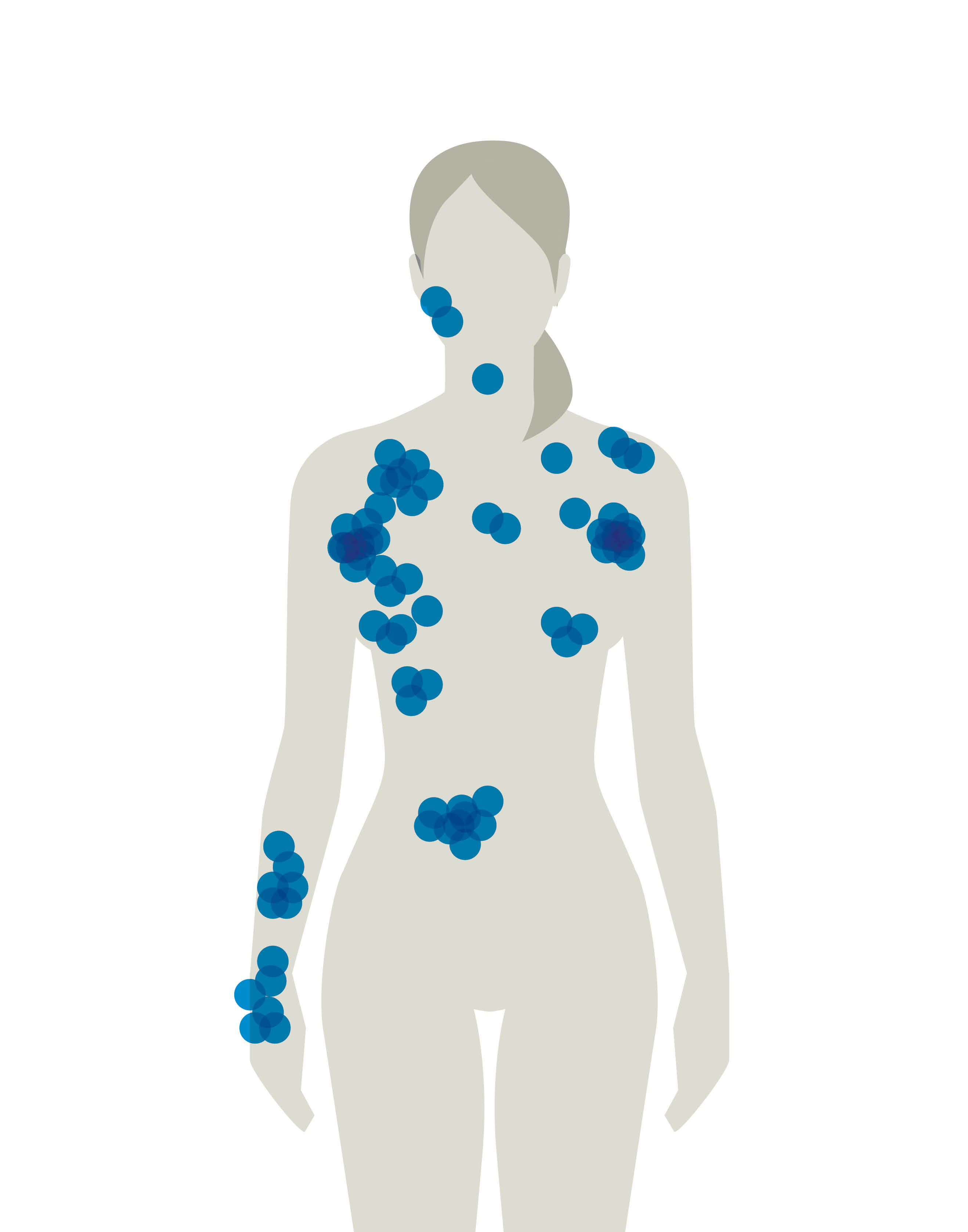 ● Bruise on right cheek
● Bruise on right jaw
● Possible broken hyoid bone in her neck
● Two bruises on her chest
● Bruise on left clavicle
● Bruises on right breast
● Eight bruises on abdomen
● Eight bruises on right of upper back
● Three bruises on right of back
● One halo bruise on left upper back
Three bruises left upper back over ribs
● Three bruises right upper back over ribs
● Ten bruises on right forearm and hand
● Ten bruises or right armpit
●Two red marks and cuts on right forearm
● Ten bruises on left armpit
● Three bruises on left shoulder
● More than 1.2l of blood in abdomen cavity caused by internal bleeding
---
Controlling a partner will become an offence
New laws coming into force next month will criminalise psychological domestic abuse.
The Domestic Abuse Bill creates a specific offence of "abusive behaviour in relation to a partner or ex-partner".
This includes psychological abuse such as coercive and controlling behaviour as well as violence.
Cabinet Secretary for Justice Humza Yousaf believes Scotland is leading the way with the new legislation.
"It will be a landmark moment in our efforts to tackle domestic abuse, including coercive and controlling behaviour, and will strengthen the power of police and prosecutors to hold perpetrators to account," he said last night.
"Psychological abuse can have a devastating and long-lasting impact on survivors. It is a form of abuse that is often hidden, but can rob victims of their confidence, self-esteem and safety. This is also the first piece of legislation in the UK to contain a specific statutory sentencing for aggravation to reflect the harm that can be caused to children growing up in an environment where domestic abuse takes place.
"I want to be clear that this behaviour is absolutely unacceptable."
Examples of psychological abuse include making a partner dependent or subordinate; isolating a partner from friends, relatives or other sources of support; and controlling, regulating or monitoring a partner's day-to-day activities.
Dr Marsha Scott, chief executive of Scottish Women's Aid, said the new laws would tackle "the largest abuse of human rights in Scotland".
"It will not only criminalise this behaviour but will send a message that we take this very seriously and that this should be reflected in the sentencing for perpetrators," she said.
"The new legislation could transform Scotland."
Contact Scottish Women's Aid at helpline@sdafmh.org.uk or call: 0800 027 1234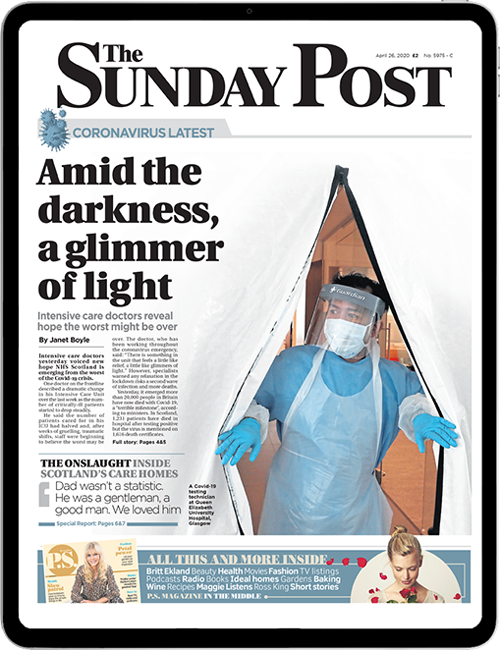 Enjoy the convenience of having The Sunday Post delivered as a digital ePaper straight to your smartphone, tablet or computer.
Subscribe for only £5.49 a month and enjoy all the benefits of the printed paper as a digital replica.
Subscribe