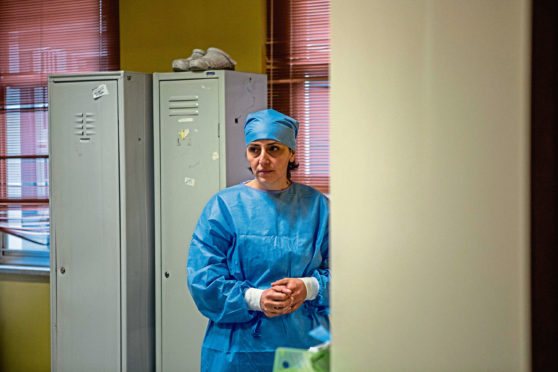 Italy's Frontline: A Doctor's Diary BBC2, Mon, 9pm
A lifetime ago, in January, Covid-19 established a beachhead in Europe, when two Chinese tourists came to Rome.
Within weeks the Italian government, in an unlikely show of purpose and decisiveness, declared a state of emergency in an attempt to stop the nation's hospitals becoming overloaded. The frontline of the battle in Italy became, as it did here, the accident and emergency departments.
Doctors struggled to come to grips with the new virus and one of the first in the West to attempt to do so was Francesca Mangiatordi, from her hospital in Cremona, in Northern Italy.
This unprecedented and intimate insight into three months of life on the Covid frontline was an uncomfortable watch at times. Patients struggled to cling to life and doctors flirt with breaking down completely.
The difficulty is nothing compared to Dr Mangiatordi's existence for a few months. Unthinkable decisions become routine – should a 35-year-old or an 85-year-old get the remaining bed on her ward?
Francesca is shown on the phone to a family telling them their relative had died alone in isolation.
Leaving at the end of her shift, Francesca is tearful. She goes home to her family, who view her as a Marvel superhero.
But a CGI superhero punching aliens doesn't quite do it justice, does it?
Glastonbury, BBC2, iPlayer
Most of us don't make the annual pilgrimage to Glastonbury but this year obviously felt a little different. At least with previous years we had the option.
The BBC put together a greatest hits package for Glasto last weekend and it's worth checking out if you haven't already.
Hosted by the excellent Lauren Laverne, Beyonce from 2011 and Pulp from 1995 were particular favourites.
But it was David Bowie's set from 20 years ago which was the Sunday-night highlight.
For a couple of hours it felt like Bowie was back and, more importantly, everything was all right.