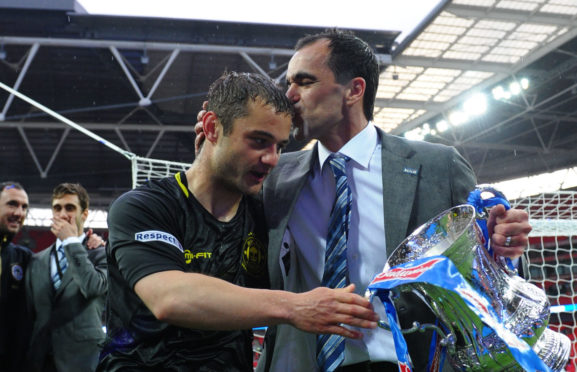 Shaun Maloney doesn't need reminding that had it not been for coronavirus, today he could have become the first Scot to win the Euros.
Assistant to Belgium manager, Roberto Martinez, the 37-year-old had been bullish about the country's chances of playing a starring role in a Wembley showpiece that should have been kicking off at 8pm.
The man who won 47 Scotland caps believed that with the extravagant talents of Kevin De Bruyne, Eden Hazard, Romelu Lukaku and Thibaut Courtois on board, the Belgians could take on all-comers.
Instead, the pandemic has left him confined to his west of Scotland home fretting about the club that, as a player, he helped lead to FA Cup glory at Wembley seven years ago.
"It is just all very sad and disappointing," said Maloney, reacting to Wigan Athletic's plunge into administration less than a month after being taken over.
"The hardest thing to take is that, from a sporting perspective, everything had been so positive for Wigan recently.
"Since the end of January, the manager, Paul Cook, has had the team on a great run, which has lifted them up the Championship table.
"From being in the relegation places at Christmas time, they were looking good for a mid-table finish.
"When you consider the club were in League One a couple of years ago – they came up in 2018 after winning the title – that would have been a decent achievement.
"Now, out of the blue, it is administration, with the prospect of getting relegated.
"If they finish outside the bottom three, then the EFL will dock them 12 points.
"If they are going down anyway, then the penalty is held back until next season.
"I am not at the club any more, so I can only go by what I can pick up in the media. But clearly questions are going to have to be asked.
"When Dave Whelan sold Wigan 19 months ago (to the Hong Kong-based International Entertainment Corporation), the club was debt-free.
"Their outgoings were not excessive and, although in England's second tier, they had a place in one of the richest leagues in Europe.
"How do you go from that point to where we are now, with the club sold again to a new owner, who comes in and then refuses to invest the money they had promised?
"It is extremely unusual and concerning for anyone with an affection for the club.
"Roberto Martinez and I certainly fall into that category.
"Winning the FA Cup in 2013, and beating Manchester City in the Final, was an amazing experience.
"But it was just a highlight of what was a very important time in both of our careers.
"The questions of what has happened since are for later, really, because the priority has to be sorting things out.
"New owners need to be found, and they need to be people who can provide stability, moving forward.
"At the moment, it is a worrying time for all concerned."
Not least because Maloney's old Celtic room-mate, and Hoops' potential transfer target to solve their goalkeeping issue, David Marshall, is right in the midst of it.
"I haven't been in touch with David yet. With everything that has been going on, I haven't wanted to bother him," said Maloney.
"I read that there was the chance of a quick deal with another Championship club to help the club financially.
"As his friend, I hope it doesn't work out that way.
"You want to be able to choose your employer for football reasons, and for what is best for you, your family and your career.
"I think David has earned that right. He is 35, and has been a great goalkeeper for club and country for many years now.
"Whoever buys him is going to get a player with loads of experience of playing at a high level.
"He has played in Europe plenty of times for Celtic, including, of course, the famous shut-out against Barcelona in the Nou Camp in 2004, and come through some high-pressure situations with Scotland.
"Do I think he could go back and be a big player for Celtic? Of course. I think he will do well wherever he goes.
"He knows the club, he knows the manager and he knows the support. So he would be going into an environment that was familiar to him, which can help.
"It may be they want to look elsewhere. The departures of Fraser Forster and Craig Gordon should allow some flexibility with wages.
"Whatever happens, this is going to be such an exciting season for Celtic.
"Speaking from a personal, rather than professional, perspective, I am the same as all the fans in that I just want to see 10-in-a-row.
"It would be an amazing achievement. The fact it has never been done before says it all really.
"So you want that – for Neil, for the current players, for all the players who have contributed to Celtic's success over the period and, of course, you want it for the supporters.
"I don't think anybody could argue that they are not capable of doing it now. This is a team that has won the last 11 domestic trophies available to them.
"No, the question is will they do it? That is tough because of all the focus that will be on the title this season.
"We saw a sustained challenge from Rangers last season, and you have to imagine they will be even more focused this season.
"I expect both of them to win the majority of their games.
"So, for me, it will come down to how the two teams perform in the tougher fixtures – Hearts at Tynecastle, Aberdeen or Livingston away – that could determine who wins it.
"Without question, though, it should be a really exciting year."
With Euro 2020 pushed back to 2021, the same applies to Maloney, Martinez and the rest of Belgium's coaching team.
"It has been really busy, and I love it," he said.
"We have Belgian players in action scattered right through the leagues across Europe that are back, and most of them are compressing loads of fixtures into a short period of time.
"So you have to try to keep a handle on everything, and that means watching loads of football matches.
"We are not going to the games themselves because of the coronavirus. But there is stacks of live TV coverage, so we are not missing anything.
"All Belgium's coaching staff have Wyscout (an analysis platform), and we have good relationships with most of the major European clubs, so we can get wide-angle footage of games, which helps a lot.
"So last Saturday, for example, I was watching Leicester City against Crystal Palace, where we had Youri Tielemans, Christian Benteke and Dennis Praet all involved.
"With UEFA having put out the Nations League dates, we know we have a busy autumn ahead of us, including games against England at home and away.
"So we need to be right on top of how all our players are performing.
"I think everyone was disappointed the Euros had to be put back a year, but we are where we are.
"It will just be brilliant to be involved when Belgium kick off again."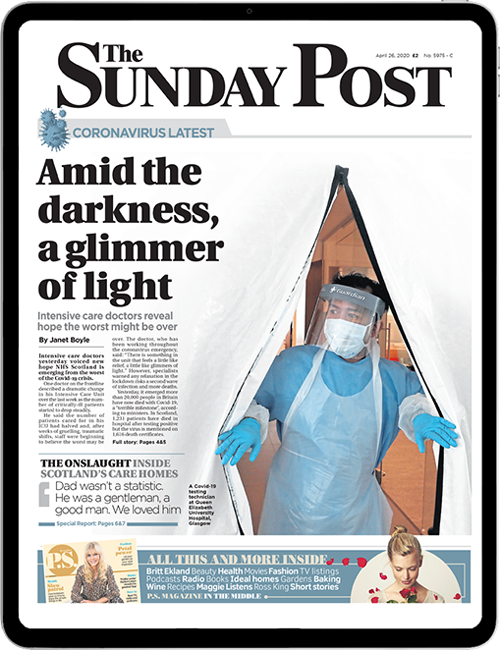 Enjoy the convenience of having The Sunday Post delivered as a digital ePaper straight to your smartphone, tablet or computer.
Subscribe for only £5.49 a month and enjoy all the benefits of the printed paper as a digital replica.
Subscribe