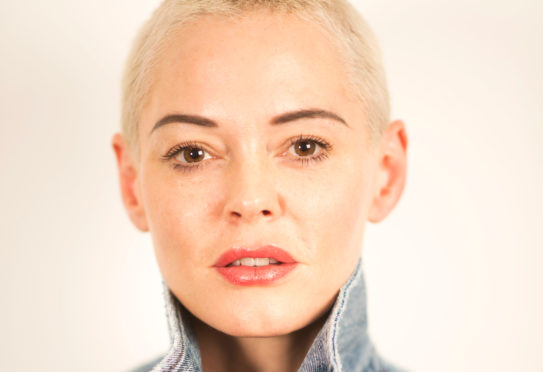 Few people come to Edinburgh in August for a quiet time.
But for film star Rose McGowan, it will be the happy calm before the inevitable storm of next month's Harvey Weinstein trial, which will once again thrust her into the spotlight.
Rose has been one of the most outspoken accusers of the disgraced Hollywood mogul, who is facing charges of rape and sexual assault when the case begins in New York on September 9.
She says Weinstein raped her in 1997, a story that came to light when The New York Times named her two years ago as being one of the women Weinstein reached a settlement with in an alleged sexual harassment case.
Since then, 45-year-old Rose has been at the forefront of the #MeToo campaign and her bestselling memoir, Brave, shone a light on the dark side of Hollywood.
It didn't come without ramifications for the star of Scream, Planet Terror and TV series Charmed. She says the door has been slammed shut on her Hollywood acting career and she has had to deal with an avalanche of negativity.
But, she says, for the first time in her life, she is finally happy.
"I'm in a great place," she insisted, as she took a break from rehearsals for her debut Fringe show, Planet 9. "I'm really, really happy with this project, which has given me life and energy. I'm not being harassed, stalked, hacked or generally terrorised by bad people. I think anyone would feel happier.
"I'm in a really calm, good place. I feel such relief, like climbing a mountain.
Part of that happiness is coming to Edinburgh to perform her new show.
"I thought The Fringe would be the ideal home for Planet 9," she smiled. "It's this weird, wonderful place for people who love art."
But getting to that place of calm wasn't an easy journey.
"What I wanted to do was simply change the way the world thought about certain things, to get people to see each other differently as humans so we wouldn't hurt each other so much.
"I wanted to show that you could cut off the head of power and you didn't need to bite at the ankles. Let people have the power, not just the rich and the powerful. I know I've made strides and been successful doing that."
It may seem futile to many, but Rose believes it is possible for her name not to be a permanent precursor for the Weinstein scandal.
"I don't want it to be the defining characteristic in my life, but it will be in my obituary, that's for sure," she continued. "I think as more of my work progresses and gets out there, that will be different."
Does that future work include acting?
"It doesn't really interest me, acting. If it happens, it happens, but I don't see how it could at this point. I still feel doors are shut. You take out the trash and get punished for it. It's not fair.
"I'm working on some film projects that I want to direct. I directed a film three years ago that was really well received and nominated at Sundance, so I want to get back to directing. I love it and that's on the front burner. And just learning to live life in a peaceful way, without being hurt and harassed. I'm curious to see what that kind of life is like."
Rose is not one of the women who will stand against Weinstein in the dock next month and she says she'll attempt to keep a low profile as the case unfolds.
"I'll send all of my love and strength to the women who have to testify because they are going to go through a really hard time. It's not going to be easy for them.
"I'm really proud of how brave they are. I wish I had that chance, but it wasn't the time for it. It wasn't the time in society and it wasn't the time legally."
Does Rose see positive strides being taken since the #MeToo movement began?
"I do see a lot of changes and it's allowed a lot of other people to come up, to take out some of the trash. We've all worked at places that would be great if it wasn't for that one person.
"What if that one person could just not be there because they've done bad things and they don't deserve to be there, so all the good people can come up?
"I've seen a lot of that, and I'm really proud of it, having had a hand in it."
Rose may feel like the chapter of her life where she spoke out about Weinstein and the darkness of Hollywood is over. But people still want to question her about it.
"I accept that, but I try to move them away from it," she said. "I don't want to be tied to a certain thing for the rest of my life. I collate my life as a free person, without the haunting spectre of evil hanging over me all the time."
Rose's childhood was similarly tumultuous. She was born in Italy to American parents who were part of a cult called The Children Of God.
When her mum and dad moved her to the States, she found it hard to settle. That didn't improve when her parents split up. She was 13 when she was spotted by a film director and her career in Hollywood, and all the tumult that comes with it, began. If life was strange before, La La Land wasn't the place for a simpler time.
That experience has defined and inspired her Planet 9 show.
"It's a music album and visual project I've been working on for four years," she said. "Planet 9 is a place I invented for myself when I was 10, when I was sent to America from Italy. I had a bad reaction to it. I was a foreigner who didn't speak English, so I created my own planet to make me feel better."
While Rose has had to stand up to a lot of negativity, she has also seen the positive, and she hopes that can be a lasting legacy of everything that has happened.
"I get so much positivity – whether it's a thumbs up on the subway or a raised fist when someone walks by me, just little things that get you through the day, and it feels good. It was a hard time for many people, but it's got better for people now and it has eased up. Collectively, as a society, we've gone through something, and I think we've emerged better and stronger. And we need all the better and stronger we can get in this day and age."
And for Rose, this feels like the start of a new life – one she is able to finally enjoy.
"It's taken until now to feel happy," she admitted. "I've had moments of happiness, but it was always with this feeling that something was coming round the corner.
"I don't feel that way now and that's a really good thing. I'm made of stern stuff, but what feels good is to not have to be strong, to just have to exist.
"And that's a nice feeling."
---
Planet 9, Main Hall – Assembly Hall, Aug 15-18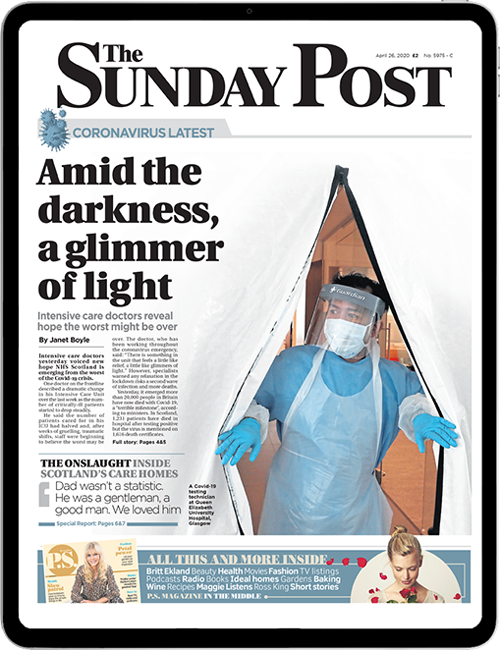 Enjoy the convenience of having The Sunday Post delivered as a digital ePaper straight to your smartphone, tablet or computer.
Subscribe for only £5.49 a month and enjoy all the benefits of the printed paper as a digital replica.
Subscribe