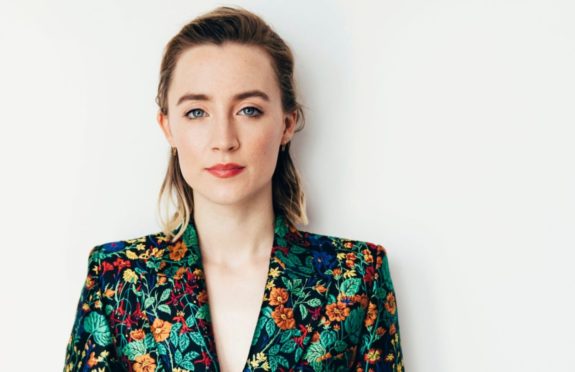 While the Oscars are the highlight of the year for some actors, for Saoirse Ronan it is simply "a good night out".
In true Irish spirit, the 25-year-old says the glitzy, star-studded spectacle in Los Angeles is a chance to catch up with friends and "have a laugh".
Saoirse is up for her fourth Academy Awards nomination this evening, making her the second-youngest person – after Jennifer Lawrence – in Oscars history to receive so many nods at such a tender age. She is shortlisted in the Best Actress category for her role in Little Women, up against favourite Renee Zellweger, Scarlett Johansson and Cynthia Erivo.
Saoirse, who aged just 12 made the Best Supporting Actress shortlist for Atonement in 2008, says she can't quite believe she's been nominated yet again.
"When it happened the first time, I had only ever seen the Oscars on television," explained Saoirse.
"I always sat down every year to watch it. I was always very excited, and so for me to even go to the Oscars, let alone be nominated, felt quite surreal. It still feels very much like that this time and I think it always will.
"One of the things I have learned is to bring a mate with you because then, win or not, you get to have a laugh.
"The Oscars are a good night out, first and foremost, anything more than that is a bonus.
"I've been lucky because last year both Margot (Robbie) and I were nominated for Mary Queen of Scots and this year I have Florence (Pugh) there as a mate – and I also get to see Margot again."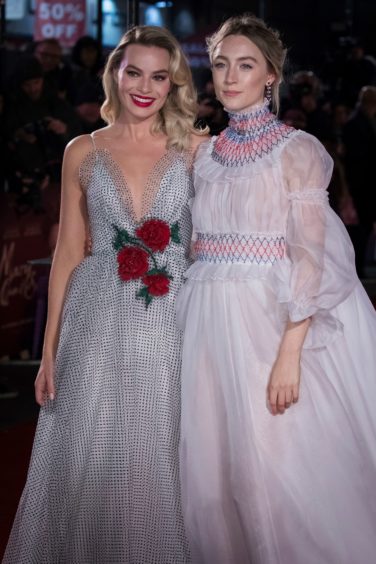 Despite the competitive nature of Hollywood, Saoirse says being up against her friends for prizes doesn't lead to bad feeling.
"No, it really isn't like that," she insisted. "Margot and I are mates, Florence is amazing and I think all the nominees are just very supportive of each other.
"It has a nice feeling to it all."
While Saoirse will be hanging out with her friends this evening, she is unlikely to be seen on the red carpet with Scottish actor Jack Lowden, whom she is believed to be dating.
Neither has ever spoken about the relationship, but they have been seen together socially several times since both worked on Mary Queen Of Scots two years ago.
At last Sunday's Baftas, where Saoirse was nominated for best actress and Fighting With My Family actor Jack was up for the Rising Star award, the pair ensured they kept apart over the course of the evening.
Growing up in the spotlight, Saoirse understands what she needs to do to protect her privacy.
And she says that fame and success haven't changed her.
"Not too much. Obviously things like the Oscars make it harder to go back to the real world, but I'm lucky that I had that clear divide for many years.
"It's really important to hold on to that sense of reality. That is something my mum and dad always gave me when I was young and I still have that now."
Although born in The Bronx, New York, Saoirse is regarded as being Irish. Her parents, Paul and Monica, are from Dublin and the family moved back to their homeland when Saoirse was three.
And despite her success, she admits people still struggle to pronounce her first name correctly (for the record, it's Ser-sha).
"They still get the name wrong but I feel like the word has spread a little and it is getting better," she smiled.
"I got called Shelley once. I've been Cher, Sher-shay, and all sorts!"
Starring in the remake of Little Women, alongside Meryl Streep, Pugh, Emma Watson and Laura Dern, gave Saoirse the chance to be reunited with her Lady Bird director, Greta Gerwig.
When Saoirse heard about Greta's involvement, she made her interest known immediately. "It was while we were doing press for Lady Bird that I heard Greta was going to be doing this," she explained.
"I have never ever done this before, because I am usually very, very Irish about my approach to getting jobs, but we were at this event and I just went up to Greta and said, 'So, you know you are doing Little Women, well I should be Jo March. That's all I'm going to say. You go and take your time and think about it.'
"I was very arrogant about the whole thing. I kind of shocked myself that I was like that, actually.
"Then, a couple of weeks later, she said, 'Yeah, OK, you can be Jo.'
"You read the book and watch the other film versions and Jo is amazing. There's so much you can do with her. I think we explore a lot in this that hadn't been explored as much before."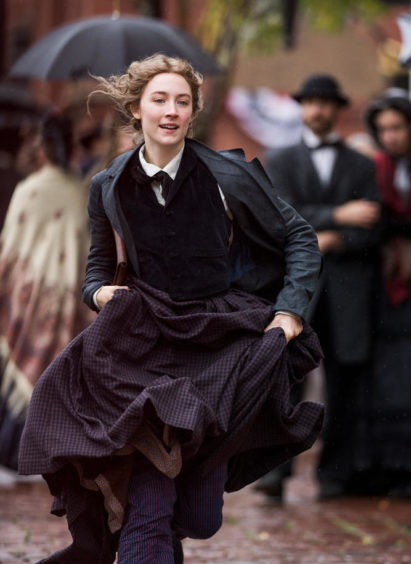 Working with Greta again, Saoirse says, was an inspiring experience – one that has made her consider stepping into the director's chair as a result.
"I have worked with brilliant directors – men and women – and I have always wanted to try my hand at directing.
"But only since I watched Greta do all of this have I had this epiphany that maybe I could be a great director, too. That's the incredible thing about this. Yes, I am somebody who has worked in film for most of my life, but I am still a young woman.
"For all other young people to see women be great, it changes our perspective of ourselves.
"I am a confident person but it has changed my perspective on what I can do and what I can succeed in.
"One of the things I have started to learn as I have become older is when it comes to work and making decisions about work, or anything really, is if your reason behind doing something is because you 'should' do it, it's the wrong reason. That's the wrong impetus to do something.
"A director told me once never to do something because you think you should. Only ever do something because you want to, or you need to do it.
"I have been learning a lot about that as I have grown older and it's allowed me to stand my ground a little bit more."
Already established as one of the big screen's most talented actors, whether she wins the Oscar tonight or not, this is clearly only the start for multi-talented and confident Saoirse.
---
Saoirse: The story so far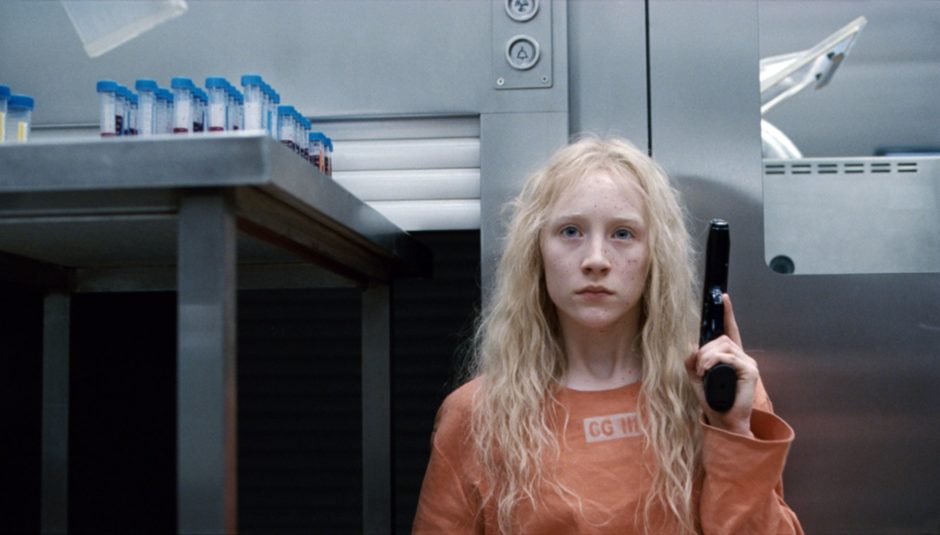 Little Women star Saoirse was just nine when she made her screen debut, appearing on Irish national broadcaster RTE's medical drama, The Clinic, and then the mini-serial, Proof.
Although she lost out on a role in Harry Potter, Saoirse did make her film debut in 2005 romantic comedy, I Could Never Be Your Woman, alongside Michelle Pfeiffer and Paul Rudd.
Two years later, she won the part of Briony Tallis in the big-screen version of Ian McEwan's novel, Atonement, starring with Keira Knightley and James McAvoy.
It was Saoirse's breakthrough role, receiving not only her first Oscar nomination but also Golden Globe and Bafta nominations.
As the titular teen assassin in 2011's Hanna, Saoirse showed her versatility before a return to literary adaptations and a second Oscar nod with 2016's Brooklyn, based on Colm Toibin's book. As shy young immigrant Eilis Lacey, the New York-born actress reverses her own family's journey, swapping the certainties of Irish provincial life for the excitement of the Big Apple.
Coming-of-age indie hit Lady Bird then began a partnership with director Greta Gerwig which blossomed further with Little Women, which is in contention for six Oscars at tonight's ceremony in LA.
---
Oscars 2020, Sky Cinema, from 10pm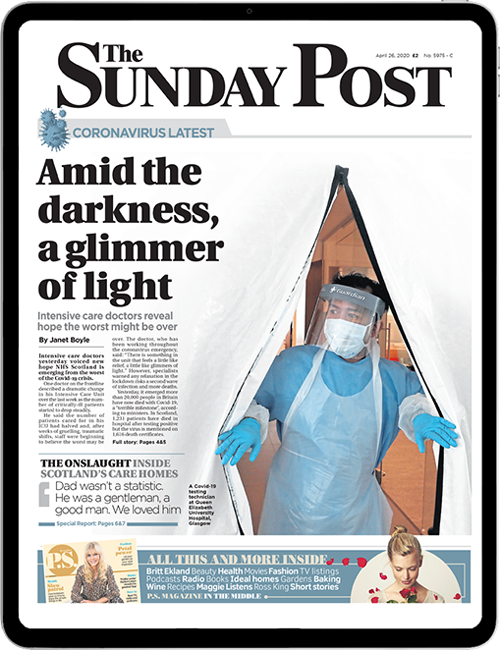 Enjoy the convenience of having The Sunday Post delivered as a digital ePaper straight to your smartphone, tablet or computer.
Subscribe for only £5.49 a month and enjoy all the benefits of the printed paper as a digital replica.
Subscribe