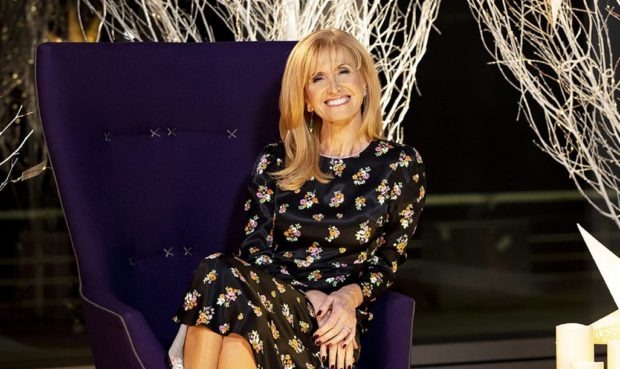 Jackie Bird has just clambered out the loft with an armful of Christmas decorations when P.S. catches up with her at her Glasgow home.
"I don't know if you've noticed," she asks pointedly, "but I was out last night and the number of people who have gone berserk in terms of decorations, lights and trees – and I am doing it myself!"
The woman who, for 20 years until 2019 was the festive face of BBC Scotland, presenting its TV Hogmanay bash, confessed: "A little bit of Christmas fatigue has set in over the years, and I've thought, 'I won't bother putting that much up'. This time, though, it's different. I was in the attic five minutes ago thinking, 'Yep, I'll have that; I'll put that up'. I think it is going to look like the Blackpool illuminations here, but not as tasteful," she laughs.
Jackie, 58, who quit her job as Reporting Scotland anchor in April 2019, hungry for new challenges, last year revealed in The Sunday Post that 2020 was to be her "Year of saying 'Yes'".
But the mum of two admits the Covid-19 pandemic meant that things did not turn out quite the way she planned. "I like making television programmes and freeing myself from the news gave me that chance," she says.
"When I think of the things I am most proud of in my career, they often involve foreign travel. I have made documentaries about people who have set up hospitals in Africa, and people who have gone out on a limb to help children abroad. I was hoping to make a documentary about a hospice this year. Because of Covid, it fell through."
But the cloud of coronavirus did come with a silver lining. It gave her a chance to celebrate the outstanding selflessness, courage and caring that emerged during the crisis. A one-off show, Scotland's People 2020: A Thank You, will be aired on BBC Scotland on Tuesday.
The journalist, who for over a quarter-of-a century has covered everything from the devolution debate and opening of the Scottish Parliament to the Lockerbie bombing inquiry and the Scotland football team's last foray into a World Cup, says: "This programme came about because I felt so frustrated during Covid that I could not do anything. I didn't have any medical talents and I couldn't drive an ambulance. But I am lucky enough to be able to phone up some senior people in the BBC and say, 'Look, we have to recognise these people. I can make television programmes and I can present. We have to do this'."
Fortunately, broadcast bosses agreed. She says: "It was my idea back in April and May and it's taken this long. We didn't know we would still be making the programme. We thought this would be a celebration of all things past, a 'let's look back in a year and it'll be all gone'. But it changed as we went along."
A mix of comedy, music and surprises, the special, heart-warming show uncovers inspiring tales of everyday heroism and kindness that have taken place across the country, as well as the frontline NHS and healthcare workers who continue to fight to keep us safe.
Among those lauded are Dunoon Highland Dancers, the Stenhousemuir Shopkeepers, Stars In Their Homes Entertainment Group from Loanhead and Lothian-based charity Rainbox Boxes.
It's a joyous affair but one which, she confesses, at times reduced her to tears. "It was very, very emotional. And it doesn't help that I am a dreadful weeper. I weep at the beginning of films, I weep at adverts with Labradors and toilet tissue," she smiles.
All of those involved left their mark on her but none more than Katie McKay, whose father died during the pandemic. Jackie explains: "Katie's elderly father was one of the thousands of people who ended up in hospital, but he did not have Covid. He was dying and, because of the crisis, could not have visitors. Alison Williams, who was behind the Rainbox Boxes, was able to connect family with a dying father through an iPad. That really stays with me.
"I have my 83-year-old dad Ronnie and 81-year-old mum Linda and I suppose you put yourself in the position of sons and daughters like that and think, 'There but for the grace of God go I'. Thank God for good people like Alison."
Jackie jokes she went from TV news anchor to papergirl, delivering copies of The Sunday Post to her parents during lockdown but she hasn't regretted her decision to quit journalism. She reveals: "I have not missed reporting in the slightest. I haven't missed the news."
Covid-19, she says, "reinforced the fact that it was the correct decision". "Reporting something as big as Covid would have been a test," she says. "I could have been thinking, 'I wished I was involved in that' and I wasn't for a second. That was a relief more than anything. I don't know what I'd have done if I'd felt that I still needed to be involved.
"Life moves on. Since I left Reporting Scotland I've done a couple of years of Children In Need, and I host the World Pipe Band Championships. I have made radio documentaries for independent radio like Scotland's Greatest Song. We made 10 documentaries of the top-10 songs, and I hosted that. I have been doing podcasts for the National Trust. It's certainly been busy, but it's not the stuff I would normally have done."
And she's harbouring an unrequited passion: singing. Jackie, who has made music with Paul Weller and Echo And The Bunnymen, reveals: "I have done things with various artists if they have ever needed backing singers; Paul Weller in the 1980s for a short time when he was mentoring young singers."
She laughs: "Maybe I'll get Paul to reassemble the Style Council and I'll be the girl singer.
"I just love to sing. I am one of the people that you don't want to have at your karaoke evening because I need a surgeon to extract the microphone from my hand."
Last New Year was her first with her family in two decades. "We went to Portugal for a weekend break with my parents and watched fireworks on the beach," she recalls.
Will she be a Hogmanay karaoke queen? Or will she stay home, tune in and watch her successor, Susan Calman, on TV? "I'll probably be sobbing in a cupboard," she jokes. "I really don't know what I'll be doing. I don't think any of us does. I could be at a party or I could be in the garden letting off a banger and having one of those little tin-foil barbecues."
Her focus for now is Christmas. Jackie – who is married to Robin Weir – and whose children, Claudia, 28, and Jacob, 25 are in Cornwall and Japan says: "My kids are in the four winds. So it is basically my mum and dad and my husband and I, and hopefully my husband's father; depending on all the restrictions and if we can sort it all out it'll be great. I am still waiting to hear what we will be able to do, but fingers crossed, we will be able to do something socially distanced."
And she can't wait for an end to the virus and restrictions. She tells P.S: "Everything you come out with at the moment sounds like you are a scriptwriter for the Waltons. All of the statements like, 'We appreciate people that we didn't appreciate enough in the past'. But it's true. I am longing for a few girly lunches to catch up with my friends again.
"I am not a pub-goer. I like to have a glass of wine in front of the telly. But I'm 'Jackie no mates' at the moment and, my giddy aunt, I am going to go to a pub. It's the things that we haven't been able to do that we appreciate so much more now.
"This year was my year for saying yes whenever we were allowed to. So I am holding that thought. I think I am allowed to pass it on, so 2021 is going to be my year of saying, 'Yes'."
Scotland's People 2020: A Thank You, BBC Scotland, Tuesday, 10pm
---
Toasting our local heroes
There can be no doubt that 2020 has been a year for heroes.
As traumatic as the Covid-19 pandemic is, it has brought out the best in many and Scotland can be justifiably proud.
Jackie Bird's new show Scotland's People: A Thank You spotlights some of those who have gone above and beyond to help others.
People like Dunoon Highland Dancers and best pals Lily Davies, aged seven, and Lois Cook, 10, who cooked up a plan to dance 50 Flings to pay for 50 meals for the residents of their local sheltered housing complex, raising £1,125.
Quick to identify many older residents were in need during lockdown, Dunoon's community kitchen has for the past seven months been making hot Sunday meals for the elderly at Dunoon Burgh Hall.
Meanwhile, in the Midlothian town of Loanhead, Grant Stanley came up with Stars In Their Homes, an online group that brought together performers from across the UK and Europe with live weekend broadcasts to entertain people isolated at home.
And the programme sees Jackie visiting Stenhousemuir shopkeepers Asiyah and Jawad Javed who donated care packages of food and PPE to those who needed it most. They even used their own holiday money to buy PPE.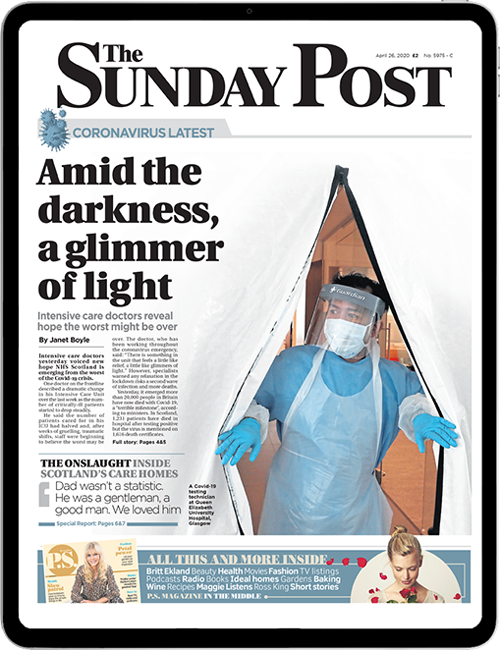 Enjoy the convenience of having The Sunday Post delivered as a digital ePaper straight to your smartphone, tablet or computer.
Subscribe for only £5.49 a month and enjoy all the benefits of the printed paper as a digital replica.
Subscribe