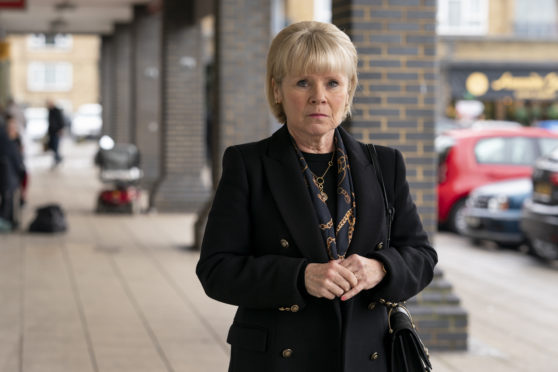 Keeping it varied is the dream for any actor, being cast in different roles and mixing up the happy and sad, lightweight and heavy going.
Now Imelda Staunton has told P.S. that her two latest projects were the ultimate in light and shade – and why she wouldn't have missed out on either.
Next month, she'll be one of the big-name guest stars in the eagerly-anticipated Downton Abbey movie. But first comes the darkest of the dark, playing the grieving mum of a murdered girl in ITV's big new series A Confession.
The six-part real life drama stars Martin Freeman as Detective Superintendent Steve Fulcher. The dedicated officer deliberately breached police procedure and protocol to catch a killer, a decision that ultimately cost him his career and reputation.
Imelda takes on the role of Karen Edwards, mum of 20-year-old Becky Godden, and a meeting with Karen was instrumental in the compelling screen portrayal.
"I was very daunted by meeting her," says Imelda, 63. "But she gave me a great big hug and said: 'Thank you so much for doing this.'
"Then we sat for five hours and talked. I didn't want to pry, but it was hearing all the mundane things. My job was to get her essence. I'm not doing an impression of Karen, I'm not trying to do that at all.
"But she has so much fight and energy and, of course, that is all fuelled by her grief and her rage. That is so apparent to me. Yet she wants to continue to fight and her belief is that Steve Fulcher did the right thing. She is an extraordinary human being who could fuel any large power station. God love her, she has never stopped fighting."
Imelda admits the encounter took its toll, but she is acutely aware of the infinitely greater toll taken on Karen.
"When I got home I was absolutely knackered," she confides.
"It's shattering. That's how I felt meeting her for five hours – she's had it for 10 years and more now.
"And yet she has this extraordinary armour that protects her and that she can fight with. It's really admirable."
Becky had gone missing back in 2003 and no trace of her had ever been found.
But when coverage of the hunt for another young woman, 22-year-old Sian O'Callaghan, was launched in Swindon in 2011, Karen realises there may be a connection.
Both bodies were ultimately found and the killer, a local taxi driver, was jailed for life with no possibility of parole. Although the families saw justice done, Fulcher saw his career ended as a result of his actions during the killer's confessions.
Getting such a sensitive subject right was more important than ever for Imelda.
"When you're playing someone who is still alive, you do feel a bit of an extra responsibility.
"I just hope I've done it justice. We all want to do more to tell this terribly traumatic story as best we can.
"You start at the right place and you're not trying to make it over-emotional or too catastrophic. God knows, it's bad enough."
The lightness comes with the movie period drama fans can't wait to hit the big screen.
Imelda plays Lady Bagshaw, an aristocratic arrival who is soon involved in a verbal sparring match with Maggie Smith's Dowager Countess.
As a long-time friend of Dame Maggie, and Penelope Wilton, who plays Isobel Crawley, Imelda says it couldn't have been a nicer change of pace. And, being married to Jim Carter, ever-dependable butler Carson, she had more than a little insight as to what lay ahead.
"I was with him for six years doing it, so I know exactly what it's like," she smiles.
"We only went in together twice I think, but I loved being at work with him.
"It was grand. It was so nice, such a lovely thing to be part of. It was an absolute treat to work with Maggie and Penelope. A Confession was hard graft and Downton was luxury."
Catching up with daughter Bessie for a girlie day out with some shopping and dinner is Imelda's idea of a dream bit of R&R.
That and some green-fingered therapy: "Jim and I do good gardening."
And getting some down time is more important than ever. Imelda won critical acclaim for her portrayal of Martha in Who's Afraid Of Virginia Woolf?, and despite loving the theatre, and having won four of the remarkable 13 Olivier Awards for which she's been nominated, she says taking a break from the nightly pressure of stage work is now a priority.
"Up until recently I'd done seven years on the trot so I'd like to step back for a bit and concentrate on television and film," she says. "I was so chuffed to get A Confession as when I'd decided I was going to stop theatre for a while I fully expected I would never ever get to play the kind of roles I do on stage.
"I want a break because I want to go home at night rather than go out at night.
"A Confession was gruelling and there are some scenes that are more gruelling than others. Once I'd filmed those, though, they're gone and then I can go home and let it go, but if you're doing that every single night it gets to you.
"You try to step back but it's in your muscle memory every day and you know you've got to go there so I keep myself very much to myself. I don't have any life at all and I don't see anyone. I'm pretty boring."
As well as the stage acclaim, Imelda was nominated for an Oscar for 2004's Vera Drake.
Being part of the Academy Award machine gave her a real appreciation of what Olivia Colman and her fellow nominees were facing this year.
"It's a long bloody day! It's great, but it's hard graft. I felt for all those people when you're having to do the rounds, week in and week out. It's marvellous but it's not just one big party and everyone telling you you're marvellous."
Mike Leigh's Drake won a host of awards for Imelda including a BAFTA and glory at the Venice Film Festival.
The story, about a backstreet abortionist, was a tough watch at times. And despite stepping back from the nightly grind of theatre work for a time, Imelda insists she's not looking for an easy life.
"I suppose my only ambition is to keep striving to challenge myself and not rest on my laurels and think, 'Oh, that'll be an easy gig, let's just do that'. I never want to do that.
"I've still got ambitions and you don't retire from acting."
---
My big, big debt to Vera
Vera Drake put Imelda on the international stage and she credits it with landing her a massive role in the Harry Potter films.
"They might have wanted me but my profile wouldn't have been high enough," says Imelda.
"I'm sure Vera Drake allowed me to play that part."
The role in question, hissable baddie Dolores Umbridge, gripped and terrified film fans in equal measure. It wasn't, she insists, what she may have imagined.
"I thought I was going to be getting into Harry Potter for some lightweight stuff but actually it was serious.
"She was not a very nice woman to be living with for quite some time.
"It was directed by David Yates who had only done heavy-hitting political dramas on TV.
"We both said that this character was a woman who wanted ethnic cleansing, who wanted pure blood, so we took it very seriously."
The franchise brought Imelda to a whole new, youthful, audience.
"I did it and thought that'd be that, but it still goes on. The fan mail still comes and people still recognise me.
"It's the kids who have grown up with it.
"They're adults now and they're saying: 'Please, please" and you're thinking: 'Come on, you're 35!'
"It's extraordinary."
---
A Confession starts on ITV next month. Downton Abbey is in cinemas from September 13