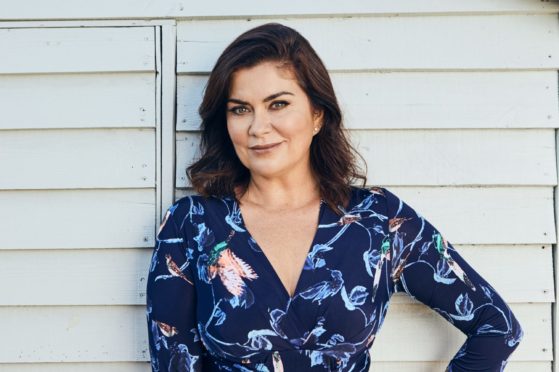 It was the iconic advert that was to launch her TV career. Lifestyle and property presenter Amanda Lamb started out as the hooded and haunting face of Scottish Widows.
The enigmatic and ethereal cloaked lady who was beamed into our living rooms for a decade until 2004 went on to front a string of popular shows such as Channel 4's A Place in the Sun, Selling Houses, Beat My Build and My Flatpack Home.
As she gears up for the launch of her new show My Mortgage Free Home, the 48-year-old former model and mum of two reveals she almost wasn't casted in the role that made her "an honorary Scot" and for which she is particularly recognised today.
She says: "I nearly didn't get it. Casting was on my birthday and it was a gloriously hot sunny day. I had arranged a picnic with some friends and I had a phone call in the morning saying, 'can you come into town and do this casting for a pensions company called Scottish Widows?' I was like, really!
"But I went. I remember getting to the casting suite and there were hundreds of girls there, so my birthday was spent queueing up to be seen. Then they whittled it down to 20 girls, then 10, and then two. It was between me and another girl. The rumour was that Scottish Widows wanted the other girl and the director wanted me and fought for me to get it. Thank god for him. It was an absolute dream. There are not many iconic adverts any more.
"There were times when I'd be filming, like in La Rochelle with David Bailey, and it felt like it was somebody else doing it. They built a replica of part of the lighthouse to make it look like I was standing on the top and I was wearing a very tight little black dress and heels. I got stuck up the ladder and had to be rescued by French firemen.
"Because that ad was so iconic I am sure I didn't get a lot of parts because I was too recognisable, it's a bit of chicken and egg. But I don't regret it for a second and ironically to this day I am still getting recognised for that, especially when I have my face mask on. I wonder whether if it was because the eyes were such a thing with that advert."
She laughs: "Even now people say, 'you were that black widow; that husband killer'.
"I would sometimes come up to Scotland and do personal appearances. I would never talk, I was supposed to be enigmatic and mournful. Whenever that cloak went on you went into character. I did a corporate event for Scottish Widows in Stirling Castle, it was all misty and dark and I had to glide in and glide out again."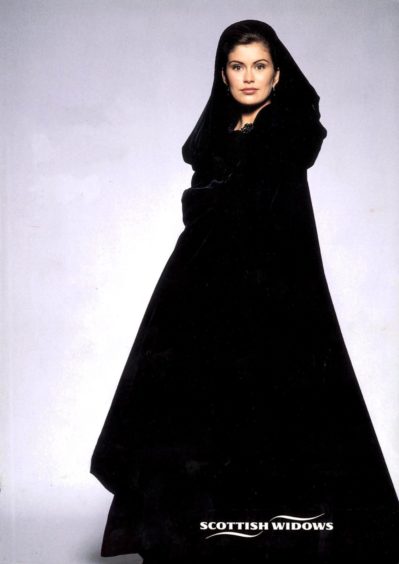 Amanda, 48, was back in Scotland last month for the filming of the new show. In the London home she shares with her husband, TV cameraman Sean McGuinness, and their daughters Willow, 11, and Lottie, 7, she beams: "I am properly chuffed. This is the job of my dreams. It has been such a joy to make.
"We went to Bute, and Maybole, it was the most glorious weather and we shot in and around Glasgow with Joanna and Simon Atkinson who have one daughter at university. They are edging towards retirement and just wanted to slow down.
"Simon does a three-hour commute every day to Glasgow. They said some of the nicest things and it chokes me up when I talk about it. Joanne said that lockdown made her fall in love again with the man she fell in love with 25 years ago. She said they want to be together a lot more.
"The pandemic, as awful as it has been, has also made a lot of people reassess the way they work and the way they live; their life-work balance. They have discovered they do not have to go into the office every day – just once or twice a week, or work from home. If you ask the vast majority of people what they would do if they won the lottery, pretty much the first thing they would say is pay off the mortgage or buy a house."
She explains how the programme sets out to achieve that for its participants. "We take the equity in their current home plus any savings they might have and just use that. Every single property that I show in this series would enable the couples to live mortgage free."
And is she mortgage free herself? "No!" she insists, "but I have a cunning plan. My mortgage is interest only and it is looming over my head all the time. When it is up I still have to find a lot of money to pay it off. But I have another property that I rent out that I will sell, and that will pay off this mortgage, so I'm not panicking just yet.
"I lived in a flat when I first met my husband. I had sunk a lot of money into it because I never thought I was going to meet him and I would end up like Bridget Jones with a cat."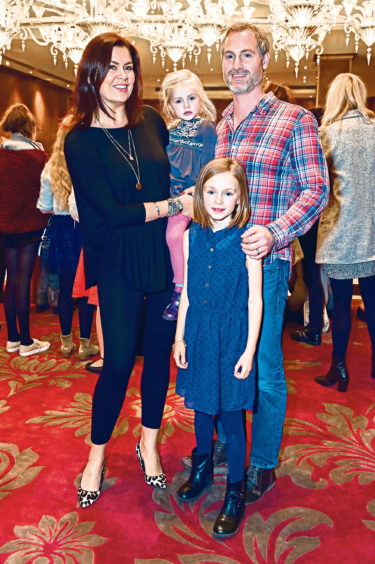 The couple met while filming A Place in the Sun and married in 2012. Amanda hadn't expected to fall in love again after her divorce from Mike Carter in 2003. The split is reported to have cost the presenter her perfect home in Cornwall.
"After Sean and I got together we became pregnant quite quickly and had to move," she explains. "I couldn't sell the flat and it was rented out. Luckily it became my nest egg. I have to admit it has made me really think about how we could sell this (house). I went to see a friend the other day and went 'oh my god'. She basically has my dream house. It is this big old double-fronted Georgian manor house with two acres of land and loads of space."
For now though, Amanda remains firmly rooted in London. "I am kicking myself that we didn't do it five years ago, but we have two girls, one of whom has just started secondary school, and one of whom is in middle school. I don't want to uproot them."
Just before the Covid-19 outbreak she posted a poignant message on social media urging her followers to stand up to whatever the future holds and to be kind to one another.
She could not have known then how prophetic her words would be. Within weeks the world was gripped by the coronavirus crisis. Amanda explains: "We have had a lot of personal things happening. My husband's father was diagnosed with prostate cancer, and my mum was diagnosed with myeloma."
When Amanda wrote the post, her mum had just had a stem cell transplant.
"Maybe I have psychic powers," she smiles, "but at the beginning of this year I did start to think, 'God we are all rushing around and missing so much of what is important in life'. As heart-wrenching and terrible as this pandemic has been, there are glimmers of a rebirth. People are actually starting to think, hold on a minute, and to recognise what is truly important.
"I am taking the pandemic a day at a time. I have been very guilty of not living in the present, I always look back or forward and I never look at just this next 24 hours; the here and now. That is something I am trying to do at the moment; to just be in the now."
And her greatest desire?
She smiles: "I dream of growing old disgracefully by the sea."
---
Live, love: Widow wisdom
Former Scottish Widows model Amanda Lamb has spent more than a quarter of a century in front of the cameras.
Here she shares her wisdom on life, love, and the future; words that hold special meaning in challenging times.
Hold those you love close to you
Call those you love often (don't just send a text, that's a cop out)
Don't sweat the small stuff (or the big stuff, come to think of it)
Smile. Laugh
Eat that bloody slice of cake if you want to. If you can't do your trousers up, wear a skirt
Exercise, so you can do up aforementioned trousers. Laugh until you pee your pants or your cheeks ache (whichever comes first)
Tell those close to you, you love them
Cherish every day. There will always be someone richer, thinner, prettier more successful than you but you're doing OK (more than OK)
Take pleasure in simple things. Throw stuff out. Stop buying stuff you don't need
Drink wine and laugh with your girlfriends
Try not to shout too much at your kids/husband. Be kind. Be patient
Read books. Look after yourself
Go forth with excitement and embrace everything that's thrown at you.
My Mortgage Free Home, Mondays from October 12, 9pm on HGTV and dplay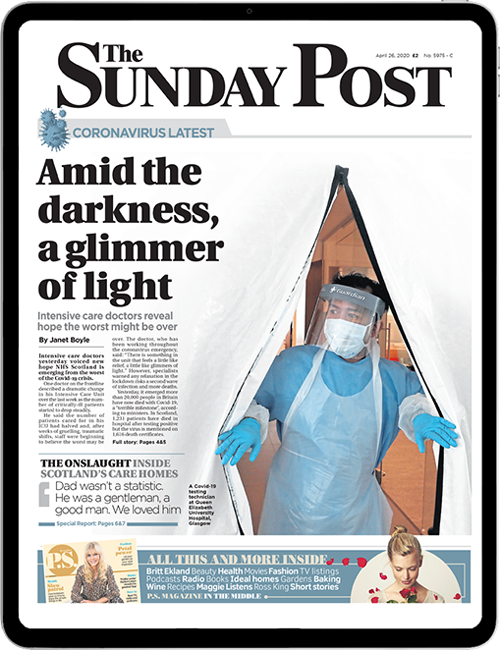 Enjoy the convenience of having The Sunday Post delivered as a digital ePaper straight to your smartphone, tablet or computer.
Subscribe for only £5.49 a month and enjoy all the benefits of the printed paper as a digital replica.
Subscribe