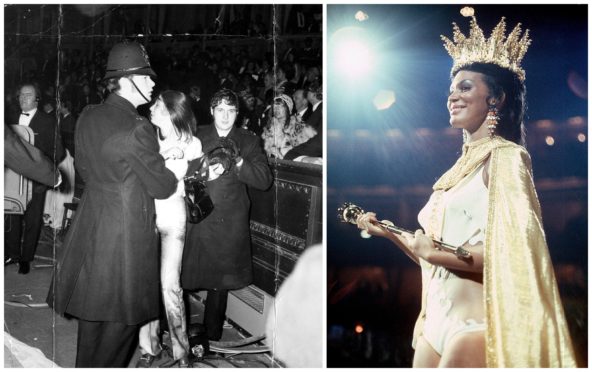 In a #MeToo world, a contest judging women by their looks seems like a hangover from a bygone age. More specifically, the age would probably be 1970 and the contest would almost certainly be Miss World.
This week sees the release of Misbehaviour, starring Keira Knightley and Jessie Buckley, a big-screen comedy drama telling the real-life story of how a group of Women's Lib protesters disrupted the live broadcast of that year's ­pageant watched by a global audience of 120 million people.
Their direct action helped propel the women's liberation movement into the public consciousness and, in a few tumultuous minutes, kick-started a landmark debate about sexism, equality and Miss World.
The movie tells how ­campaigners targeted the 1970 ceremony, hosted by Hollywood comedian Bob Hope, after a protest began at the signal of feminist campaigner Sarah Wilson, who will remember the night at Glasgow Film Theatre later this month.
She will recall how the band of fellow protesters posed as fans in the audience before unleashing a barrage of flour, smoke bombs and rotten vegetables. The signal to start their offensive? A football rattle swung by then-26-year-old Sarah.
She told The Sunday Post: "Bob Hope started with all this appalling stuff. He was bragging about how he would take the winner of Miss World to Vietnam to jolly up the troops so they would fight the 'Cong better.
"He was saying awful things, like it was a cattle market and he'd been checking out the calves backstage and all sorts of other things. It was appallingly unfunny.
"I turned the rattle and nothing happened. That was because all my fellow protesters had to stop to light cigarettes because the smoke bombs were ignited with lit cigarettes.
"Unfortunately, I didn't get to do anything else in that time. I had lots of plans because I was near the judges.
"I was going to run down and use my water pistol filled with ink and squirt it on their judging papers.
"But I never got that far. The next thing I knew this great big security guard grabbed me and I was lifted into a room downstairs."
Other protesters were arrested and charged, but Sarah was released.
"They've tried to change Miss World in recent years," she added. "It's supposed to be more about brains and not just bodies. But basically it objectifies women and makes a ­particular type of man feel he can treat women in a certain way.
"We knew we'd succeeded back in 1970 but we'd no idea to what extent. It was viewed across the world by 120 million people. We've all met women who said 'my mother watched that protest and that's what made her become a feminist'. It put women's liberation on the map."
However, according to the current Miss Scotland, the protests would not be needed today because the contests have changed so much.
"I'm not sure I would have entered the competition if it hadn't changed," said Keryn Matthew, the current Miss Scotland and the latest to compete in Miss World. Modelling contests do exist, but that's not what Miss World is about these days. And, if it was, then I certainly wouldn't be the girl for it because I'm 5ft 4in!
"A lot of people think you're judged on how you look with Miss World, but that's not the case at all. We are representatives of our country. It's more about the content of your character than how you look."
Traditionally, Miss World would see entrants from around the globe parade in swimsuits to be judged by a – mostly-male – panel.
Now, according to Keryn, 24, the entrants are quizzed on charity knowledge, how they communicate, and their physical fitness.
"People think we just prance around in dresses but it is really nothing like that," she said. "We were doing fitness challenges. I'm quite fit but, oh my goodness, I was sore for four or five days.
"It's not really about how you look. It's about confidence, which is a ­certain type of beauty, I suppose."
The former Edinburgh University student said the sexist atmosphere of '70s contests simply would not be tolerated now.
"These days the environment of Miss World is so safe and supportive," added Keryn.
"I can't emphasize how much of a family they are. They are very conscious that lots of girls aged between 17 and 27 are in their care and they could not be better.
"They are so respectful and kind. I didn't feel unsafe or disrespected at any point. Some people have questioned my choices and my stance on feminism but not everyone is going to be OK with what you do.
"We get lots of comments about women being objectified but that's a perfect opportunity to tell people about my experience – and that experience has been positive."
However, one former Miss World contestant from its peak years believes the event might be past its sell-by date. As an 18-year-old typist from Tullibody, Clackmannanshire, Sheena Drummond landed the title of Miss UK in 1969 and went on to compete in Miss World.
"In this day and age I think these competitions are irrelevant," she said. "It might have been fine in my day but we've moved on. People have more sense now and can see there's more to women than their looks.
"I don't regret it. It was fine in my day, but things are hugely different. Girls are getting an education – it's much more important than how you look."
Sheena believes, unlike now, that the contest 50 years ago was almost entirely about how contestants looked in a swimsuit.
"It wasn't like nowadays, where you have to be intelligent!" she laughed. "There wasn't much you had to do. I had to wear a one-piece swimsuit, made for me by a London designer.
"I've still got it. Do I try it on now? Don't be daft! I can't fit in it now. I don't even think my young ­grandchildren would be able to fit in it either."
Although she looks back fondly on her reign, Sheena believes she didn't make the most of her title at the time.
"I enjoyed it at the time but it was wasted on me," she added. "I wasn't very much interested in ­everything that went with being Miss UK.
"But I don't look back with ­sadness. It was fun, and I did some modelling off the back of it.
"I moved on to to better things. It didn't change my life, but I went on to have my children and grandchildren."
---
My daughter's generation are more powerful. We are winning
by Sara Sheridan, campaigner and writer
In 1970, when Miss World was staged at the Royal Albert Hall, I was just two years old.
My mother, in her 30s, had just announced she was pregnant. She gave birth to my brother in Edinburgh's Elsie Inglis Memorial Hospital – Dr Inglis' achievements were one of the stories of my childhood.
Mum considered herself an independent woman. The contraceptive pill had been available since 1961 and she believed in a woman's right to control her own body.
But she had quit work to marry my father, whose career she supported for the next 40 years.
While she toasted the success of the previous generation's feminist actions in securing the suffrage, she also believed in defined gender roles.
By the time I was the same age, I had married, divorced and had my own daughter.
My feminism was different to my mother's. I had no intention of giving up work and expected equal pay (a fight that still hasn't been won).
I was more vocal about my rights and considered my feminism aligned to the struggle for racial and social justice.
Protest was changing. I was delighted by positive action like the '90s innovation of the Women's Prize for Fiction.
Today, my daughter is not quite 30. She and her generation are vehement on a range of subjects that I wouldn't have dreamed of tackling in the '90s.
Recently at protests, several banners suggested things have not changed, or not changed enough.
But the legal rights women enjoy have increased and our awareness has been heightened, increasing our ability to express our position.
Now, the focus is less on specific measures and more on the over-riding culture of misogyny – becoming aware of the water we swim in.
Today's generation of feminists stand on the shoulders of giants – they're more educated, more aware, more powerful and, despite regressive forces against them, I believe they have a better shot at equality than ever before.
---
Sara Sheridan's Where Are The Women? is published by Historic Environment Scotland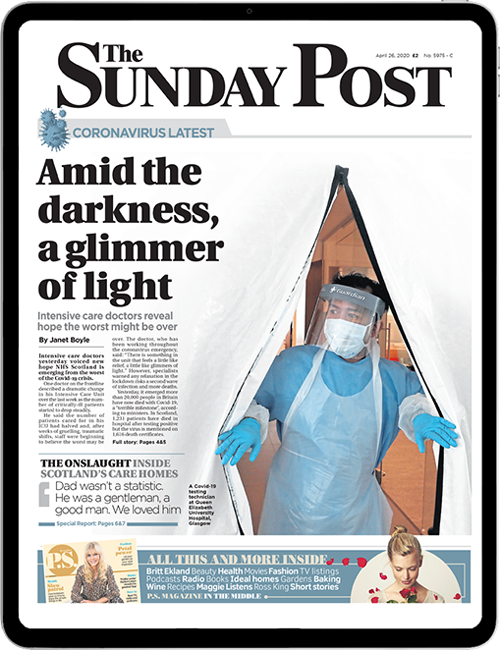 Enjoy the convenience of having The Sunday Post delivered as a digital ePaper straight to your smartphone, tablet or computer.
Subscribe for only £5.49 a month and enjoy all the benefits of the printed paper as a digital replica.
Subscribe