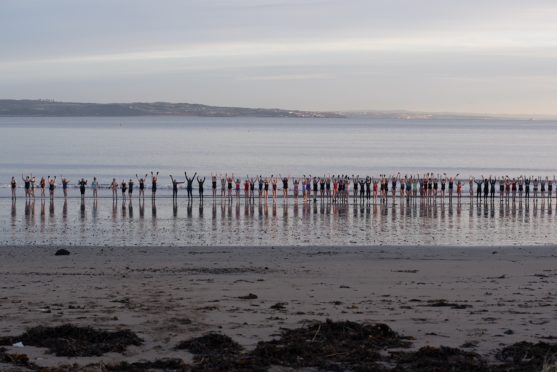 Crowds of women gathered in Edinburgh this morning for a wild swim in freezing temperatures in celebration of International Women's Day.
The 69 women met at Wardie Bay in Edinburgh at sunrise to swim in sea temperatures of 5.5c and air temperatures of 0.5c.
Coming in wetsuits, swimsuits and other swim kit, their message was one of solidarity and body positivity, celebrating their own bodies and those of women and young girls around the world.
Organised by activist Danni Gordon of The Chachi Power Project and photographer Anna Deacon of the Wild Swimming Photography Project , the event drew swimmers from all across the Scottish Central Belt, Fife, East and West Lothian.
Among those taking the dip were some of the UK's most intrepid, high-profile swimmers and adventurers, including Lindsey Cole the Thames mermaid, Hazel Robertson, an Arctic adventurer and RSGS explorer-in-residence and ice swimmer Gilly McArthur.
Body Confidence concerns and fear of judgement, have been cited as key factors in women and young girls giving up swimming and other sports, according to research by the House of Commons Health Committee and the Active People's Survey.
This year the current cohort of the Young Women Lead Committee organised by YWCA Scotland has chosen to explore the relationship young women have with sport and physical activity, with particular regard to issues that might prevent participation.
Last month Danni Gordon from The Chachi Power Project gave evidence at the first Committee meeting at The Scottish Parliament.
At the meeting, she argued that a large percentage of the drop off was to do with body image issues and the way social media and diet culture has warped our attitude towards fitness and movement.
Danni wants to change how everyone sees and appreciates their bodies and she does this by holding events, talks and workshops around Scotland.
She said: "I had terrible body confidence issues for a huge amount of my life and I only flipped my thinking in the past few years thanks to learning about the Body Positive Movement, changing my thought patterns and stopping destructive behaviours.
"Now I love getting people together to learn about how we can all change our mindset's towards our own and other people's bodies and this wild dip in the sea for International Women's Day is a challenging yet wonderful way to come together and let us all celebrate our amazing bodies!"
Wild Swimming has been a growing trend across the UK with some groups having thousands of members and informal and organised swimming events taking place throughout the UK, every day of the year.
There has been increased interest in the sport after the release of The Ponds: a film documentary focused on those who swim year round in Hampstead Heath's Swimming Ponds.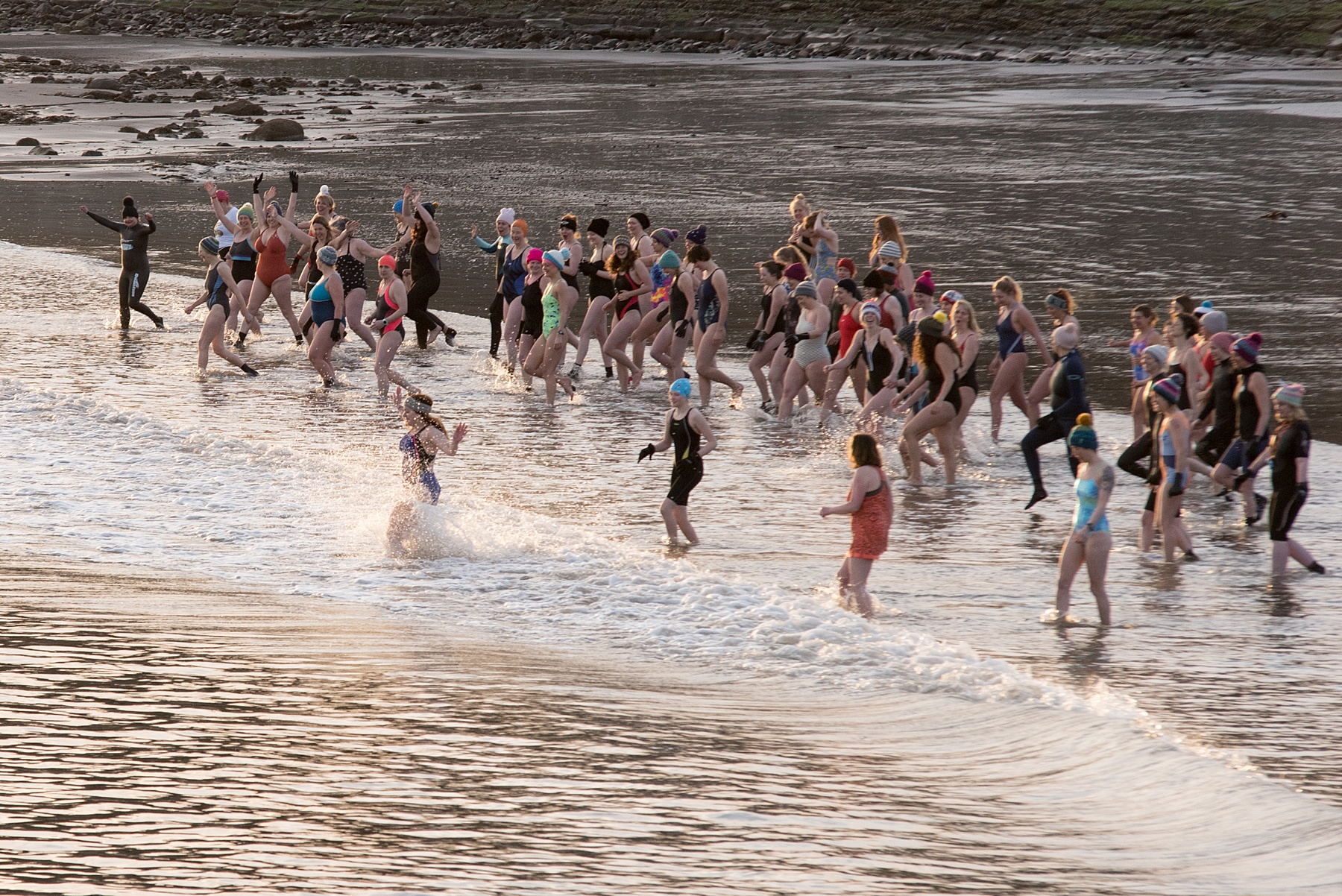 The mental, physical and social wellbeing benefits of wild swimming are only just being thoroughly researched but findings show improvements to regular swimmer's: immune system, circulation, anxiety, focus and importantly: a connection to their community.
Anna Deacon, an Edinburgh based photographer, and journalist, Vicky Allan started The Wild Swimming Photography Project in September 2018.
They were inspired by the joy of wild swimming, but also by the intense and sometimes heart-breaking stories people told to explain why they had decided to take it up.
Lindsey Cole is currently The Outdoor Swimming Society's first 'Swim Champ'.
She took time out of her current challenge: cycling from Devon to the Winter Swim Championships in Taymouth, Scotland on 9th March, so she could celebrate International Women's Day in style.
She said: "For me jumping in wild water is like injecting unicorn blood into my veins. It makes me feel wonderful and it's incredibly addictive. Whatever I may have been feeling before I dip is quite literally washed away as soon as I dunk my head in and totally immerse myself into the cold water, the group I'm with and just being outside and living."
Gilly McArthur is an accomplished ice swimmer and graces the cover of this months Outdoor Swimmer magazine.
Speaking of the event she said: "We all have beautiful bodies – in all shapes and sizes, with muscles and fat bits and stories to tell of a real life lived..wild swimming and striding with our fellow swimmers celebrates this – men and women alike.
"Stripping off by a sea, a loch or a tarn, dipping in for a swim and getting out again is totally liberating for mind and body.
"We have been conditioned to think our bodies as things to be hidden if less than "perfect" – wild swimming challenges this. With no changing cubicles, heated floors and showers your mind set changes and you learn to love the body you inhabit.
"And this is a joy to watch in the other swimmers I introduce to this incredible community."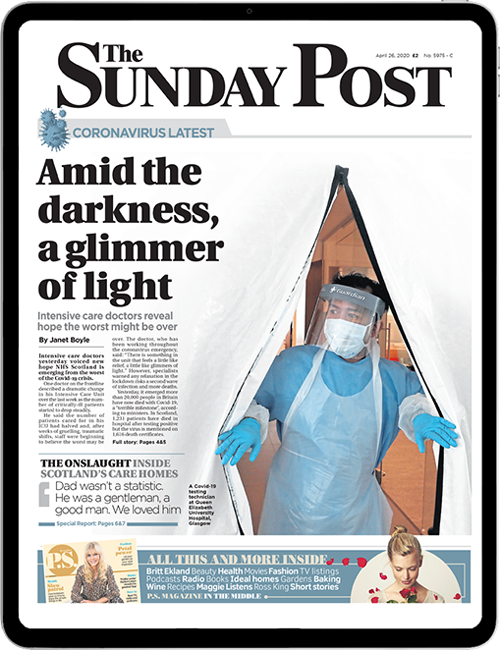 Enjoy the convenience of having The Sunday Post delivered as a digital ePaper straight to your smartphone, tablet or computer.
Subscribe for only £5.49 a month and enjoy all the benefits of the printed paper as a digital replica.
Subscribe