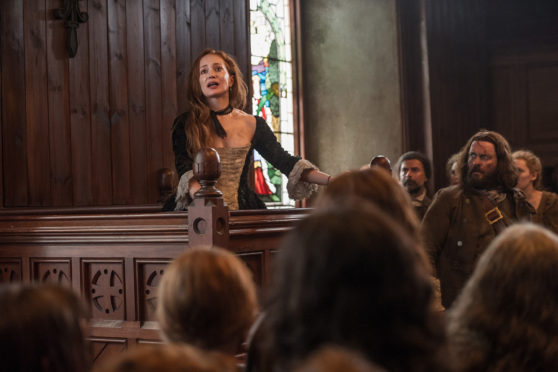 The age-old image of witches with pointy hats, brooms and black cats has gripped our imaginations since the Weird Sisters of Macbeth.
But the traditional occultists of stage and page cloud a grim and tragic historical reality – the execution of thousands of women during wave after wave of brutal witch hunts.
Now a campaign is under way to posthumously pardon Scottish women who were accused of witchcraft, tortured into confessing, put on trial, and strangled to death before being burnt at the stake.
The move comes as Carnoustie-based author Sandra Ireland releases a new novel inspired by the real histories of Scotland's witches. The thriller writer researched the fate of women such as Isobel Gowdie, Janet Cornfoot and Lilias Adie, who were subjected to sleep deprivation and other kinds of torture to make them confess to having entered into a pact with the devil.
"I wanted to give these women a voice, so I stitched together their stories to create the 'every witch' at the centre of my novel," said Sandra, who releases Sight Unseen in August.
"These women were persecuted because they were troublesome or talked back, or someone held a grudge against them. I was moved by their plight as a woman in my 50s, because as you get older you're inclined to speak your mind more and aren't worried about what other people say."
Moves to redress the wrongs of the past and commemorate Scotland's witches include calls for a national monument and a pardon for their convictions.
Claire Mitchell QC is seeking justice for thousands of people who were convicted of witchcraft and executed. She wants a legal pardon for those who fell victim to the Witchcraft Act of 1563 and an apology from the Scottish Government.
"The Witchcraft Act remained law for nearly 175 years, until 1736, and an estimated 3,837 people, the vast majority women, were accused of witchcraft, a capital crime. Some 2,600 people are thought to have been executed," said Claire.
"The witch trials of Salem are world-famous but involved only 200 people accused of witchcraft, 30 convicted and 19 hanged.
"Salem has reversed the convictions of all those who were executed, and the Massachusetts House of Representatives has passed a resolution honouring those who died. A memorial park was created in Salem with a bench for each person. But if you did that here, there just wouldn't be enough room in a Scottish park."
The Witches' Well on the Royal Mile in Edinburgh marks the spot where some 300 women were burned at the stake after being accused of witchcraft, and Claire said: "I felt a real anger that there was no apology for these people, no recognition of the terrible wrong done to them. I think, like Salem, it's a good thing to send a message to the wider world that we apologise to those who were killed as witches."
Julian Goodare, professor of history at the University of Edinburgh and director of the Survey of Scottish Witchcraft, said: "During the Reformation, the state wanted to stamp out ungodliness. In the late 1500s, Scotland believed the devil was at work in the land and that Satan was recruiting secret agents to do his bidding – witches."
In 1590, Scotland's King James VI's fear of witchcraft began to stir up national panics, resulting in the torture and death of thousands of so-called witches in Scotland, 85% of whom were women. "Out of a population of roughly a million people, about 2,500 accused witches were executed – five times the average European execution rate per capita," said Dr Goodare.
Historian Dr Louise Yeoman, who presents the BBC Scotland podcast Witch Hunt, said: "Women who stepped out of line or were considered sexually immoral or who just didn't fit in, were scapegoated as witches."
Sara Kelly, of Witches of Scotland, who is campaigning for a national monument, said: "The witch hunts were a historical injustice and in the era of #MeToo and Black Lives Matter, it's timely to remember these persecuted women."
---
The first witch hunt
The first major witch hunt was in 1590, when King James VI believed his Danish bride Anne had been targeted by witches who conjured storms to try to kill the royals during their voyages across the North Sea.
One of the first accused was Geillis Duncan, from Tranent in East Lothian who, after being tortured, named several accomplices.
King James sanctioned witch trials after accused witch Agnes Sampson's confession revealed that 200 witches had sailed – in sieves – to the church of North Berwick on Halloween night to hear the devil preach and encourage them to plot the king's destruction.
Geillis Duncan and Agnes Sampson were two of many put to death and more than 100 people implicated during the North Berwick trials.
---
Innocent victims
ISOBEL GOWDIE
Isobel Gowdie's detailed confessions in 1662 are the source of many modern ideas about witchcraft, including covens of 13, riding on broomsticks and shape-shifting.
Over six weeks of torture she confessed to meeting the Devil in the kirk of Auldearn, near Nairn, where he baptised her with blood sucked out of her Devil's mark. She gave lurid descriptions of the witches having sex with the Devil, and to changing into a jackdaw and flying through the air on a broom.
LILIAS ADIE
Lilias Adie of Torryburn in Fife was accused of practising witchcraft and fornicating with the Devil, but died in prison in 1704 before sentence could be passed.
Her grave is the only known one in Scotland of an accused witch as most were burned at the stake after being strangled to death.
Lilias, who was 60, was tortured until she confessed to having sex with the Devil and renouncing her baptism.
In 2014, historian Dr Louise Yeoman and archaeologist Douglas Speirs, found a slab of stone on the beach at Torryburn Bay that covered Lilias' remains. It had been dug up in 1852 by grave-robbers and walking sticks had been made from her coffin. Her skull was displayed in museums until it went missing but photos were taken in 1904 and held in the National Library of Scotland.
Using these in 2017, Dr Christopher Rynn and a team of forensic artists at Dundee University reconstructed what Adie's face might have looked like – the only image we have of one of Scotland's "witches".
Last year Fife Council held a memorial service and a wreath was laid at the site of her grave to raise awareness of the persecution of women in the Fife witchcraft panics.
JANET CORNFOOT
In the early 1700s mob justice led to the death of women accused of witchcraft in Pittenweem, Fife. Four confessed to witchcraft but retracted their confessions. The authorities in Edinburgh refused to allow a trial and the suspects were released.
But in 1705 a crowd killed Janet Cornfoot by dragging her to the beach, stringing her up between a ship and the harbour to throw stones at her, and placing a door on top of her and piling heavy stones on it until she died.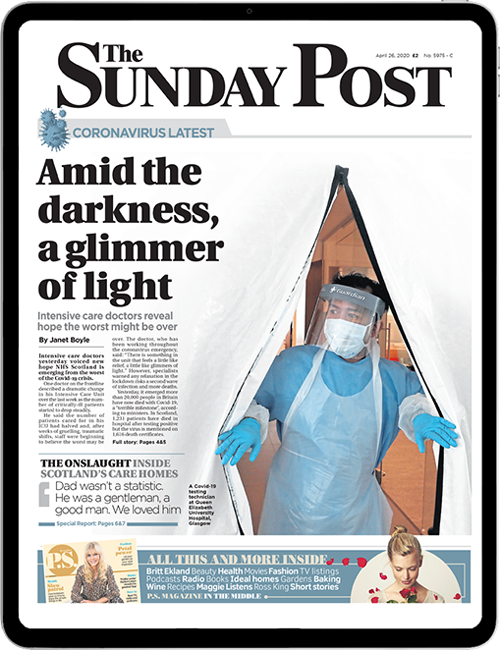 Enjoy the convenience of having The Sunday Post delivered as a digital ePaper straight to your smartphone, tablet or computer.
Subscribe for only £5.49 a month and enjoy all the benefits of the printed paper as a digital replica.
Subscribe