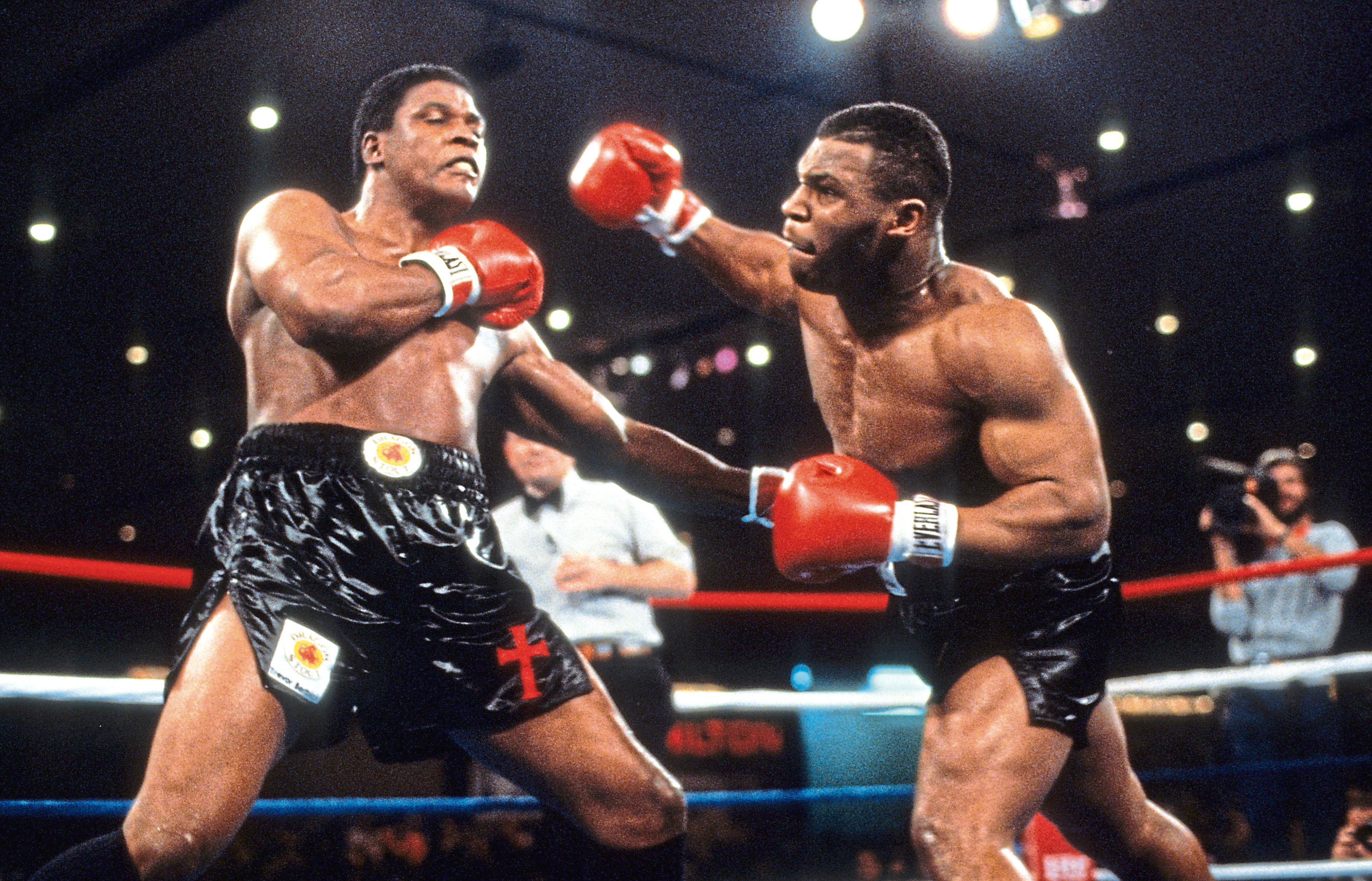 IT seems like it was only yesterday, but this week 32 years ago 20-year-old Mike Tyson became the youngest ever world heavyweight champion when he knocked out 33-year-old Trevor Berbick.
It took the New Yorker just five minutes and 35 seconds to dispense with Berbick at the Las Vegas Hilton.
Tyson told his manager after the fight: "I'm the youngest heavyweight boxing champion in history – and I'm going to be the oldest."
Tyson defended his title nine times before he lost it to Buster Douglas in 1990.
He won it back in 1996 but lost it again to Evander Holyfield the same year.
He was 30 when that happened and though he stayed in boxing until he was 38, virtually all his success came in his early 20s.
When he walked into the ring to face Berbick, he'd won all 27 of his fights, knocking out 26 opponents.
Early in the second round, Tyson walloped Berbick to the mat with a powerful left hook.
Berbick bounced up, but Tyson thumped him again. The champion went back down and though he did eventually get to his feet the fight was stopped.
Tyson was born in Brooklyn and had a troubled childhood in the Brownsville neighbourhood, an area known for its poverty and high crime rate.
He would respond violently to his peers' teasing about his high, lisping voice, which led to several stints in juvenile detention centres.
After being expelled from junior high, Tyson was sent to a reform school and it was there that he was discovered by legendary trainer Cus D'Amato, who had coached Floyd Patterson, a two-time heavyweight champion.
D'Amato became a father figure to "Iron" Mike, whose own father left his family when he was just two.
D'Amato was a stabilising force in Tyson's life, taking the teenager into his home and helping him to focus his aggression and develop discipline.
Tyson turned professional at 18 and seemed unstoppable. He won his first 19 fights by knockout, 15 of those coming in the first round.
However, D'Amato died in November 1985 and his associate Kevin Rooney took over as Tyson's trainer.
Five months after beating Berbick to become the youngest ever world champ at heavyweight, Tyson defeated James "Bonecrusher" Smith to unify the WBA and WBC titles and become the youngest undisputed heavyweight champion in boxing history.
In 1988, he knocked out Larry Holmes, the only knockout of Holmes' 76 fights, and later that year fought Michael Spinks, in what was thought to be his toughest fight yet. Tyson knocked Spinks unconscious 91 seconds into the first round!
By the end of the year, however, Tyson had begun his long downward spiral into sporting infamy.
His erratic behaviour included marrying and divorcing actress Robin Givens within a year (after being accused by her of domestic violence), firing and suing his manager, breaking his hand in a street brawl and two car accidents, one of which was reportedly a suicide attempt.
In February 1990, with his personal life in disarray, he lost his crown to Douglas in Tokyo.
Tyson was a huge favourite in the betting, with one casino making him 42-1 on.
However, Douglas had lost his mother to a stroke 23 days prior to the bout and fought the fight of his life.
Mentally, Tyson was unprepared and despite knocking down Douglas in the eighth, the champion took a heavy beating in the subsequent two rounds with Douglas unleashing a brutal uppercut, followed by a four-punch combination of hooks that sent Tyson to the canvas.
In 1991, Tyson was arrested for the rape of 18-year-old Desiree Washington, Miss Black Rhode Island, he was convicted in 1992 and sentenced to six years in prison.
He was released in March 1995 after serving less than three years of his sentence.
After leaving prison, Tyson easily won his comeback bouts against Peter McNeeley and Buster Mathis Jr.
The McNeeley fight grossed more than $96 million worldwide, including a United States record $63 million for PPV television.
Tyson regained one belt – the WBC title – by beating Frank Bruno in March 1996, knocking out the Brit in the third.
In his next fight against Bruce Seldon he regained the WBA title.
He then attempted to defend it against Evander Holyfield, who was in the fourth fight of his
comeback, having retired in 1994.
Despite accusations that he was "washed up", Holyfield defeated Tyson by TKO when the referee stopped the bout in round 11.
The following year there was a rematch at the Las Vegas Grand Garden Arena, the site of their first encounter.
It was to become one of the most controversial events in modern sports.
The fight was stopped at the end of the third round, with Tyson disqualified for biting Holyfield on both ears.
One bite was severe enough to remove a piece of Holyfield's right ear, which was found on the ring floor after the fight.
The Nevada State Boxing Commission withheld $3 million from Tyson's $30m purse, and rescinded his licence, effectively making him unable to box in the United States.
It was restored the following year and in 2002 he had what was to be his final attempt to win back the title most agreed he'd thrown away.
Lennox Lewis was his opponent, and after the two brawled at a New York press conference, the Nevada State Athletic Commission refused to grant Tyson a licence for the fight.
It was eventually staged in Memphis, Tennessee, with Lewis knocking out Tyson with a right hand in the eighth round.
Tyson beat fringe contender Clifford Etienne in his next fight, but it was to prove to be his final victory.
In August 2003, after years of financial struggles, he finally filed for bankruptcy.
The following year he was beaten by British boxer Danny Williams and then in 2005 Tyson stunned the boxing world by quitting before the start of the seventh round against journeyman Kevin McBride.
It was an ignominious end to what should have been a glorious career.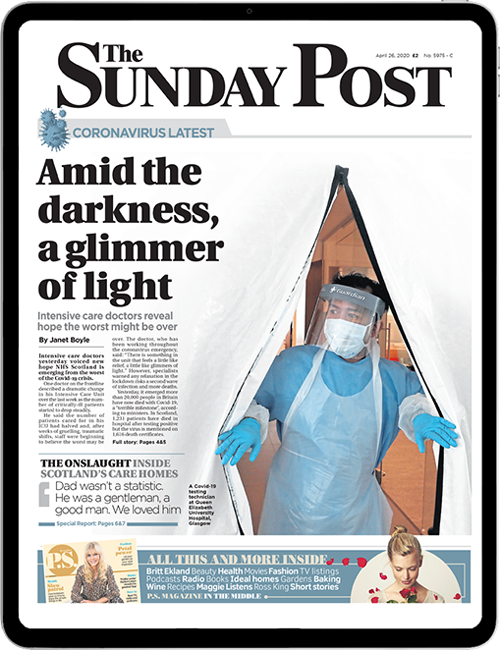 Enjoy the convenience of having The Sunday Post delivered as a digital ePaper straight to your smartphone, tablet or computer.
Subscribe for only £5.49 a month and enjoy all the benefits of the printed paper as a digital replica.
Subscribe