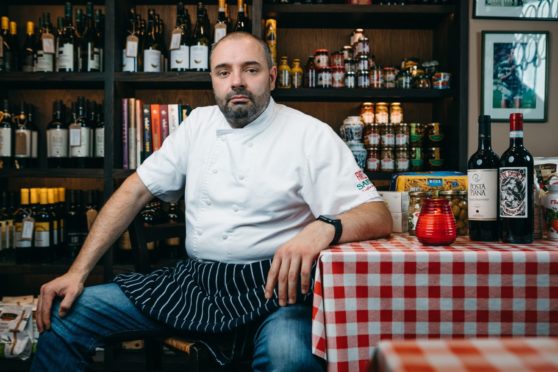 Hotel and restaurant staff are travelling hundreds of miles to pick up produce as Britain's lorry driver shortage leaves supplies stranded in warehouses, industry leaders say.
A crippling shortage of qualified HGV drivers has left wholesalers and suppliers unable to get goods to shops.
The UK Government has formed a National Economic Recovery Taskforce, led by Michael Gove, to tackle the issue. It will ­co-ordinate departments responsible for the food chain and is expected to run along similar lines to the no-deal Brexit preparations.
The committee is expected to push through changes to the HGV licensing system that can cost applicants more than £250 and requires refresher courses for drivers returning to the industry. The government has also abandoned tests for caravan drivers to free up more spaces for HGV drivers.
But industry leaders say the measures are not enough to solve the problem by Christmas. David Cochrane, chief executive of Hospitality Industry Trust Scotland, which supports those working in leisure travel and tourism, said some managers are travelling long distances for stock.
He said: "It's patchy across Scotland and everyone is being impacted in one shape or form. Scotland and tourism has been extremely busy with people taking staycations and getting the stock to run hotels, restaurants, travel and tourism has been a huge task.
"It's not uncommon for people to travel long distances to wholesalers for essential stock. This is the most challenging time I have seen in living memory."
Andrew Malcolm, chief ­executive of Linwood-based logistics giant the Malcolm Group, said the measures were too little, too late – and questioned the safety of plans to streamline HGV driver tests.
"The recent government reaction to the crisis has not been properly thought through," he said. "There is an awful lot to do and there will be no difference in the situation between now and Christmas.
"For a start, there are not ­sufficient appointments in Scotland for our drivers to sit their theory test so we have been sending them down south for this.
"Plans to streamline HGV tests also raise health and safety concerns because they are rushing things through. It is one thing passing a test but becoming an operational driver is another."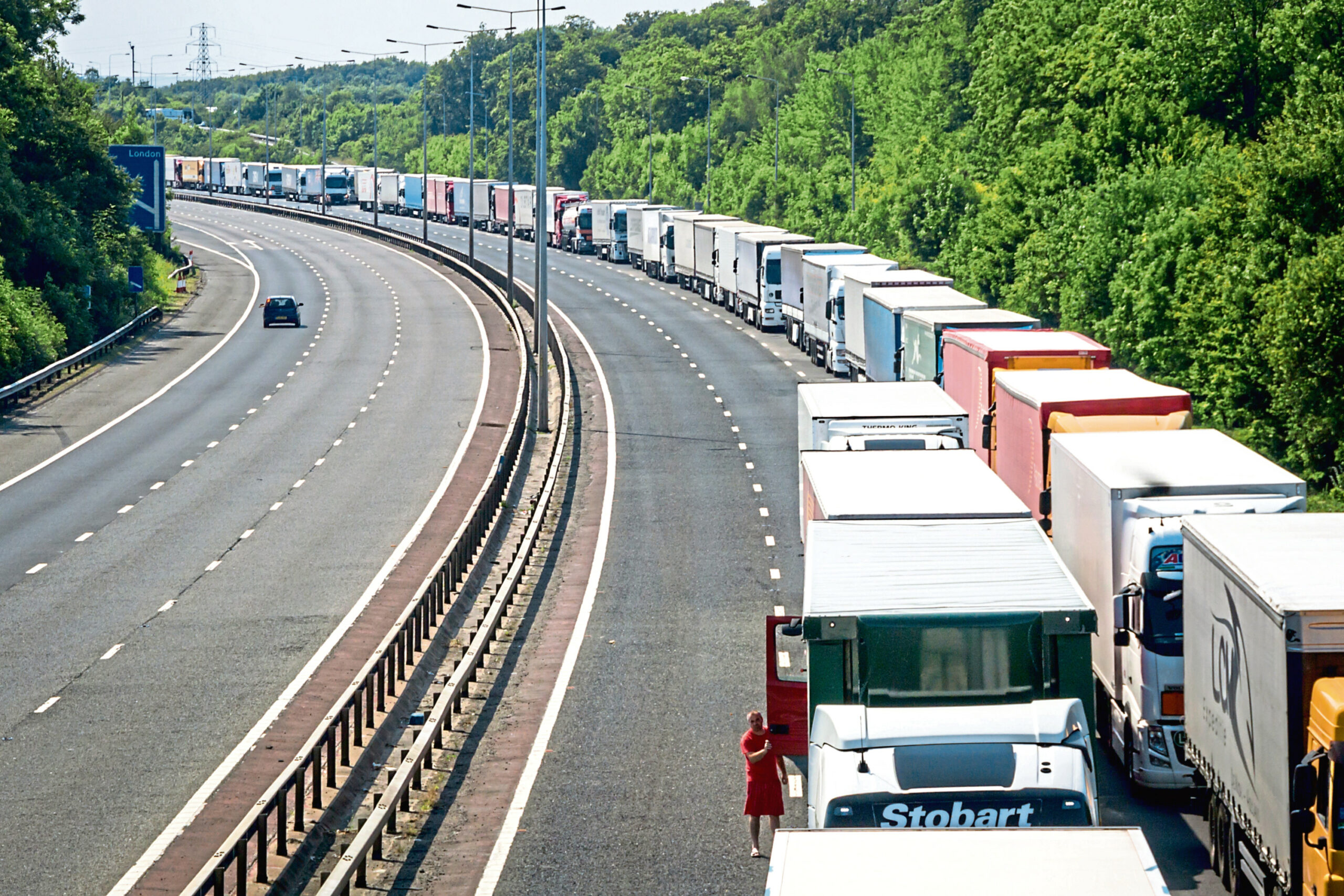 Trade leaders wrote to the UK Government last month asking for more urgency in dealing with the issue. They called for temporary visas for EU drivers to fill the gap, but this looks unlikely to happen.
Other business chiefs echo ­concerns that shortages will get worse before they get better. Items such as tinned and frozen food, milk, and some varieties of fruit are already vanishing from supermarket shelves.
Colin Smith, chief ­executive of the Scottish Wholesale Association, believes the new measures don't go far enough. He said the UK was now short of more than 90,000 truck drivers – and pointed out that 25,000 EU HGV drivers who were based here but went home after Brexit have not returned.
He said: "There is no quick fix for this. Some of our members are now having to use their own vehicles to travel to England to pick up supplies because it is the only way they can get the goods they need on time."
Martin Reid, the Road Haulage Association's policy director for Scotland, said Boris Johnson needed to introduce temporary visas for EU drivers – but he feared this would be too late to meet the Christmas rush.
He said: "In the longer term, we need to make the job more attractive to younger people. When the pandemic started, lorry drivers were hailed as heroes and essential workers but now they are back to being treated as second-class citizens. Pay and working conditions need to be significantly improved."
Due to the supply crisis, McDonald's has run out of milkshakes, Nandos and KFC have struggled to stock enough chicken and the Co-op says it faces the worst food shortages in memory.
Scotland's biggest toy importer, H Grossman, has told The Sunday Post it had to cancel some lines because of huge shipping cost increases due to Covid-enforced port closures in China and a global container shortage – and warned price increases were inevitable.
John Lewis said on Friday it had been forced to buy extra container ship space – costing 10-15 times more than normal – for festive merchandise and head off shortages.
The Scottish Retail Consortium, whose members include Tesco, Iceland, McDonald's and KFC, said things were likely to worsen.
Three to reintroduce European roaming charges in post-Brexit blow
Ewan MacDonald-Russell, the organisation's head of policy, said: "Without swift action retailers will struggle to provide their usual offering over the next few months. Government needs to pull the appropriate levers, including relaxing the short-term visa rules for HGV drivers from the EU. The longer there is a delay the more difficult things will become."
Andrew McRae, Scotland policy chair for the Federation of Small Businesses, urged consumers to be understanding.
He said: "It wouldn't hurt in the run-up to Christmas to get orders in early to local businesses. And, for people finding it hard to get products delivered from big businesses, we'd ask them to check out the local suppliers on their doorsteps."
---
I never thought my restaurant business would mean I would become a long-distance driver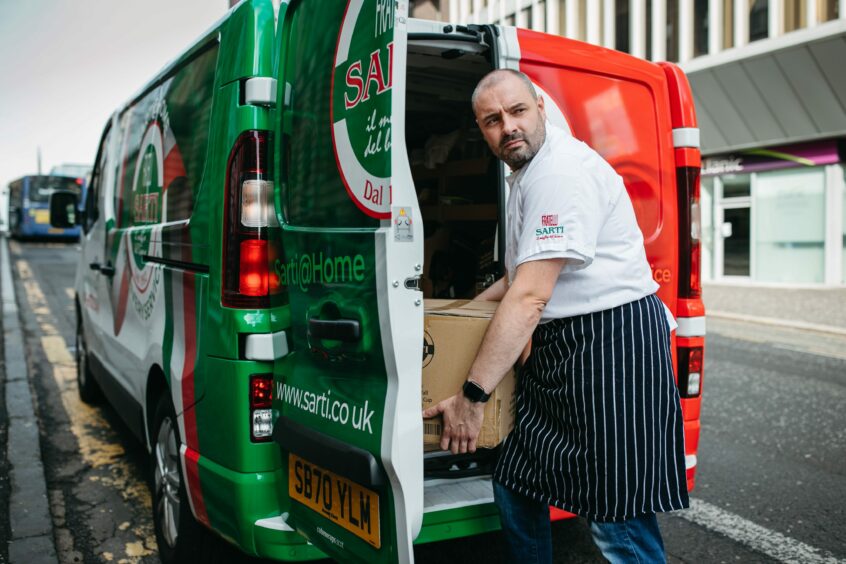 Scottish restaurant owners are driving to Dover for stock because of the shortage of lorry drivers to deliver it.
One of the country's best-known Italian eaterie bosses is preparing for a round trip of almost 1,000 miles to collect salami, hams and preserves just off the ferry and now waiting in warehouses near the channel port.
Michele Arrighi, 36, an owner of the Glasgow-based Sarti chain, said: "Our wholesalers can't give us a guarantee of when they will deliver because of the shortage of haulage drivers so I am driving down to Dover to load our van myself. If I don't, then we will run short of the main staples of Italian produce which bring in our customers.
"Previously, we would order from our suppliers in Italy and have delivery within a week. No one could have guessed that it would ever be any different.
"The suppliers say there's no problem getting it to Dover from Italy in a day or so but there's no delivery guarantee time after that."
Chef Michele adds: "Now I take two days out of a working week every few weeks to drive the 1,000-mile round trip to the south coast of England to a wholesaler not far from the port.
"I then queue for four to five hours with other restaurant owners from all over the UK for a slot at the wholesalers. I then load the van and head somewhere north again for an overnight stop and rest.
"The next morning it's the long trip back up the motorway to Scotland before my staff and I unload the food into our fridges."
The long-distance treks come as the Scottish restaurant business is working to recover after 18 months of a series of lockdowns through Covid.
"Like everyone else, we took a financial hit and we need to keep the restaurant working to make that up. Every restaurant is in the same position. Brexit has made us short of haulage drivers for deliveries and also staff from EU countries," he said.
Besides hams and salamis and preserves, the restaurant delivers hampers of Italian food in the run up to Christmas.
"I am also picking those up from wholesalers because orders are coming in and we need to meet them," he said.
"We have put our hearts and souls into making our restaurants successful but I never thought it would involve becoming a long-distance driver."
The haulage trip to Dover comes as the UK is suffering an acute shortage of lorry drivers.
UK Hospitality Scotland, which represents the industry and its suppliers, says it is aware that restaurant owners are driving to wholesalers and ports to collect goods and cites the crippling shortage of haulage drivers as a prime reason.
Leon Thompson, its executive director Scotland, said: "We are aware that stock is being collected now by restaurant and hospitality business owners and the drive to Dover is quite a distance.
"Remember, restaurants are coming out of 18 months of closure and restricted business so they are under great pressure to recover.
"Driving long distances for stock is partly caused by Brexit because many drivers went back to their home countries or elsewhere to work. The paperwork and procedure to stay in the UK was too expensive and protracted both for worker and employee.
"We now have an acute labour shortage of drivers and other key staff.
"This shortage of EU workers who previously filled other key positions in hospitality adds to the problems business now face."
---
What's in short supply?
TURKEY
Nine million turkeys are eaten over a typical Christmas but there are likely to be fewer birds available this year – from UK farms at least. The British Poultry Council is worried there won't be enough workers to slaughter, dress, pack and dispatch them.
PIGS IN BLANKETS
Companies would normally start working on labour-intensive festive products such as pigs in blankets and gammon roasts in July. But producers say there are already gaps in supply because of a lack of staff.
CHILDREN'S TOYS
Large toys and leisure goods such as bikes, skateboards and trampolines will also in short supply due to increased shipping costs from China.
VEGETABLES
There may also be issues with some vegetables, especially potatoes. This is because of flooding in Europe, which has damaged crops. Experts warn that there will also be shortages of frozen chips.
BREAD AND MILK
Everyday staples such as milk, bread, bacon and chicken are also already in limited supply at supermarkets and fast food outlets.
ELECTRONICS
Electronics may be a particular issue because of a worldwide shortage of computer chips. Few of these issues are likely to be resolved until after the Chinese New Year in February and the Boxing Day sales are therefore likely to disappoint.
BOOKS
Booksellers have ordered early and are stockpiling. However, many books are published in the lead up to Christmas to create a buzz and retailers are worried that, if something becomes a surprise hit, they will struggle to get hold of enough copies.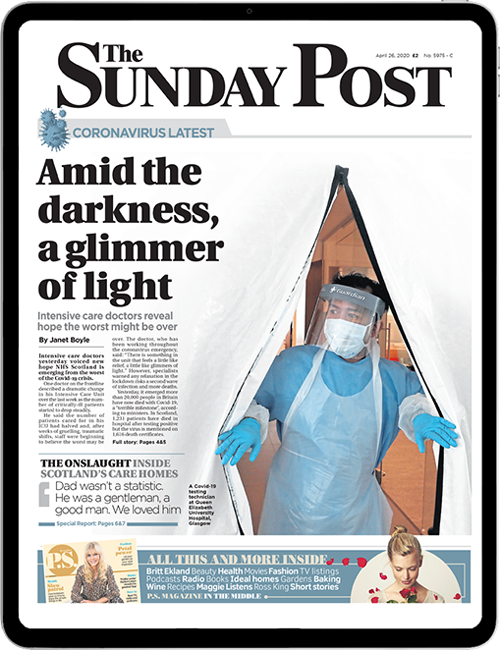 Enjoy the convenience of having The Sunday Post delivered as a digital ePaper straight to your smartphone, tablet or computer.
Subscribe for only £5.49 a month and enjoy all the benefits of the printed paper as a digital replica.
Subscribe