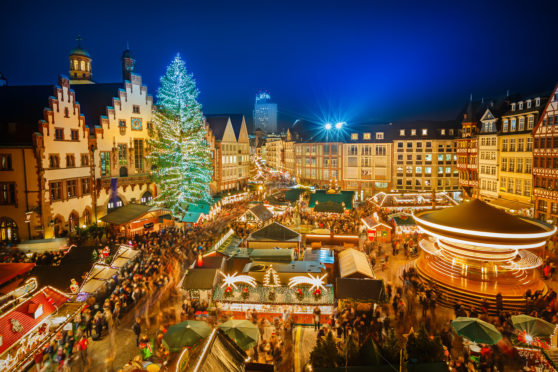 With Christmas just around the corner, it's time to start checking things off that list.
There's shopping to do, cards to write, parcels to wrap… but amidst the chaos, its important to make sure you take some time out to enjoy the festivities.
With mulled wine and gingerbread in no short supply, Christmas markets are a great place to immerse yourself in the warmth of winter.
And, if you feel like teaming a stroll round the stalls with a bit of travelling, countries across Europe really do them in style.
With festive food and handcrafted gifts a plenty, these are some of the best yuletide markets around…
Strasbourg
Now until December 30
Strasbourg's markets were first held in 1570, then called the "Christkindelsmärik" (market of the infant Jesus).
Since then, Strasbourg has continued the tradition of an authentic Alsatian Christmas and these are all the reasons why Strasbourg has earned the title as Capital of Christmas.
Berlin
Until December 31
The baroque Charlottenburg Palace is a sumptuous backdrop for Berlin West's Christmas market. An elaborate light installation bathes the market, the palace, the trees and decorative fence of the palace in a romantic glow.
Wood huts and marquees offer not only a wide range of crafts but also an impressive selection of culinary choices, from hot chestnuts and crepes to Hungarian langos.
The Winterwald offers magical attractions for children, including a nostalgic carousel, an air swing and a small railway.
Paris
Until January 6
Little by little, Christmas markets have become an essential festive event in Paris.
They're held all over the capital: in Place Saint-Germain-des-Prés, Place de la Nation on the Avenue des Champs-Elysées and in Place du Trocadéro.
Made up of wooden chalets they are the perfect place to pick up decorations for your tree, some original presents and ingredients to make your festive feasts even more delicious.
Milan
December 11 to January 6
With over 60 market huts spread around the stunning Duomo, you'll be spoilt for choice at this festive offering.
Milan's market joyfully combines culture, tradition, taste and discovery: besides guaranteeing the excellent quality and variety of food, it will enable visitors to rediscover the many artisans who will create and exhibit their artistic wares.
There are also plenty fun workshops and entertainment for the kids.
Zagreb
Until January 7
During the Advent season, Zagreb offers plenty of fun, excellent food, unique events, art, but also a genuine Christmas atmosphere, awaits you on the streets of Croatia's capital.
Make sure you polish your boots before you go because there are a number of surprises in store, including the musical program which will make you want to dance all night long.
Croatia delivers Advent at its best…think twinkling candlelight, colourful displays, festive food and drink, concerts, choirs and you won't be able to help yourself coming over all Christmassy.
Prague
Until January 6
Set in the very heart of the city is a traditional Czech marketplace, where you'll find Czech blown glass balls, products made of glass pearls or straw, hand-embroidered tablecloths, wooden toys, biscuit cutters and other national gems.
Both little and grown-up gourmets will enjoy themselves as they'll be able to have a taste of typical mulled wine, Czech Christmas biscuits, hot roasted chestnuts, or typical Czech grilled sausages.
The main visual theme of this year's markets is Angelic Christmas, which brings into the heart of the Czech capital motifs of shining golden angels and cherubs that will be hovering above the visitors' heads.
Bern
December 1 to December 24
Bern's medieval streets offer a unique setting for the annual Christmas markets.
The range of diverse goods for sale at Cathedral Square, at the foot of the stunning basilica, all have one thing in common – they were made with love, unique skill and an incredible amount of imagination.
It's only a few minutes' walk to Bern's second market on the Orphanage Square where you'll find an even broader selection of merchandise, beautifully designed and decorated booths with the scent of gingerbread, caramel and mulled wine wafting over the narrow streets.
Making your own fondue is certainly an experience you won't forget.
Vienna
November 15 to December 26
The aroma of festive baking and hot punch fills the air at the traditional Vienna Magic of Advent festival, which turns the City Hall Square into a shining fairytale land.
Christmas gifts, tree decorations, sweets and warming drinks are awaiting you as well as a carousel and craft fun workshops for kids.
The trees of the surrounding City Hall park are festively decorated and radiate in a sea of lights – a Viennese experience, you will definitely not want to miss.
Another hot spot is the cultural and Christmas market at the foot of Schönbrunn Palace. It offers sheer romance in front of an imperial backdrop, and is converted into a New Year's market after Santa has been.