In pictures: The knives are out for our man at Cirque Berserk!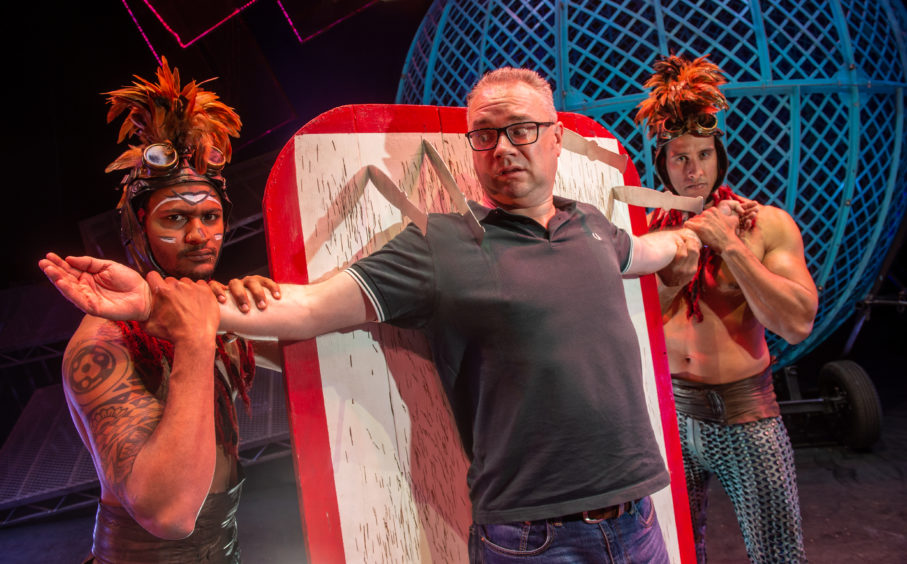 It all started when I was picked up by a Brazilian dwarf.
There's an opening paragraph I never expected to type – but it gets stranger.
I was then manhandled by said diminutive chap, Paulo, and three strapping fellows from Cuba (I swear I'm not making this up) towards a thick, wooden board.
My nerves already jangling, my terror reached a new crescendo when I was then held firmly against said board by two of the aforementioned Cubans to make sure I couldn't escape as a Czech madman threw knives at my head.
Yes, yes, I know Toni – the blade-wielding bloke in question – would say he was technically aiming BESIDE my head but the distinction is moot when razor-sharp daggers are thudding home inches from your lugholes.
When the second knife dropped as it hit home and bumped into my shoulder, the word I shouted in shock was a bit more Anglo-Saxon than "Gosh".
But it was my own fault, really.
I should have suspected that something of this ilk would be in the mischievous minds of the Cirque Berserk! crew when I agreed to join them for a night.
Because this wasn't the first – or even the second – time I'd run away to join the circus and it usually ends up with me being placed in grave peril by grinning madmen. Sorry, performers.
One of the other Cirque Berserk! acts is the Lucius Team of motorcycle stunt riders whose signature spectacle is the Globe Of Death, a metal sphere in which a lunatic stands still as motorbikes hurtle around at head level and above at speeds of up to 60mph.
And just a couple of years ago, I was that lunatic. That was the day that I discovered the colour of adrenalin was brown.
This time round, the leader of the Lucius Team recognised me and came over with a smile and extended hand – and all I could do was whimper, "That man tried to kill me!"
Interestingly enough, when I was talking later to Martin Zippo, the man behind Cirque Berserk! and also Zippo's Circus, he admitted: "I've done every single act in the circus except I won't go in the Globe Of Death. There's absolutely no chance I'd ever do that."
Cheers, mate, though I have to say I'd go back into the Globe in a heartbeat if the alternative was having Toni, and his lovely wife and assistant Nikol, chuck knives at me again.
I must admit, when I watched the full show later, although Toni escalated to throwing axes at Nikol – who was spinning on the target half the time, unlike my static self – I could swear the blades were aimed closer to me than her. Maybe he's got a thing against journos after a bad review or summat.
Cirque Berserk! is the UK's biggest and best theatre-circus spectacular and they're returning to the Edinburgh Fringe after a record-breaking sold-out run last summer. The international troupe includes acrobats, aerialists, tumblers, dancers, drummers, wheelchair acrobats and stuntmen – and a giant, fire-breathing robot.
Says Martin: "Cirque Berserk! was made for theatre. It goes back 47 years because I actually started as a theatre clown, not a circus clown, after running away from home and joining a clown troupe.
"Along the way I've burnt myself to a frazzle and spent a year in the burns unit. I was escaping from a box with an aircraft flare that burned at 2,000 degrees and clearly I failed to escape.
"I had an old acrobatic trainer who persuaded me to stop performing in theatres and move into the circus.
"The last theatre I played in was the King's in Glasgow, in a pantomime. It was Goldilocks – and the three bears were cardboard cut-outs!
"So this is a return to where I started and we wanted to produce circus for theatres. So Cirque Berserk! does not appear in tents.
"It's very interesting technically for us as it works in a different way. For example, we have many more acts on a stage than we would have in a tent because it's so immediate – you walk out of the wings on to a stage and that's it, you're on, you've started.
"Theatres are designed to help actors project themselves to the audience so something like the Globe Of Death – a big spectacle anyway – is amplified a hundred times on stage and people are quite scared by it in the theatre as even when you're at the back it's still in your face.
"I don't appear any more. I spend most of my time travelling looking for acts. I'm an assessor on various circus festivals throughout the world so I'm invited to judge acts in competitions.
"I may engage some of the acts I see in competition, I go to the circus hundreds of times a year. The knife-thrower, for example, I found in a very small circus and I immediately said, 'He's the fastest knife-thrower I've ever seen in my life.'
"We changed his costume, changed the music and put a lot of production into the act but the basic skill was unbelievable and wasted in the little circus he was in.
"The lions and tigers have gone. We are now looking at sensational acts, thrill acts, acts which involve jeopardy amongst the performance.
"I don't think anybody in the audience wants to see any circus artist get hurt but they're excited by the thought the jeopardy is there unless the circus artist is very highly skilled. So I'm looking for very highly skilled people who have got a number of disciplines under their belts.
"It's not enough to be a trapeze artist who can swing backwards and forwards and do a couple of tricks, for me you've got to be so good you're fit enough to get yourself out of trouble if something goes wrong, as it will go wrong one day, it inevitably does."
Things have changed so much but we still love the circus, as Martin explains: "That's because it moves. One of the things that fascinates people is that the circus is there, there's a village and equipment be it in theatre or big top, for a period of time and then it's completely gone.
"It doesn't exist any more and there's something quite primeval about that, 'there it was and now it's gone'.
"The audience waits for the show to come to them, and then it goes, it's that romance of the travelling show."
Cirque Berserk! is at the EICC from August 2-25 (except 21). For tickets visit edfringe.com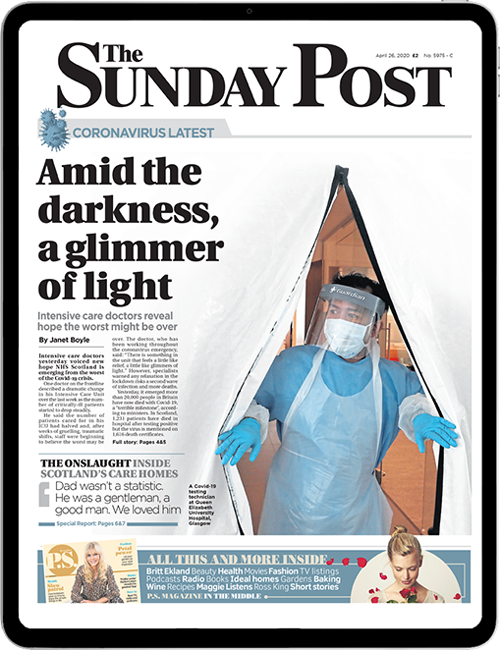 Enjoy the convenience of having The Sunday Post delivered as a digital ePaper straight to your smartphone, tablet or computer.
Subscribe for only £5.49 a month and enjoy all the benefits of the printed paper as a digital replica.
Subscribe