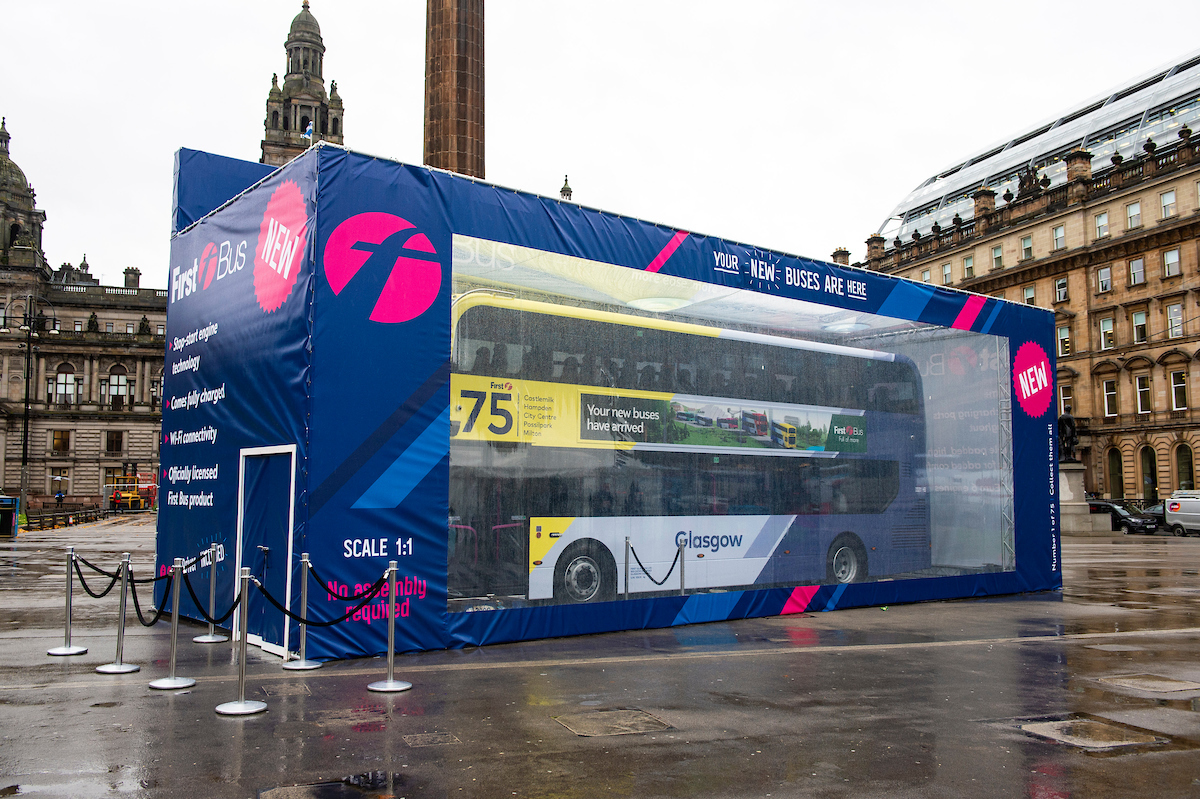 FIRST Glasgow have unveiled their new environmentally friendly fleet with the world's largest model bus display.
The first of the new state-of-the-art vehicles is on display in the city's George Square, complete with distinctive yellow and purple livery.
It formed the centrepiece of a day of entertainment and laughs hosted by Capital Scotland breakfast host Des Clarke with live music from Tommy McGuire and Joe Kane.
The first batch of new buses, which represents a £14 million investment in vehicles built by Falkirk-based Alexander Dennis Limited, will enter service on the 75 route from Castlemilk to Milton from Wednesday.
More new buses are to be launched onto other routes in the coming weeks and months.
First Glasgow Managing Director Andrew Jarvis said: "These new buses represent a significant investment for the city of Glasgow towards bus service improvements.
"I am proud to share these today with the people of Glasgow and hopefully even more people will now sample our new buses then see it as a real viable alternative to using the car."
The new buses are fully compliant with phase one of Glasgow's Low Emissions Zone (LEZ).
Due to come into effect on December 31, Scotland's first LEZ will see local service buses have to meet a specified emission standard before being allowed to operate in the city centre.
The LEZ will be introduced in phases until full implementation on December 31 2022, where all vehicles entering the zone will have to meet specified exhaust emission standards.
Councillor Anna Richardson, City Convenor for Sustainability and Carbon Reduction, said: "Delivering cleaner air is a priority for our city and I'm delighted that Glasgow will have in place Scotland's first Low Emission Zone by the end of the year.
"Glasgow's LEZ will reduce harmful vehicle emissions and make our vibrant city centre a safer and more pleasant place to be.
"The bus industry has worked closely with the council to ensure delivery of the first phase of the LEZ and I was delighted to hear of the investment First Glasgow has made to its fleet in advance of its implementation.
"Partnership working is key and we'll continue to work together to improve services which are vital to the lives of Glaswegians."