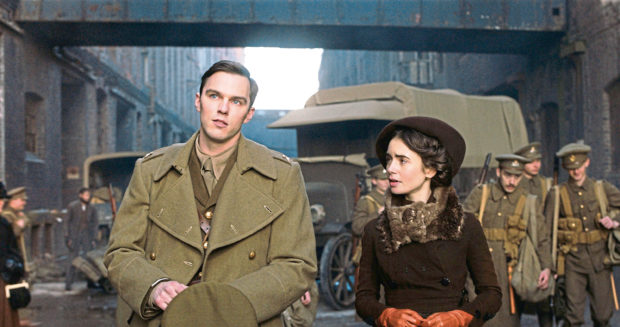 JRR Tolkein wasn't bad at writing fantasies, and it will be interesting to see how a fantasy about him goes down.
To many, Tolkien was the master of the genre, and while The Hobbit and Lord Of The Rings weren't the first such tales to be published, they were among the best and gave that style a huge popularity boost.
Now, a new movie will focus on the amazing life of Tolkien himself, and the biographical fantasy drama reveals just how important Edith Bratt was to his character, his writing, and pretty much every aspect of his life.
Tolkien met Edith, who often lived up to her surname as she was a mischief-maker, when they were youngsters in Birmingham in 1908.
The pair loved to visit a local tearoom and sit upstairs, from where they could toss sugar lumps onto the hats of unsuspecting passers-by.
Three years his junior, Edith would become the love of his life, his muse and his wife, but at first he was warned that his education would end if he continued to see her.
He did as he was told, barely setting eyes on her again until he was 21, at which point he made contact again, told her he loved her, and they were then barely apart.
So it's quite a tale to tell, and just one aspect of what is touched on in the film.
Choosing the couple to play them, however, seems to have been simple enough, and Nicholas Hoult and Lily Collins do a fine job.
She, of course, is the daughter of drummer-singer Phil Collins, famed for In The Air Tonight among others.
Nicholas, like Lily is English-born but often based in the United States, and made his name on the small screen with Skins but has since been a regular in the X-Men series of movies, Mad Max: Fury Road and various other well-received films.
Lily reckons her famous father's ability to put on voices – he's also popped up in the occasional movie, and his music has featured in many a soundtrack – helped her to master her art.
"My dad knows how to tell a story," she says. "He'd make me laugh by doing all the different voices."
Not that she will listen to anyone who suggests she gets jobs because of Phil, pointing out, "There's this common perception that having a famous last name is all you need. A surname may get you a meeting, but if there's no talent you won't get the part."
She proves she has what it takes once again in Tolkien, which is the brainchild of director Dome Karukoski.
The Cyprus-born Finn has wanted to make a biographical movie about Tolkien for 30 years, since he was 12 years of age, because it was back then that he first learned of the writer's extraordinary life.
"What struck me most is that he lived an amazing life, this beautiful, emotional story about love and friendship," says Dome.
"So many things about what I had read occurred or were instrumental in his own life. It's a film that had to be made."
Tolkien himself once pointed out that he was only just over 5ft 8in, but the man who plays him now is considerably taller.
"By the time I was 14, I was about six feet," Nicholas admits. "Later, they'd say, 'You're taller than the lead actor, so there's no way we can cast you!'"
Tolkien is in cinemas from Friday May 3.