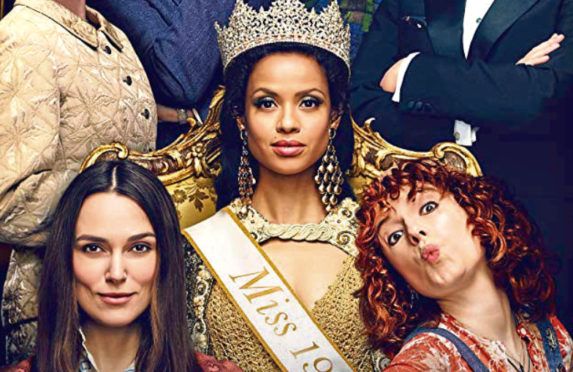 It was the most incredible Miss World ever seen, so much so that the tale of the 1970 contest seems like a work of fiction. But it was absolutely true.
So it ought to make a very fine movie, you would think, especially with a great cast.
Misbehaviour tells the story of the scandal, outrage and controversy before, during and after that amazing event in London's Royal Albert Hall half a century ago.
The first Miss World to have a black winner, the 1970 competition saw Grenada make their debut and win it.
Jennifer Hosten was the lady in question, and she is played in the new film by Oxford-born actress Gugu Mbatha-Raw, who you may know from Disney's Beauty And The Beast or TV sci-fi series Black Mirror.
"I think there are parts of me in every character I play," says the 36-year-old, who is also in this year's movie Come Away with Angelina Jolie.
That 1970 competition was the 20th Miss World, and Hosten was presented with her crown by the previous winner, Austria's Eva Rueber-Staier.
The days before it had been newsworthy, too, with the organisers letting South Africa have two entries, one black and one white.
On the evening itself, a bomb went off under the BBC's outside broadcast van, put there by the militant Angry Brigade to try to stop the whole thing being televised.
Demonstrators yelled at the audience as they entered, and Women's Lib activists protested, with host Bob Hope infamously pelted with flour bombs.
With his co-host Keith Fordyce, he was also heckled and became clearly rather nervous about the whole thing.
They had every right to be, and the controversy wasn't over when the competition reached its climax.
International Women's Day: Protester recalls disrupting Miss World as movie salutes landmark moment in fight for equality
Among the nine panel judges were Joan Collins, Glen Campbell and Grenada's first prime minister. You don't get panels like that any more. Their votes led to Miss Grenada clinching it, but it wasn't long before complaints began coming in.
The written press and the Beeb were asked how Miss Grenada could have received just two first-place votes, two fewer than Miss Sweden, but still somehow won.
Eventually, organiser Eric Morley showed all the votes, including the seconds, thirds and so on, to demonstrate how Miss Grenada really had come out ahead of Miss Sweden.
This was done partly in response to many from the audience, who had stood outside the Royal Albert Hall, chanting "Swe-den, Swe-den".
Keira Knightley is fantastic as Sally Alexander, English feminist and historian, while Greg Kinnear plays Bob Hope, Rhys Ifans and Keeley Hawes playing Mr and Mrs Morley.
"Empathy is the main thing, putting yourself in somebody else's shoes and trying not to judge," says Keira, one of Britain's most highly regarded actresses.
The 34-year-old has definite ideas on the whole idea of beauty.
"I think that there's absolutely no point trying to force your body to be anything other than what it is," she says.
"I think that when you see people who are really pushing themselves to terrifying lengths to achieve what is perceived as being beautiful today, then that's just terrifying, it's really terrifying."
---
Misbehaviour is in cinemas from Friday March 13.