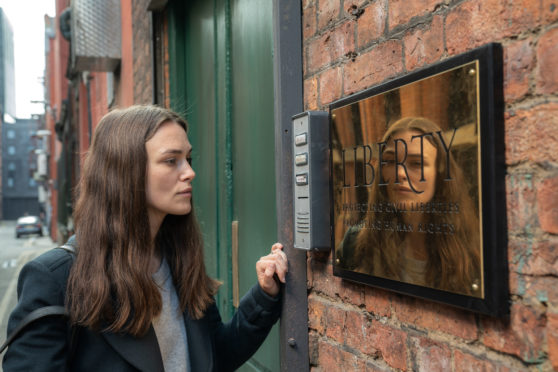 Everyone thinks they know a typical Keira Knightley movie.
She's either playing strong women in critically-acclaimed period dramas, like Pride And Prejudice and Atonement, or the love interests in rom-coms, or buckling a swash or two on the high seas.
But her new film's something different for the 34-year-old – a thrilling tale of whistleblowing, espionage and political conspiracy, all rooted in real-life events.
In Official Secrets, Knightley plays Katharine Gun, a British intelligence operative who found herself at the centre of an international political scandal in 2003.
Gun decided to leak information to the British press showing there was a concerted effort by the US and the UK governments to push for war in Iraq, despite popular opposition against invasion.
For Gun, her whistleblowing would have severe consequences – arrest, the loss of her job and her trial in 2004 under the Official Secrets Act.
If found guilty she faced 14 years in prison, although the charges were eventually dropped.
The aftermath of the leak also affected Gun's husband, a Turkish national who was threatened with deportation from the UK.
Keira says: "I wasn't aware of Katherine's story. I do remember the lead-up to the war in Iraq, I think I was almost 18.
"I was a pretty politically-engaged teenager so I had read about it a lot, and yet I don't remember this at all.
"I think that might partly be because when we invaded Iraq, I was in America and this didn't get a lot of press at all there.
"The story came out the week before the invasion happened, so it got completely swallowed up by the actual invasion."
Asked about spending time with Gun Keira says: "It was really helpful meeting her, because her point of view really is absolutely clear.
"I asked her, 'Would you do it again?' and she said, 'Yes, absolutely.' I thought that was extraordinary, that she believes absolutely in what she did, and that she did it to save lives, and I totally applaud her.
"As far as playing her, that was really important to see first-hand.
"But the thing that was challenging about the shoot was that I made the stupid decision to move my three-year-old from a cot to a bed a night before I started playing a lead role in a film where there was a lot of words!
"As any person with a kid will know, that is a terrible idea!
"So she didn't sleep, and was awake and walking around the whole night during the whole of the filming, and so was I.
"So the most difficult thing was remembering words, because I had no sleep during pretty much the whole shoot."
This is a new kind of role for Keira but she'd like to do more of them and try her hand at different things at this point in her career.
"I've always loved political thrillers. They've always been the genre I've been interested in the most," she says.
"This is the first time I've been offered one, and I was just really excited because it was a challenge that I hadn't done.
"As a cinema-goer – actually, I'm not going to the cinema that much at the moment because I have a young child and I fall asleep every time I go into a dark room – I like movies that challenge me.
"I'm not somebody that watches them to kind of switch off."
---
Official Secrets (15) is in cinemas from Friday October 18.