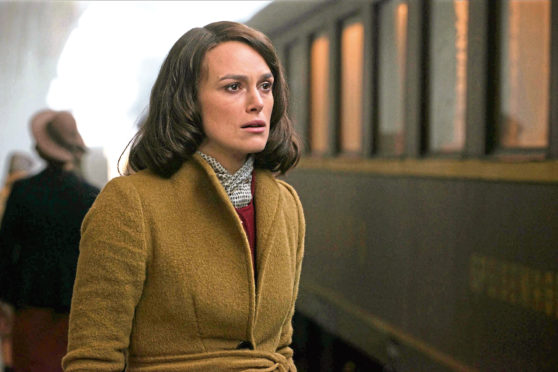 The Pirates Of The Caribbean films made Keira Knightley a household name, and the second-highest-paid actress in Hollywood.
But it wasn't until recently that she began to ask about her pay in relation to that of her male co-stars.
"It didn't even occur to me," says Knightley. "It felt like something you couldn't question.
"But I do ask now, and I can safely say that in my last two films, I have not made less than the men I've been working with."
One of those films is The Aftermath, the steamy story of a love triangle set in immediate post-war Germany.
Rachael Morgan (Knightley) arrives in the ruins of Hamburg in the bitter winter, to be reunited with her husband, played by Jason Clarke, a British colonel charged with rebuilding the shattered city.
But as they set off for their new home, Rachael is stunned to discover they will be sharing the grand house with its previous owner, a heart-throb German widower (played by Alexander Skarsgard).
It's one of no fewer than four films Knightley has coming out back-to-back, and she says: "It's been busy!
"I took a year off when I was pregnant and after I had my kid. It was interesting, because when you have a child it's amazing and fulfilling, but you feel like your identity can in some way be subsumed by being a mother.
"I had a real feeling of needing to feel like I am still me, so I attached myself to an awful lot of projects, and I got to the last one and realised I was absolutely knackered so I've taken the last six months off.
"I was the daughter of a working mother, and I know how important it was to me and my sense of self to see my mum working.
"I want my daughter to see that I'm doing something that I love. I want her to know that whatever field she chooses, she can have a kid and she can still pursue a career."
Returning to work after becoming a mum proved to Knightley that people treat female actors differently to their male counterparts. She says: "Why don't journalists ask men how they balance their home life and their career? Why don't you ask male actors how they feel being a father and going off to shoot a movie?
"More times than not, that's the first question that I'll be asked – how do you balance motherhood with your career?"
The Aftermath was directed by James Kent but Knightley says: "My next film is hopefully with a woman director. We need our stories told through our own eyes.
"Of course men can direct women brilliantly but I think that often women storytellers are subtler than men.
"And I think that often their work gets devalued because of the subtlety, and that's ridiculous.
"There is also ageism with directors. You want the young, sexy female directors but you don't necessarily want the middle-aged female directors.
"We need all those voices. We need to be talking about how difficult it is for women to work with small children, too.
"We're losing loads of women because the way the industry is set up, they can't direct and have kids at the same time."
The Aftermath (12A) is in cinemas from Friday March 1.