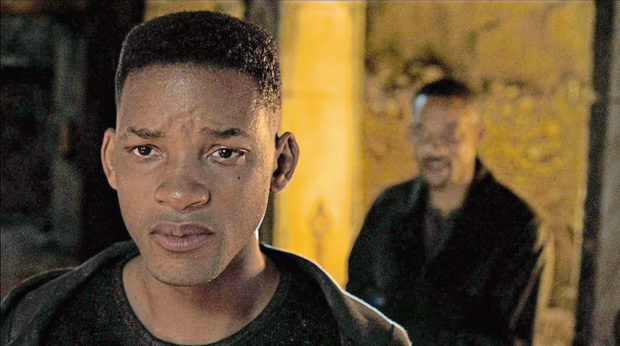 Expect a big fanfare for Gemini Man being released – the band have been ready to play for almost 20 years.
That's how long it has taken to finally get the movie to cinemas, with several directors involved at one time or another and one major change after another.
Sean Connery, Harrison Ford, Clint Eastwood and Mel Gibson were among names mentioned to star in it at one point or other, too.
Originally conceived back in 1997, its development hell is now legendary, and some had given up hope of ever seeing it completed.
In the end, Will Smith plays the lead role and the other lead role, as a younger version of Henry Brogan, the ageing assassin who gets the biggest part.
His other version is Junior, a young clone of Henry who is sent after him.
If it was confusing for Smith, it was more so for the many waiting eagerly for this movie.
It's a science fiction action flick, eventually directed by Ang Lee, and written by David Benioff, Billy Ray and Darren Lemke.
Mary Elizabeth Winstead, Clive Owen and Benedict Wong also feature alongside the two Will Smiths.
By the time Skydance Media bought the rights to the screenplay from Disney, it had been through multiple rewrites and a year later, in 2017, Ang Lee signed up to direct it.
Brogan is keen to call a halt to his career as the years have taken their toll somewhat, but finds himself having to battle with Junior.
Trouble is, Junior is such a good clone, he can tell exactly what poor Henry is going to do, leaving the older guy no choice but to find out the facts behind Junior's creation.
Apart from saving his own skin, he is keen to help Junior avoid the setbacks and disasters he faced himself.
Oh, and at the same time he has to battle with a corrupt system that now wants him permanently "retired".
It was actually the technology required that held the whole project up, at least partly.
Chris O'Donnell, Jon Voight and Nicolas Cage were yet more big names that might have ended up taking the lead role, if only the technology had been far enough developed for the original idea to be turned into a film.
One of the most marketable Hollywood stars, Will Smith movies almost always rake in a fortune, and if early reports are anything to go by, he has put in a "breathtaking" performance or two in this one.
We're not sure if that's for his Henry Brogan, his Junior or both.
"Sometimes you have to forget what's gone, appreciate what still remains, and look forward to what's coming next," says Smith, whose work ethic puts many to shame.
"If you're not willing to work hard, let someone else do it. I'd rather be with someone who does a horrible job but gives 110 per cent, than with someone who does a good job and gives 60 per cent."
Co-star Winstead reveals that she might have been able to get good advice about those technology issues.
"I come from a pretty scientific family," she says. "My sister is a neurologist and my brother is an engineer."
Gemini Man is in cinemas from Friday October 11.