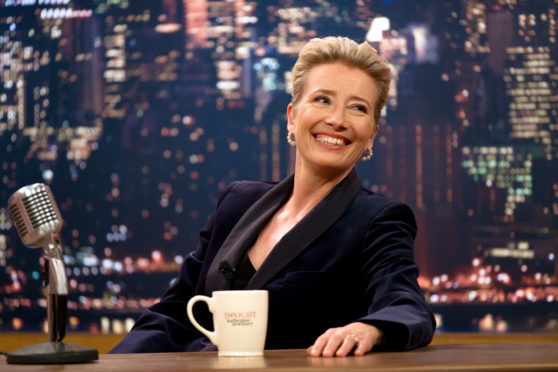 Emma Thompson may have given herself a great chance of another career if the acting dries up.
Judging by her new movie, Late Night, she'd make an excellent, terrifying talk show host.
It's 30 years since Thompson's film debut in the highly-acclaimed Henry V, and the actress, who turned 60 in April, looks like she really enjoyed getting her teeth into this latest role.
She plays Katherine Newbury, unique as the only female to host a long-running late-night TV show.
Until now, her writing team has been all-male, and she has been very much the boss and hell-bent on doing things just the way she likes them.
Some, in fact, reckon she must be the type of woman who hates other women, but an impending calamity with the show soon knocks that out of her.
As Katherine watches viewing figures plummet and then listens to critics questioning the lack of female talent in her writing pool, she realises these are two issues she must address fast, or lose everything.
Demonstrating she is more than open to equality between the sexes, she realises, would be a gesture, but maybe she might actually find another female who can write the kind of stuff viewers want to see.
On the spur of the moment, she employs Molly Patel, played by Minday Kaling, as her first-ever female writer.
A chemical plant efficiency expert from the suburbs of Pennsylvania, she may not seem the ideal choice, but Katherine is keen to try her.
With rumours circulating that the powers-that-be may be plotting to replace her with a male host, after all, she has to act fast.
The fact that Amazon have paid a fortune for the US distribution rights would suggest that those in the know reckon the movie's a winner, and the duo of Thompson and Kaling really deliver the goods.
It's a very topical and very humorous film and the early reviews suggest Emma hasn't had such a great job for quite a while.
Some reckon she comes across as delightfully wicked, while others have pointed out that she makes a decidedly convincing talk show host.
Emma admits that, whether you're famous as an actress or a talk show host, fame itself can be rewarding at times.
"I don't mean being famous is a perk," she says, "but there are certain perks to being well known and respected in one's field. Public perks, like general friendliness and willingness to please."
She may get to wear some nice outfits for the Katherine Newbury role, but Emma prefers to stay home and dress down when the day job is done.
"Sometimes I get to put on posh frocks and be Madam Glamour," she says. "My lovely friend Kath, a stylist, puts me into things I'd never dream of. But my real life is very different.
"It's very home-based. An intense domestic life, that's the core of everything."
Her co-star already knew a bit about talk shows and similar TV jobs.
Minday Kaling, who played Kelly Kapoor in the US version of The Office, is a writer, producer, comedian and actress.
She was an intern on Late Night With Conan O'Brien, and she was also a production assistant on a psychic show, which she said was "depressing".
Late Night is in cinemas from Friday June 7.