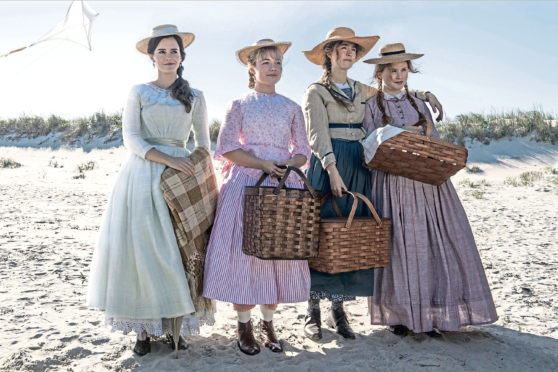 As novels fit for film adaptations go, Little Women is right up there.
While Dickens' A Christmas Carol leads the way, having been turned into films more than 20 times, the Louisa May Alcott classic isn't doing too badly.
The one just out is the eighth adaptation, and by all accounts one of the best, all based on a wonderful book from 1868.
As soon as the American's book came out, in the first of two parts, it was a success.
Little Women follows the lives of the four March sisters, Meg, Jo, Beth and Amy, all the way from childhood to adulthood and is based loosely on the lives of the author and her own three real-life sisters.
Readers loved it so much back then that they demanded to know more about the girls and how their lives panned out, so Alcott was immediately tasked with getting a second volume to her publisher pronto.
It too was a roaring success, all of which might help explain why actors, producers and directors remain so keen to try and get the definitive cinema version in the can.
The thing is, as times change the possibilities of what you can do with the story change too, so it will be no surprise if there is a ninth and 10th attempt before long.
Emma Watson plays Meg, while Saoirse Ronan is Jo. Amy is portrayed by Florence Pugh, and Eliza Scanlen is Elizabeth.
Laura Dern, 52, has appeared in movies for around 46 years, and plays Marmee, the girls' mother.
Marmee is the boss when father Robert is away, as he often is. He was rich but lost much of his wealth helping out friends with their debts. He serves as a chaplain during the Civil War and is later minister to a small congregation.
When Marmee in turn is absent, it is down to oldest sister Meg to take care of the household. Brown-haired, beautiful and sensible, she is the perfect "Little Woman" she would've been expected to be in those times.
She also works as a governess for a wealthy family, the Kings.
Author Alcott had an ideal woman, who would attain absolute equality, a subject as much discussed then as now, and many critics have claimed Meg failed to achieve this. They say she was the girl who just went along with what she was told to be and ended up in a life of dull domesticity.
It's interesting to see how today's actors and directors deal with this, and the choice of Watson for the most important role is interesting too as Emma is very much a feminist herself.
"Young girls are told you have to be the delicate princess. Hermione taught them that you can be the warrior," she says in reference to her famous Harry Potter character.
"Girls should never be afraid to be smart.
"The saddest thing a girl can do is dumb herself down for a guy."
As she has hinted at before, there is no shortage of career routes she may take in the years ahead, and not just acting jobs.
"I want to be a Renaissance Woman," insists the 29-year-old, who was born in Paris and brought up in Gloucestershire.
"I want to paint and I want to write, and I want to act and I just want to do everything."
Louisa May Alcott, who started it all more than 150 years ago, would love to hear those words.
---
Little Women, directed by Academy Award nominee Greta Gerwig, is widely available in cinemas now.