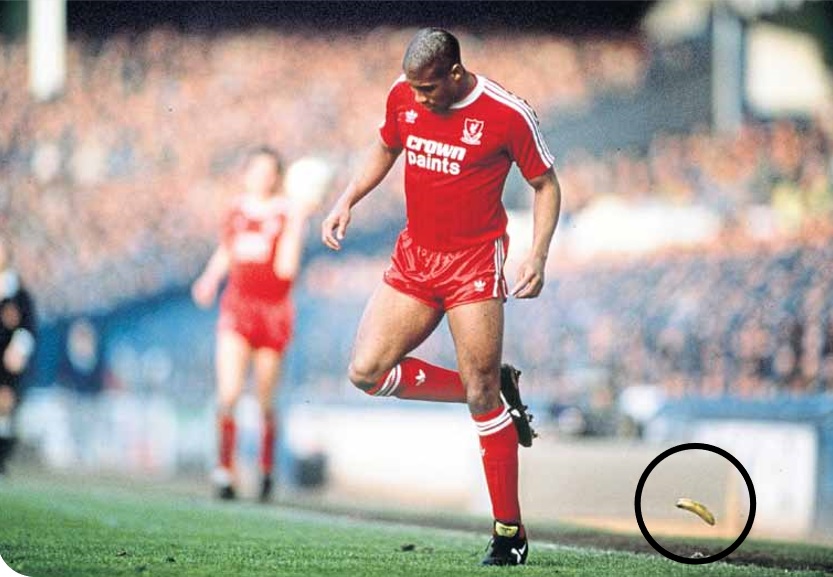 THE behaviour of so-called football fans in the UK over the past couple of weeks has been disgusting and shameful.
The alleged racist abuse directed towards Raheem Sterling by a Chelsea supporter last weekend at Stamford Bridge has caused uproar and widespread condemnation.
Rightly so.
For that to come hard on the heels of the previous weekend, when a banana was thrown by a Spurs fan in the direction of Arsenal striker Pierre-Emerick Aubameyang, leaves me cold.
Thankfully, the alleged culprit has been arrested.
We also had a disgraceful situation at Tynecastle eight days ago when Motherwell substitute, Christian Mbulu, was allegedly the victim of racial abuse as he warmed up.
Two Jambos supporters were arrested by Police Scotland, and have now been banned by the club.
Credit to Hearts owner, Ann Budge, for acting swiftly and in the right manner.
Fir Park gaffer, Stephen Robinson, was rightly appalled and stated that it was stuff from "the dark ages".
Right now, unfortunately, we appear to be very much back there with recent events.
All the incidents I have mentioned have been scandalous.
It only takes one person to flicker a flame, and then it can ignite and spread very quickly.
Football has received some unwanted coverage in recent weeks, and we need to address it and find solutions.
Several black players have spoken out about the treatment they receive because of the colour of their skin.
They have been very detailed in their descriptions of the abuse they have received, and you can only have sympathy for them and their families for having to deal with such lowlifes.
Rio Ferdinand, John Barnes and Ian Wright were all top players for England, and now have huge profiles in the media.
They have voiced strong opinions in the past few days, ranging from players giving consideration to walking off the pitch, to claims the bad old days are well and truly back.
So what do we do to eradicate this from football?
That is the question that needs to be addressed by our footballing authorities and government.
Let's be clear, this kind of thing is not just confined to football stadiums. It's also in society, albeit a small minority.
I established myself in professional football in the 1970s, when black players had to put up with an awful lot.
When I moved from Celtic to Liverpool in 1977, I would come up against the likes of Cyrille Regis, Viv Anderson and Brendan Batson.
All great players – and men who made it clear they would not be defeated or driven out by racists.
They were strong and set a pathway for the next generation.
As a Scot playing for the best team in England at time, I used to get a called a "sweaty sock" and that kind of stuff by opposing fans.
I got plenty of stick, almost on a weekly basis, but it never really bothered me.
But I always think that when you are at your place of work, it's not nice to be verbally abused and it can get to some players.
People need to be mindful of this – and it's not just the racial stuff I'm talking about.
The UK used to pride itself on being better than many other countries when it came to how black footballers were treated.
For example, in some other high-profile European countries, the "monkey" chants still exist – and that is outrageous.
But we can't think that our work is done, that everything is OK and we are better than other countries.
Quite clearly, work still needs to be done. People need to be educated.
Education starts in the home and at school. That's the most important time to let people know what is right, and what is wrong.
However, there are too many people set in their ways, and who don't want to change.
Really, how can you help them?
Some people are extremely ignorant of certain things, and are probably happy to remain that way.
That's why we will never clean it up 100% – and that is sad and unfortunate.
There will always be at least one idiot in a crowd of 30,000 or 40,000 or 50,000, whether he is being racist, bigoted or shouting verbal abuse towards a player just for the sake of it.
That's why football will never be able to eradicate it fully.
Yet clubs all over the UK do some fantastic work in the community and offer educational programmes that are open to all.
They deserve enormous credit for trying to help.
But they are still let down by moronic behaviour. So you must catch the culprits and hand them the severest punishment possible.
If it continues around the ground, however, what do you do?
Some will say: "Shut down the stadium".
But I always think it's unfair to punish tens of thousands of good supporters for the sake of a handful of idiots.
But we do need to find answers from somewhere.
It will never be perfect, but there has to be a massive improvement on what has happened in recent times.
I feel for the guys who have been on the receiving end, and I hope that as few as possible suffer in the future.