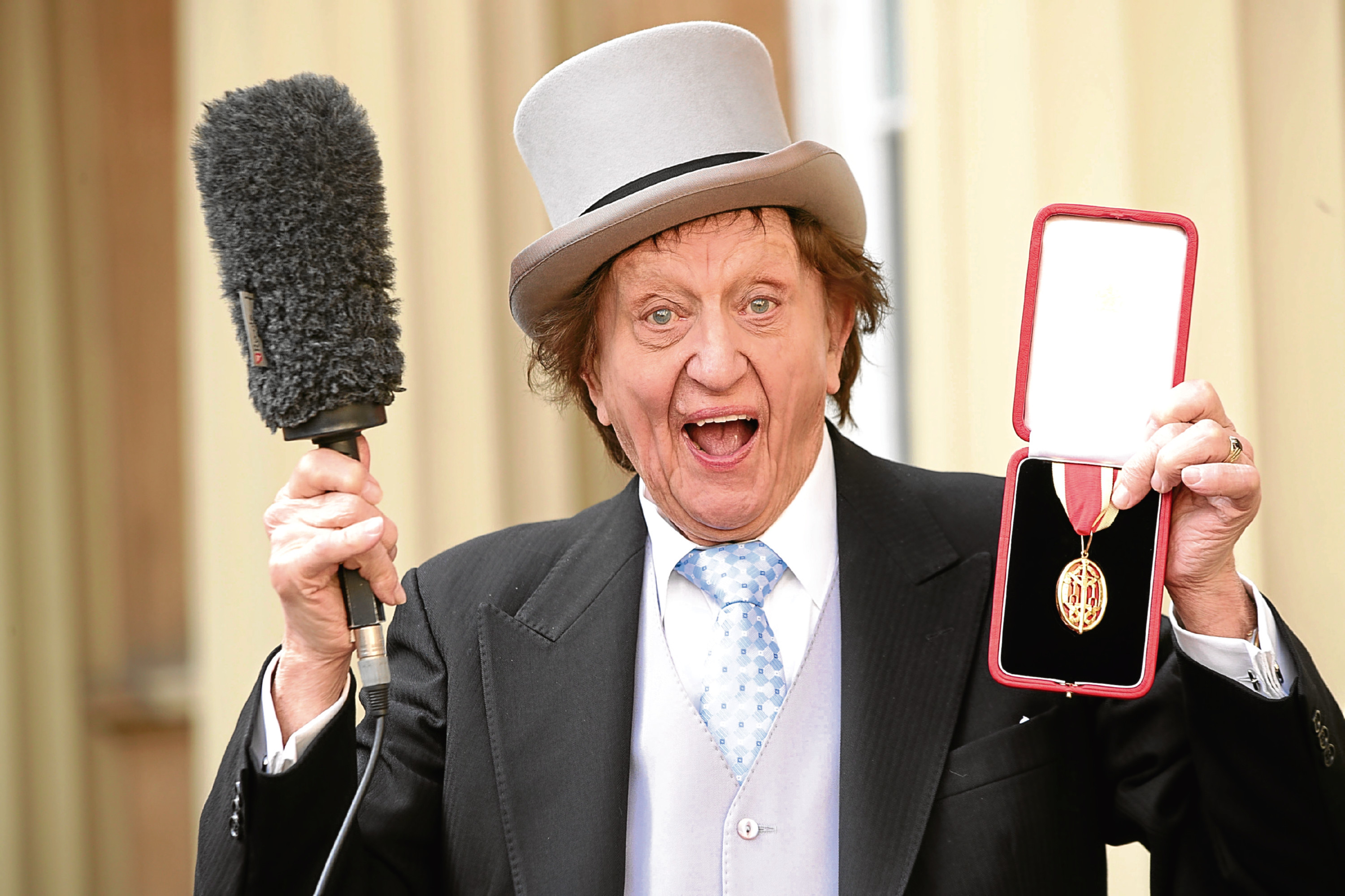 FEW people have not been tickled by Ken Dodd as he's been tickling for so long.
It is hard to believe that he is 90 on November 8, but he plans to go on tickling the nation for a lot longer yet.
How can anyone fill a huge theatre and then entertain for around five hours when they are 90 years of age?
Impossible? Not if you are the Squire of Knotty Ash himself.
Doddy has been entertaining us for more than 60 years as a full-time pro, but his story began even earlier than that when he was just a little boy growing up in Knotty Ash, Liverpool.
"I had a very happy childhood," he recalled.
"I got on well with my mum and dad as well as my brother and sister and we lived in an old farmhouse — I still live there as it happens.
"It is older than me. My house was built in 1782, the year before I was born.
"My dad was a coal merchant, so we were never cold.
"When I was a boy, I used to like digging holes, lighting fires and falling out of trees.
"I also loved to read and especially the Just William books. I loved them, they were full of adventures.
"William was always well intended and so was I when I climbed trees."
As well as Just William books, Ken was an avid reader of comics like Wizard, Rover and Hotspur and was always fascinated by the practical jokes that could be bought — ink blots, itching powder and so on.
He was especially captivated by the advert, which said: "Impress Your Friends, Fool Your Teachers — Learn How To Throw Your Voice."
He couldn't resist it and sent away to become a ventriloquist.
"My dad was very encouraging," said Doddy. "He loved show business.
"He regularly took us to all the main theatres in Liverpool to see the great variety artistes of the day as well as to circuses and fairgrounds."
Ken's dad bought him a ventriloquist doll which they called Charlie Brown.
He also wrote him a script and helped him to learn how to deliver it saying: "You must be original and have your own style."
So Kenneth Arthur Dodd made his debut at the age of eight at St Edwards Orphanage.
He was a big success and received half a crown for an act that included a song, some tap dancing and of course, comedy with Charlie Brown.
By then, he looked like a smaller version of what we see now. At the age of seven, his friends dared him to ride his bike with his eyes closed.
He fell over the handlebars and now has the trademark teeth stuck out to remind him not to try it again.
Other invitations started to come in and when he was 10, Ken appeared on stage at the Scala Theatre, Widnes.
When he was 12, he appeared at the Liverpool Philharmonic Hall.
Doddy was on his way, but at this stage, it was just a fun thing to do, and when he was 14, he joined his dad and brother Billy delivering coal.
By this time, Ken's love of theatre and show business was sealed.
His idols were Arthur Askey, Tommy Handley, Nat Jackley, Ted Ray, Max Miller, Robb Wilton and film comedy greats like Laurel & Hardy.
The coal business taught him a great deal about people and how to talk to them.
He got used to humping coal sacks about and drove the truck sometimes.
He was still peforming at charity events and so on, and when the Second World War broke out, he was 15 and invited to join the Mersey Mites, a concert party run by a lady called Hilda Fallon, who was like a favourite aunt to everyone.
He received 1s 9d for every show and gained a lot more experience.
At 19, Ken started his own business.
There was no fallout with the family, his dad totally encouraged enterprise and thus Doddy became a door-to-door salesman offering pots, pans, and cleaning items.
So, Doddy would knock on a door and say: "Hello Missus, what a lovely day for Spring Cleaning — how would you like a feather duster to tickle the lamp shades?"
Meanwhile, he was doing various concert and charity shows in the area and earning a reputation for laughter.
Several talent scouts saw him and reported back that there was a young man worth looking at.
He even had a letter from Bernard Delfont and another from Lew Grade offering him dates in the South.
Ken turned them down as he felt he was not ready to go beyond his own local audiences.
Then he had a letter from David Forrester, another leading agent and manager of the day, who arranged to meet Ken on his home ground — at the Adelphi Hotel in Liverpool.
David ordered tea and cream cakes which delighted Ken as he's always had a weakness for cream cakes.
It was not long before they reached an accord and Ken had agreed to be represented by David — and to pay for the tea and cakes.
"That impressed me — I thought if he could take care of my money like he took care of his own, this should be good," recalled Ken.
The result was that on September 27, 1954, Ken Dodd made his full professional debut on a variety bill at Nottingham's Empire Theatre.
He was low on the bill, with singer Tony Brent and jazz trumpeter Kenny Baker the main stars.
"I spent the afternoon in a milk bar going through my act again to make sure I got it right," said Ken.
"It seemed to go OK and afterwards I was just relieved that nobody had actually booed me off."
What happened next is one of the most-amazing showbusiness stories in British history.
Ken's act grew as did his fame. He added even more eccentricity in the form of Jam Butty mines, life-size cows falling from the ceiling, giant tickling sticks and general mayhem.
By 1958, he'd topped his first summer show, had his first TV show and was a regular on Workers Playtime and other radio shows including his own.
It was not just his comedy, but also his singing voice. David encouraged him to make some recordings and, in 1960, Love Is Like A Violin was released and made it to No 8.
By 1962, Ken was earning £1,000 a week and had made it as a star — but there was still more to come.
The Diddymen had made their debut by now. Charlie Brown became Dickie Mint, and still features in the show today.
At last, Doddy felt he was ready to face London and in 1965, he topped the bill in his own show, Doddy's Here, at the London Palladium.
"I was scared, there's no other way I can describe it," he said. "The thought of trying to make all those Londoners laugh was frightening."
As it happened, the first performance was filled by coachloads of Merseysiders who gave him an ovation when he stepped on stage.
At around midnight, everyone went home happy and the newspapers raved about him.
Later that year, his recording of Tears earned him gold discs and broke countless sales records.
From then until now, Ken Dodd has continued to fill theatres.
In 1982, he was awarded the OBE in the New Year's Honours list. He was very proud of that and his knighthood this year as he has always been very patriotic.
The Queen is reportedly word-perfect at his song Happiness.
"I was thrilled to get a knighthood of course," he said. "I don't feel it's affected me in the least. I'm still just Ken Dodd from Knotty Ash.
"But it has affected other people and the way they regard you. I now have men bowing and saying: 'Arise, Sir Ken' and ladies curtseying — but then I have to help them up!
"I found that more people want to kiss you — mostly ladies — which is great when they're 21, but when they're 95, it gets a bit messy!"
Just a few days after his birthday, Doddy will be back on stage at Bodelwyddan Castle in North Wales.
"I'm looking forward to it, Wales has such beautiful people," he said. "They've got great chuckle muscles.
"Everywhere you go, you find people are willing to laugh, but you have to understand the differences as you travel around, as there is a different sense of humour in every area."
So will there be another tour next year? Sir Ken Dodd has done it all and has an incredible career to look back on.
"Retire? Never!" he said. "I have some great memories, but the present is what's important. You can't live in the past — it would be cheaper, but you can't — and you don't know about the future.
"I'm absolutely stage struck with showbusiness. While I can do it, I will do it.
"While I've got the health, I will always be an entertainer. I'll admit that the shows are hard work and I spend a tremendous amount of time on the road — I clock up around 75,000 miles a year up and down the motorway like a human yo-yo.
"But I love it, I've got the best job in the world. I only see happy people!"