They were four words, Dave Mackay had waited a lifetime to say: "Welcome to space, Scotland."
But, speaking after fulfilling his ambition of becoming an astronaut, Dave admits he struggles for the words to describe the experience.
Back on the ground, the Virgin Galactic pilot says only a poet could capture the "magical" feeling of looking down at Earth from 50 miles up.
Dave, from Helmsdale, Sutherland, became the first person born in Scotland to travel into space as he piloted the VSS Unity on a successful test flight last month. He was treated to a stunning view of California's Mojave Desert and beyond – something he insisted a camera could never replicate.
"My initial impression was that I couldn't believe how bright the Earth's surface was," said Dave, 61.
"I think it's the contrast with the intense deep blackness of the sky. You see pictures of it, but they can't quite capture it the way that incredible organ – the human eye – does. It's just an amazing thing to see.
"I wish I could describe it better. I'm an engineer and pilot, so I'm used to dealing with facts and figures, hard data.
"We'd need to get a poet or an artist up there to describe it with the right words. The weekend after I flew, I thought a lot about how I would describe it and how it felt. I'd say it was almost magical."
Dave and his two flightmates, Michael "Sooch" Masucci and Beth Moses, were weightless and in total silence inside the craft while suspended above Earth.
It's this mesmerising experience which Virgin Galactic is hoping to offer to paying customers as the race to space tourism enters its final stages.
As the company moved another step closer to providing commercial space travel, superstars Leonardo DiCaprio and Justin Bieber have already signed up at $250,000 a go.
"The whole experience is remarkable," said Dave.
"Virgin in the past has always talked about the weightless experience and the views. I personally have always said the rocket ride up there would be quite something.
"It's an extremely exciting ride with a very powerful motor. You have this amazing acceleration, the likes of which you can't experience anywhere else, and it goes on for a minute.
"The sky goes black very quickly, then the acceleration is contrasted by a beautiful feeling of weightlessness.
"The whole thing is just amazing, but looking out the window, that's the big attraction.
"The memory that will stick with most people is probably the view. When I was up there it seemed like I could see half of America, so much it was disorientating."
Congratulations to our Chief Pilot, Dave Mackay. Today, you became the 569th person to enter space and the first Scottish-born astronaut! pic.twitter.com/v3HbsLTPsl

— Virgin Galactic (@virgingalactic) February 22, 2019
NASA defines space as beginning at 50 miles above the Earth's surface.
Travelling above that altitude is both a significant milestone for Virgin Galactic and a badge of honour for Dave, who can now officially call himself an astronaut.
Outwith the message to Scotland, there was no celebration or big moment as the Unity climbed above the invisible line between earth and space – in fact, Dave didn't even notice at first.
"I was working!" he laughed. "It's a manually flown vehicle and there's no other pilot so I'm working at flying it the best I can and getting as much data as I can. I looked outside at the incredible view and realised we were already in space.
"As a person, I don't feel any different, I'm still Dave Mackay, but I'm really pleased for the overall programme because it's been a long and challenging route.
"Not many people have passed above that altitude and we're very proud that in the last ten weeks we've made five new astronauts."
Proud Scot Dave took swatches of his family tartan with him, as well as wearing the usual tartan stripe on the rear of his helmet.
"To be the first Scottish astronaut is really something," he said. "Virgin Galactic is multinational company – we don't go flying national flags around. We're all working together and the spaceship's name is Unity but I thought, this is something for Scotland, so I just said some words to mark the occasion."
It was Dave's Highland roots that put him on the path to a career in flight.
Growing up, he was awestruck by the jets which he would glimpse zooming overhead on low-altitude Cold War training missions.
"I would see them almost every day, flying over my home town…low, fast and loud.
"It was exciting for a young boy to see that. That was my inspiration – what a great job that would be!
"Eventually, many years later, I did it myself and flew up that same valley at low altitude. I flew over my home village, up that same route they'd been following. It's amazing when you're flying at such high speed how small the place seems.
"As a kid, we'd go on holidays and, driving, it would take all day to get from one coast to the other. It was shocking the first time I did it in a fast jet, taking a couple of minutes. Your scale shrinks completely."
During a career flying Boeing 747s and helming RAF Harrier jets, the University of Glasgow aeronautical engineering graduate never gave up on his dream of going a little higher – though at times it seemed his ultimate ambition might never happen.
"I often ask myself how on earth I ended up here," said Dave. "I had the dream as a little boy and it was that dream that I pursued, joining the air force, becoming a test pilot and doing everything I could to make myself qualified in case the opportunity came along.
"You need a bit of luck in life; I was in the right place at the right time and hey presto."
Meeting Han Solo
Mackay was lumbered with an intergalactic nickname amongst colleagues after showing Star Wars actor and keen pilot Harrison Ford around the cockpit at a media event.
"He was really quite impressed and that picture earned me the nickname Chewie for a while," he laughs.
"That was when we unveiled Unity. I was sitting next to him as the vehicle was unveiled and he said to me it was like Hollywood, except real."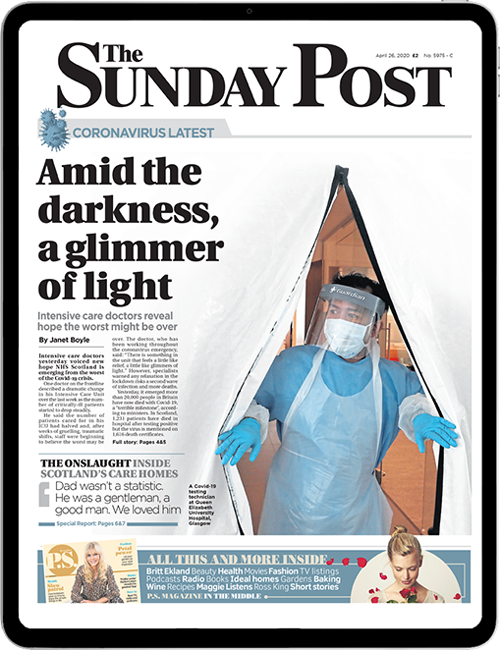 Enjoy the convenience of having The Sunday Post delivered as a digital ePaper straight to your smartphone, tablet or computer.
Subscribe for only £5.49 a month and enjoy all the benefits of the printed paper as a digital replica.
Subscribe