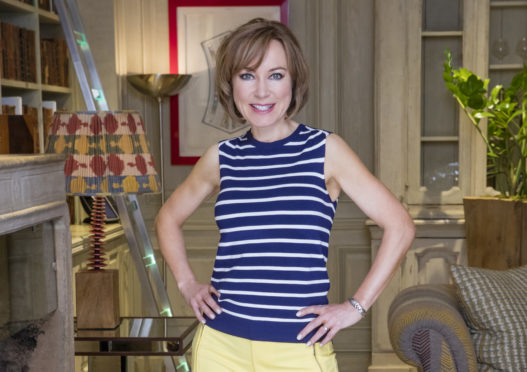 Facing up to her mortality has been a life-altering experience for Sian Williams.
The popular newsreader and presenter was diagnosed with breast cancer in 2014, just as she was turning 50.
She went on to have a double mastectomy.
And Sian has told P.S. that it's something which has changed her whole outlook – and led to her helping others by volunteering at a hospital.
"I think any big challenge to your life makes you think about what's important, who's important and how you spend your time," said Sian, 54, whose latest series, Save Money: Lose Weight, is back on ITV.
"Time is very precious and it really did change my perspective.
"It's hard to put a finger on the details, but it shifted things around.
"You want to know what you want to do with the rest of your life and what difference you want to try to make.
"You need to figure out how you're going to live the second half of your life and hopefully help other people."
Sian's selfless attitude extends to her work away from the TV cameras.
She is studying for a doctorate in psychology and spends one day a week with cancer patients at an NHS hospital.
"I've always been interested in how our minds work and helping people feel better," explained Sian.
"I trained as a trauma assessor many years ago to help colleagues who'd come back from difficult environments.
"But I thought I needed to find out a lot more about how the brain works and so I studied neuroscience.
"I always intended to do my psychology doctorate and I started that last September."
Sian admits she was touched by the affection and support shown towards her after she revealed her diagnosis and surgery.
But she is keen to stress the fortunate position in which she has found herself.
"I am incredibly lucky and I know a lot of people are not in a similar situation. My cancer was treatable and I had excellent care. My aunt died of cancer, my mum died of cancer – I'm still here.
"I'm keeping going."
Sian spent years sharing the BBC Breakfast sofa with Bill Turnbull, who was diagnosed with incurable prostate cancer in November, 2017.
Bill, who has been very open about his treatment and has talked about the ups and downs, is now a Classic FM presenter and he and Sian are still close.
"He's one of my best friends. We communicate regularly. I text him when he's on Classic and we have a little chat. I saw him just recently."
Sian and TV producer husband Paul Woolwich have a 12-year-old son, Seth, and daughter, Evie, 10. She also has two grown-up sons from her first marriage and a 21-year-old stepdaughter, Emily.
Save Money: Lose Weight started with a one-off special on ITV last month and is now back for an eight-part series.
Presented by Sian and Dr Ranj Singh, it trials eight of the hottest new diets including eating regimes endorsed by celebs such as Chloe Madeley, Tom Kerridge and Lisa Riley.
"We continue with the 28-day challenge we had in the special to see which diet offers the best value," explained Sian.
"The programmes look at people who have been struggling with their weight for some time. Many have health problems like diabetes or high blood pressure as a result.
"It seems every time they try to lose weight they fail, and then they beat themselves up about it.
"This show puts them on healthy diets that are matched to them."
With so many diets out there, Sian understands how difficult it can be to make the right choices and the programmes very much act as a kick-start to better eating habits.
The dietary changes the individuals were able to make had a huge impact on their lives. "It's not just about the pounds they lose, it's about how much happier they are and how they feel about themselves," said Sian.
"The important thing is that food should make us happy and hopefully the people we feature are eating stuff that does that."
Sian was fascinated by the science as well as the pounds and pence, and she came home at the end of filming days brimming with lots of newly-learned dietary knowledge.
"My kids got to the stage that, when I came through the door, they'd look at my face and say, 'Right, what's she going to tell us now?'" laughed Sian.
"But they still have their doughnuts. It's not as if I prevent them having the things they like as treats just because I've done this show."
Sian fits in the new series and her psychology studies with her day job of reading the news on Channel 5 and she has long been one of TV's most familiar faces.
"I've been doing news now for 32 years – that's horrific when I say it out loud!"
Having started off in local radio, she worked her way around regional TV and was also a producer on Radio 4.
But while she is comfortable and assured on screen and has been on the spot for momentous events such as the 2004 Boxing Day tsunami, Sian says being a face of news wasn't something she ever aspired to.
"I didn't want to be a presenter," she insisted. "I'm still surprised I'm here.
"I was helping out with screen tests for BBC News24 which was just starting.
"I'd been appointed as an editor, looking after four hours of live programming, and they asked me to sit in while they tested the cameras and lighting.
"They ran a dummy programme with me reading the autocue and then ad-libbing when it went down.
"It was so long ago that I took a VHS tape of it home to show my kids – who are now in their late 20s – just to say, 'Here's mummy on the telly. Isn't that funny?'
"But there was another tape made which went to the head of news at the BBC and I got a call asking if I wanted to switch career.
"I said I'd only do it if I could go back to being a producer if it didn't work out.
"I could have hated being a presenter or they might have hated me.
"There has always been something in the back of my head thinking I might go back to producing.
"Of course, I can't now because it's changed so much – and I've loved presenting."
With fascinating world events and the little matter of Brexit dominating the political landscape recently, there's no chance of Sian being tempted away from the life that's become second nature.
"I'm extremely lucky to do what I do.
"It's a great job and, at the moment especially, it's absolutely fascinating.
"So I'm a student, and a newsreader and a presenter of health programmes, and a mum."
Sian's marathon fundraising efforts to help others
Sian's recent TV work – she also hosted Channel 5's Secrets Of Your Supermarket Food – encouraged her to a fresh look at her own diet and lifestyle.
But she has always kept herself in shape. That includes running marathons, although the memories have been bitter as well as sweet.
Sian completed the 2001 New York Marathon but it took a terrible toll.
As it was a humid day, she took on water at every possible stop. However, she collapsed after the finishing line, waking up in hospital two days later.
She had taken on so much water that she was suffering from hyponatraemia, a dilution of the blood's essential salts.
The potentially fatal disorder can result in seizures and coma and, having survived the scary experience, Sian vowed to stay away from long-distance running.
When her mum was diagnosed with terminal cancer, though, the care from Macmillan prompted Sian to put her trainers on again and take part in the London Marathon to raise funds.
And she ran it again in 2017 to fundraise for Heads Together, the Royals' campaign for mental health.
Before it, she did a TV interview with Prince Harry. It was the first major TV interview with the Prince after he'd spoken about the difficulties he'd faced as he battled grief following the death of his mother, Princess Diana.
After Sian told him how proud Diana would have been of the efforts he and Prince William were making, she was stunned when he said Diana would have been proud of her awareness-raising, too.
---
Save Money: Lose Weight, ITV, Tue, 7.30pm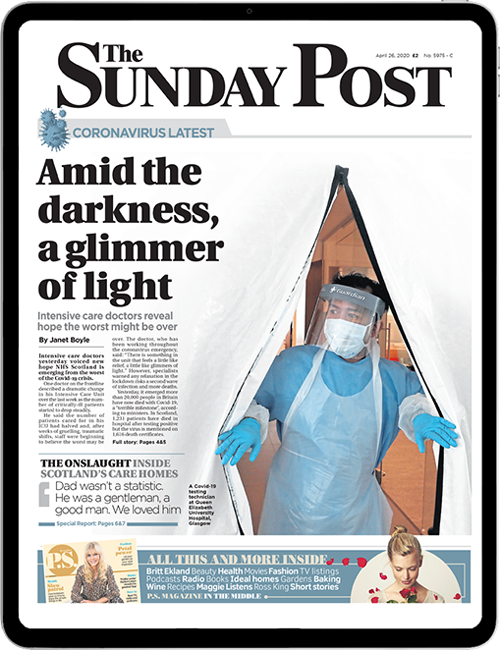 Enjoy the convenience of having The Sunday Post delivered as a digital ePaper straight to your smartphone, tablet or computer.
Subscribe for only £5.49 a month and enjoy all the benefits of the printed paper as a digital replica.
Subscribe