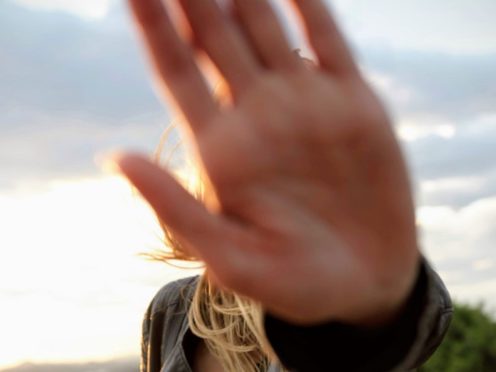 It's been three years since Claire Tait was last abused by her ex-partner.
Being spat on, kicked at, her head smashed against walls and all of her possessions broken in rage are now, thankfully nightmares of an increasingly distant past.
But at one point, like huge numbers of Scotland's young women, this was her terrifying present.
Figures published at the end of last year show that in Scotland, 26-30 year olds have the highest rate for domestic abuse victims, with 8,425 incidents recorded in 2017-18.
The number of 22-25 year olds being abused by partners is also at a significantly high rate in comparison to women over 50.
And although men are also affected by violence at the hands of their partners, data collected by domestic abuse charity Safe Lives still shows 94% of young people suffering abuse within their intimate relationships are female.
For, Claire, 32 who lives in Glasgow, and who was abused for a year by her male ex-partner, a lack of knowledge of what domestic abuse looked like or the red flags to spot are some of the many reasons she became trapped.
"When I was younger, I probably couldn't even tell you what domestic abuse was. So I never thought I would be in that type of relationship," she said.
"Young women need to be more educated on the warning signs, and also to realise that abuse takes place as many different forms, not just physical. Controlling and hateful behaviour can be just as damaging."
In recognition of this, Claire is now turning her experiences on their head and using them for good, working with Police Scotland and in turn the Equally Safe in Higher Education (ESHE) initiative –  a free resource for Scottish universities working to prevent gender-based violence (GBV) on their campuses – to raise awareness in younger people of domestic abuse and all its forms.
Claire's story has now been recorded and will be used to help educate college professionals.
The ESHE initiative was started by Fiona Drouet, who lost her daughter Emily three years ago, after she took her own life following physical and psychological abuse at the hands of boyfriend.
She said: "We lost our daughter in March 2016 when she was only 18 years old and studying law at Aberdeen University.
"Unknown to us she became the victim of a physical, psychological and sexually abusive relationship.
"Ten minutes after the last physical assault, Emily took her own life.  One week before we lost her, Emily had reached out to university staff for help but sadly, although they suspected physical abuse, she was sent back to her room alone. Her abuser remained in his room which looked onto hers.
"We have been campaigning since to ensure colleges and universities work towards safe campuses for students to live, work and study.
"As a result of our campaign, the Minister of Further and Higher Education issued clear guidance to universities and colleges regarding GBV, recommending clear pathways to professional support, staff training and data collection."
Unlike Emily and the two women a week killed by their male partners, Claire, an investment management assistant, is one of the lucky ones, although if only by a margin.
On the night of January 26, 2016, Claire narrowly escaped with her life after her ex-partner beat her bloody and smashed her head into the floor, forcing her teeth back up through her gums.
But it had been a gradual build up to this turning point, which finally saw Claire admit to police she had been being abused for a long time, and take legal action against her ex.
"When we first started going out it was amazing," she said.
"But he just slowly started chipping away at my confidence.
"He'd sit and scroll through my phone, going back years and years through my messages, trying to find something bad, or conversations with other guys."
In April of this year, like physical violence, psychological domestic abuse and coercive and controlling behaviour was criminalised in Scotland.
Susan Jack, training and development worker at Glasgow Women's Aid said: "There is still a misconception that Domestic Abuse is always about physical violence.
"Emotional and psychological abuse is far less obvious but extremely damaging so educating young people about the signs can help them to identify these sooner."
Claire experienced psychological abuse and controlling behaviour, as well as the physical abuse which began one night at a party, and then subsequently continued for the next year of her life.
"We were at a party, and I was getting tired and I wanted to go home, but he didn't want to," she said.
"I was standing at the front door, and he just slammed his hand into my face with his hand and burst my nose. I was just in total shock because he'd never hit me before that point. But then after that, that was it."
The final night of abuse was one normal night in Claire's flat, which her ex-partner had moved into almost a year and a half previously.
"The flat was bare, because there was no point replacing anything because he would just smash it up," she continued.
"I remember we were sitting and I just asked him, 'are you messaging someone else?' And he just lost it.
"We'd ordered a pizza and he threw it at me.
"He then pushed me up against the wall and banged my head through it.
"Next he grabbed me by the hair, pulling loads of it out, and dragged me through the living room.
"After that, he pushed me onto the floor and then was on top of me, punching me.
"I'll never forget it. His eyes just went black. I was begging him to stop and to please just go.
"Eventually, he did go and I put the chain on the door. But he wasn't finished. Within seconds, I turned round and he'd booted the door open and he came at me and grabbed my hair and threw me to the ground.
"He stamped on my head and I was screaming and I couldn't see my teeth. The pain I felt was like nothing I'd ever experienced before.
"I had blood all over my face, all down my arms. I came out, and he'd left. I was running banging on all my neighbours doors and no-one was answering, they were all in bed.
"Eventually, someone let me in and I just fell through and broke down and they phoned the police and an ambulance."
After this, she said, it was like coming out of a trance.
"I look back at myself now and I think, what the hell were you doing?"
"But when you're with that person and you love them and you think you can get them to change, it's so hard to leave.
"That's your world and it's hard to think of life without them.
"People think it's just a case of getting up and leaving but it's never that simple."
Another aspect of domestic abuse Claire is most impassioned about getting across is the fact that it can happen to anyone.
"I'm a bubbly, confident person with a supportive family and a lot of friends.
"The media often portrays domestic violence as something that happens in poorer communities, or to unconfident, weak women, but that's not the case.
"It can happen anywhere, to anyone, which is why getting young people knowledgeable about the warning signs is so important."
Claire, who when I meet her, is vivacious, humorous and full of confidence certainly seems to be the most positive outcome of what a strong support network and coming out the other side of abuse can look like.
A beacon of real hope perhaps to those seeking help or with prior knowledge can be if they escape the vicious grip of domestic violence.
Single handedly organising a recent event which raised almost £10,000 for Glasgow Women's Aid, Claire is determined to empower and use the positive aspects of her life to help others.
But the legacy of the abuse is still there in little pockets, and in the way she now approaches new relationships.
"I have a list of reasons why I now don't want a boyfriend," she said.
"Some of them are to do with what happened to me and being scared of someone cheating on me or being someone completely different to who they say they are.
"But some of them come from me just wanting to be an independent woman."
And as I look around her living room, now filled with unbroken belongings, and see the positive, girl-power messages framed on her walls, I find myself fully agreeing with what she says next.
"I won't let another man affect who I am."
---
To find out more about the Equally Safe in Higher Education initiative click here.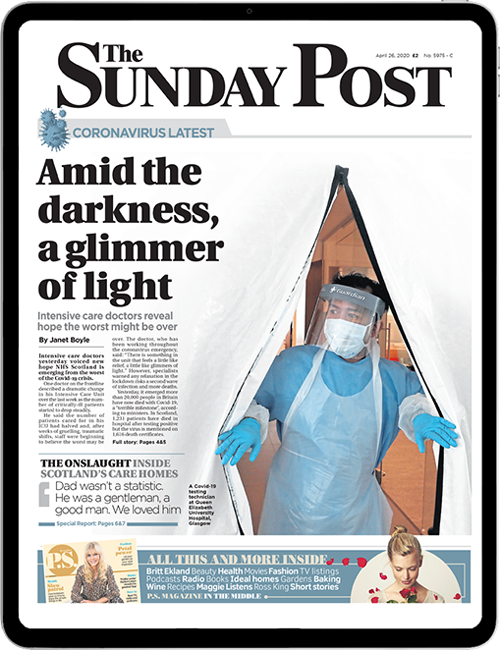 Enjoy the convenience of having The Sunday Post delivered as a digital ePaper straight to your smartphone, tablet or computer.
Subscribe for only £5.49 a month and enjoy all the benefits of the printed paper as a digital replica.
Subscribe