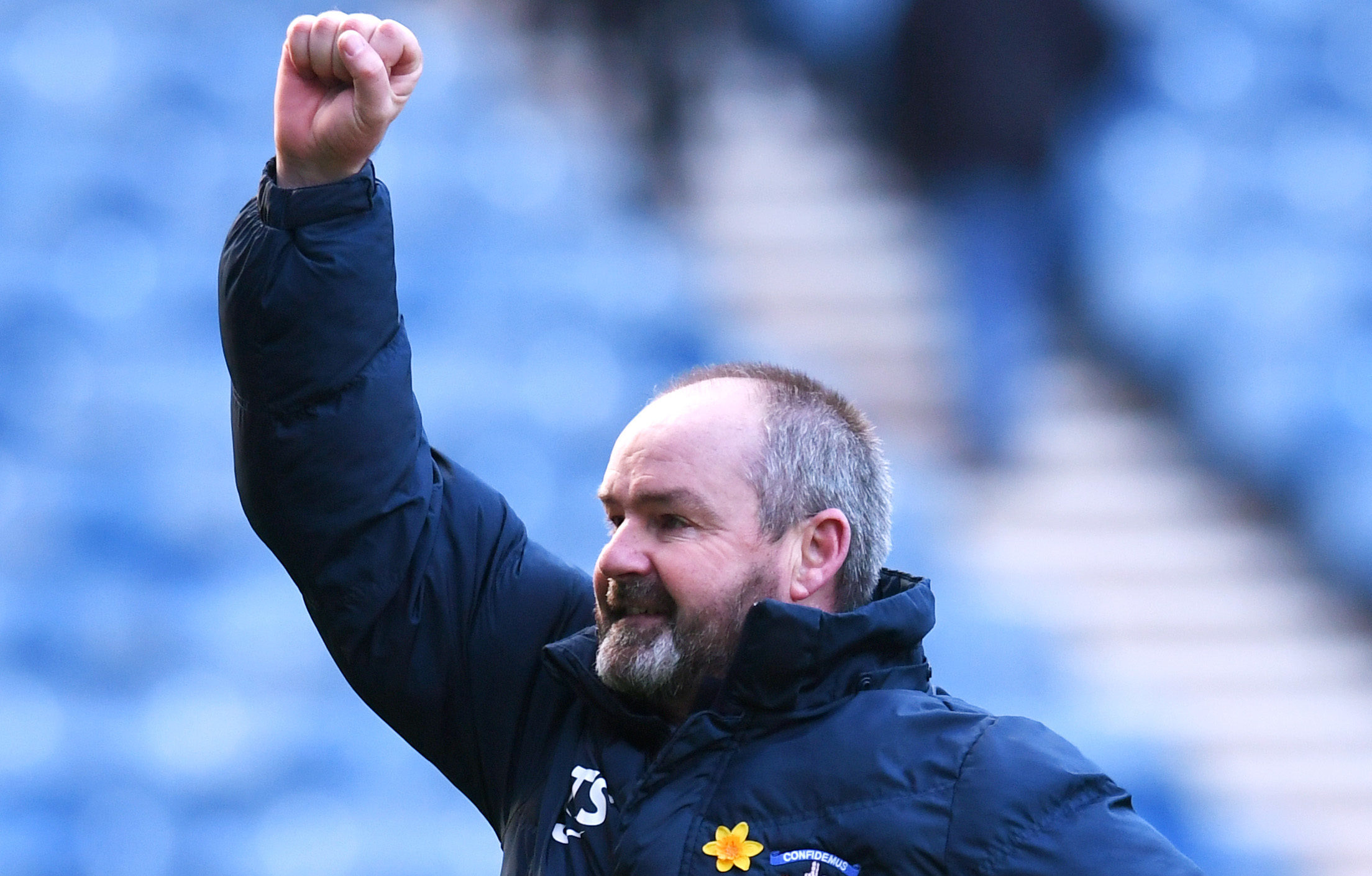 Gianfranco Zola would love to see Steve Clarke end up at Rangers – if only because it would mean he'd finally get to an Old Firm game!
Kilmarnock manager Clarke has been linked with the Light Blues as a result of his success in completely transforming the fortunes of the Rugby Park club since taking charge in mid-October.
Stone-bottom of the table with just three points from eight games, Killie were strong early candidates for relegation.
Since then, a remarkable haul of 38 points from 21 games – a run including wins against Celtic, Rangers (twice) and Hearts – has seen them leap up to fifth.
They have lost just three times under Clarke and have scored in every game, bar two.
With even the prospect of a possible Double Treble for Celtic not able to mask the Hoops slight decline from last year's 'Invincibles' form, 54-year-old Clarke remains an outstanding candidate to usurp Brendan Rodgers and win the Manager of the Year awards.
"What Steve is doing does not surprise me," said Zola, his former team-mate at Chelsea and the man who successfully demanded he got to be his assistant manager at West Ham.
"He has always been a very smart guy.
"Steve learned his trade from Jose Mourinho, who, as everyone knows, is an exceptional manager.
"He then went on to do very well as a leader at West Brom (who he led to an eighth-place finish with a record points haul in his first season) then later at Reading.
"I think even his experience working under Roberto di Matteo at Aston Villa made him grow as a coach.
"And then, of course, he was also lucky enough to work with me!
"When I received West Ham's offer to manage them, the first thing I said was that I would only accept if I was allowed to take Steve.
"I did not have much experience, so I needed to have a capable, competent person I could trust and Steve came straight to mind.
"So I've known for a long time he has all the tools he needs to be a success, and just now he is using them to do great things with Kilmarnock.
"That is brilliant for the club, and they deserve it because of the belief they showed in Steve when appointing him in the first place.
"With no disrespect, though, I am sure the opportunity will soon come for Steve to go to work for a much-bigger club.
"I say that because I know for certain Steve is very highly-respected throughout the football world, and that everyone is watching and taking notice of what he is doing at Rugby Park."
With Rangers having been beaten home and away by Killie, the Light Blues could scarcely have missed it.
Current boss Graeme Murty's contract is up in the summer, at which point the Ibrox club would be free to approach their Premiership rivals for permission to speak to the man many thought they should have appointed in the first place.
While Clarke still has more than two years of his Killie deal to run – and owner Billy Bowie has insisted he is staying put – were Rangers to put in a concerted effort to get him, they could prove hard to rebuff.
"I don't know what will happen, but if Steve were to go to Rangers, I would certainly take advantage of my friendship with him to get a ticket to attend an Old Firm game," said Zola.
"They tell me that the atmosphere in the stands for these fixtures really is something incredible.
"You hear that, and you think: 'This is something I really want to experience at first hand'."
Tough as tickets for the Rangers-Celtic derby are to come by for even those at the centre of the occasion, the little Italian speaks with the confidence of a man who knows he would get sorted out.
"Steve and I really are friends," Zola continued.
"It is not just a football thing, either.
"Our families have often gone on holidays together. There is a lot of respect between us.
"Right from the start, we got on.
"We are both very reserved kind of guys, and that brought us closer together.
"On the pitch, we were different. Steve was a great defender who always found a way to stop opponents, whereas I would try and beat opposition players and set up goals.
"To be successful, teams need to get the balance between defence and attack right, and Chelsea had that when we played there.
"The best memory I have is of us winning the FA Cup together in 1996-97 in what was my first season at the club. For me, that was a fantastic, unforgettable moment.
"I am very proud to have played in Chelsea, full stop.
"Even now that I'm no longer part of the group, I'm still a fan of the Blues.
"I follow them very carefully, Chelsea is a family and one which I still belong to."
While Clarke currently has Alex Dyer as his number two at Killie, the possibility of him working with Zola again in a reverse of the West Ham arrangement at some point in the future should not be ruled out.
Particularly as the latter is keen to get back into coaching.
In addition to his spell at West Ham, Zola also managed Watford and Birmingham City.
"I see my future as being in the dug-out," Zola confirmed.
"At the moment, I occasionally work as a commentator for SKY Italia and for the BBC.
"It is something I enjoy doing, and I will keep on doing it until the end of the season.
"After that? I have no definite plans other than to stress I love living in the UK, which has been my home for many years now.
"Two of my children grew up in England, and the third one was born here. My family is happy and for me that is absolutely crucial.
"The fact my football career went so well in this country makes a big difference.
"People understood and appreciated me when I was playing.
"I feel their love even now, and this has allowed me to integrate perfectly.
"But in the future, I don't know if I will be with an English team, Italian or who knows what nation.
"Scotland even!
"We live in an age without frontiers, where the idea of traveling must be accepted without compromise to do your work.
"Of course, the Premier League is the top, but if an interesting offer were to arrive from elsewhere, I will have no problem packing up my suitcase and going."
Zola might live in the UK, but he remains very much an Italian at heart, and is agonised by the thought of having to endure a summer in which a World Cup will go on without his country.
That's a pain to which the Tartan Army have become only too accustomed.
"For me, the fact Italy won't be in Russia is a sporting tragedy," said Zola.
"I can't bear the thought that when I am front of the TV watching these Finals, I will not be able to cheer for my country.
"It is going to be a really sad moment.
"The English have respected my pain, so I hope they do well.
"They have quality in there, and in Gareth Southgate they have someone who is both a good coach and a good leader.
"They have a strong squad, containing some world-class individuals.
"For me Harry Kane, Jamie Vardy, Dele Alli and Raheem Sterling are their key men.
"They are the players who can deliver success at the very top level.
"How far can they go? We'll see."