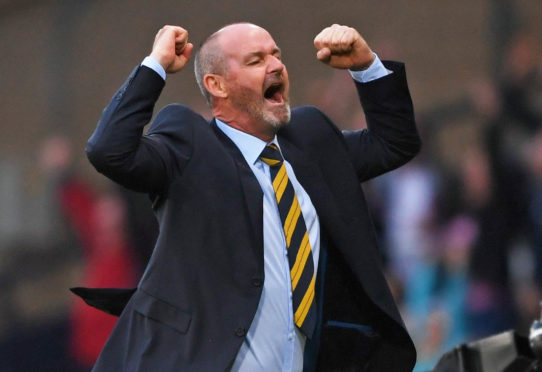 Celtic and Rangers deserve credit for getting through their Europa League qualifiers.
Both now have mouthwatering draws in the group stages that give them a chance of European football after Christmas.
For the Hoops to go to Stockholm and beat AIK 4-1 was special, and Odsonne Edouard really caught my eye.
His hold-up play was exceptional, and the way he linked with James Forrest for the opening goal was so pleasing on the eye.
Rangers, meanwhile, showed patience and character to keep going right to the last minute against Legia Warsaw.
Alfredo Morelos continued making the headlines this season for all the right reasons with a priceless goal, well-taken in stoppage time.
Steven Gerrard continues to do good work at Ibrox, and progress is being made.
Both clubs must now embrace, and enjoy, the challenges ahead as they face the likes of Lazio, Porto, Rennes and Feyenoord.
They will also both bank in the region of £10 million for being involved.
So, seriously, what's not to like?
Neil Lennon and his players have also been given the chance of a wee bit of revenge on FC Cluj, who knocked them out of the Champions League, sparking a lot of criticism towards the Celtic manager.
Right now, there is a feelgood factor surrounding both Celtic and Rangers.
Of course, that may disappear for one of them if there is a loser in this afternoon's Old Firm clash at Ibrox.
But, in the bigger picture, they have plenty to be happy about, and I reckon both will fancy their chances of finishing in the top two of their respective Europa League sections to get through to the last 32 of the competition.
Playing as much football as possible is great for the players.
If they perform well and catch the eye, then that enhances their value in the transfer market.
Also, it will be so satisfying for Steve Clarke to have as many of his players playing at a high level as often as possible.
Steve will want the likes of Callum McGregor, Ryan Jack and James Forrest being involved and excelling in European company.
With Andy Robertson, Scott McTominay, John, McGinn, Robert Snodgrass, Ryan Fraser, Kenny McLean and Oli McBurnie involved in the English Premier League every week, Steve will be thrilled.
For sure, he will need all of them to be at their best for the Euro 2020 qualifier against Russia on Friday night.
In front of the Scotland supporters, I expect there to be an electric atmosphere inside Hampden Park and, collectively, they can help the team to victory.
Steve has only had two games in charge, and has had one win, at home to Cyprus.
He needs another one this week to really mount a challenge on the Russians for second in the section.
My view is that Scotland will win.
Steve was in brilliant form as a manager for 20 months at Kilmarnock, and that's why he was identified by the SFA as the man to lead the national team.
The Hampden hierarchy would have looked silly if they hadn't offered the job to him.
He was the best available candidate, and thankfully he accepted their offer.
Steve has assembled his own backroom team and they are guys he values and trusts.
The players have bought into his ideas and what he is trying to achieve.
So it is all heading in the right direction.
Victory on Friday will not guarantee anything.
Neither will defeat leave us down and out as far as the bigger picture is concerned.
But I do believe that we will make it to Euro 2020. It may well have to be through the play-off system but we will be there.
There just appears to be something positive on the horizon, between the Old Firm progressing in the Europa League and getting an attractive draw, to a sense of belief in the national set-up.
So I'm confident about the future.
The nation needs it.
There is an appetite again to see it happen, and having games in Euro 2020 on our own doorstep would be brilliant for everyone – for the here and now and for the future.
We need national heroes, and Steve and his players are only a handful of games from giving us all what we have badly wanted for more than 20 years.
Sure, we don't want to put extra pressure on them, but they know what is at stake.
And they know what is waiting for them at the other side if they can emerge with the results required in the next few months.
I have belief in them – and I reckon the Tartan Army share my view.