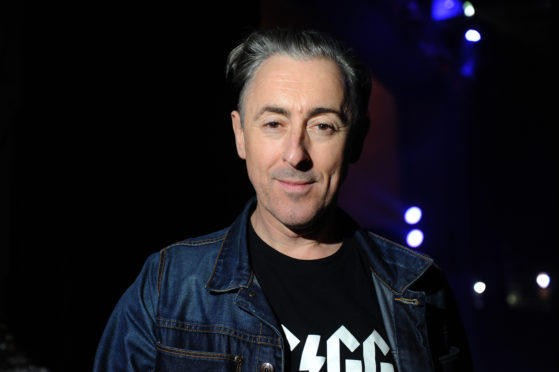 Hollywood Scot Alan Cumming will return to the city where it all began tonight to honour the memory of an influential theatre lecturer – and pay tribute to the value of a Scottish education.
The actor, famed for roles in movies such as Eyes Wide Shut, GoldenEye, X-Men and US TV hit The Good Wife, says his stellar rise wouldn't have been possible if it hadn't been for the state-funded education he received at the former Royal Scottish Academy of Music and Drama in Glasgow.
Tonight, the Tony and Olivier award-winning actor will deliver the inaugural Cameron Lecture at Glasgow University, in memory of the late Dr Alasdair Cameron, theatre academic and writer.
The talk, to be held in the university's Bute Hall, is the first of what is hoped will become a regular appointment in the Scottish cultural calendar.
Cumming said: " I wouldn't have been able to become an actor had I not been born in Scotland. I went to the academy on a full grant and it was free for my parents to send me there. I'd never be where I am now if it hadn't been for that. So I'm a product of the kindness and generosity of the Scottish taxpayer.
"I was the first person in my family to be involved in the arts, to go to college, and I love the fact that when you get to these educational institutions you can meet inspirational folk, and Alasdair Cameron has been that person for a lot of people."
The Cameron Lecture, held jointly between University of Glasgow and the Royal Conservatoire of Scotland, was announced last month by theatre director John Tiffany in memory of his late lecturer whom he studied under while at university in Glasgow from 1990-1994. Alasdair died in 1994, aged 41, after a short illness.
The Yorkshire-born director returned to his place of learning to be awarded an honorary doctorate in 2017, which led to him conceiving the idea of a lecture to celebrate Scottish theatre.
Although Cumming was never taught by Cameron, his career has directly benefited from his legacy. He worked with theatre director Tiffany – who credits the teacher for shaping his view of Scottish theatre – on a number of projects.
In 2012 he staged a critically acclaimed one-man version of Shakespeare's Macbeth at Glasgow's Tramway, which transferred to Broadway, following an equally successful production of Greek classic The Bacchae in 2007.
Both projects were for the National Theatre of Scotland, where Tiffany was director in residence for eight years until 2014. Cumming, from Aberfeldy, also paid tribute to a formative influence from his own days of learning, remembering the teacher from Carnoustie High School in Angus who helped him.
He said: "Mrs Law was my English teacher at high school.
"We had a drama club and she was the one who really pursued me to come.
She was the one who told me I was good at acting. It was the first time I'd ever been told I was good at anything.
"Then when you realise you are actually quite good, you wonder why you're good at it and some other people aren't.
"It's like being double jointed or something. So I'm very grateful to her for saying to me that I had some value. I think it's important when someone like John Tiffany is looking back and talking about a person who inspired him, because he has inspired many people himself."
After leaving the National Theatre of Scotland, Tiffany went on to direct Harry Potter And The Cursed Child, which he co-wrote with Potter author JK Rowling and playwright Jack Thorne.
"John has been such a great exponent of Scottish theatre, as was Alasdair.
"As well as exploring the essence of Scottishness in our performance style, I think this lecture could go on to become something which is a discussion of what's new, what's missing in Scottish theatre."
The Cameron Lecture, tonight, Bute Hall, University of Glasgow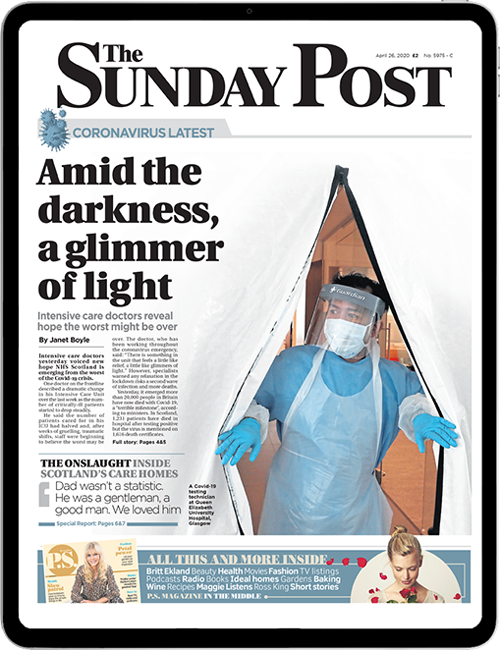 Enjoy the convenience of having The Sunday Post delivered as a digital ePaper straight to your smartphone, tablet or computer.
Subscribe for only £5.49 a month and enjoy all the benefits of the printed paper as a digital replica.
Subscribe