He's a man who can seemingly do anything. Idris Elba can look effortlessly cool. He can act in some of the biggest movies on the planet, like the hit superhero flick, The Suicide Squad.
He's also a crack DJ as well as a kickboxer.
The art of playing the bagpipes is beyond him, though! I caught up with Idris, who plays villain-turned hero Bloodsport in the latest DC Comics super hero movie about a ragtag bunch of misfits who team up to save the world.
Every time I meet up with him he's seemingly learned a new skill so I asked him what was next…perhaps he could already play Scotland's national instrument?
"You know what, I can't!" he said. "I was in Sydney, Australia actually and our (The Suicide Squad) producer who has a Scottish background took us out on a boat. He took us around Sydney Harbour for dinner.
"Then he cracked out the bagpipes and went for it. It was incredible, beautiful. I was thinking to myself, wow. I've got a new appreciation for the bagpipes."
Speaking of learning things, Idris previously starred in Channel 5 show Family Affairs, a world away from a blockbuster movie.
Ross His Suicide Squad costume probably cost more than the soap's annual budget! But Idris knows how valuable his apprenticeship was on the show, in which he starred from 1997. I asked him what he learned on it.
"How to learn your lines in five minutes…!" he laughed.
"As it relates to soaps, the thing about them is you don't have much time for the car crash, but you've got a lot of time for the reaction to the car crash, what it means and how it moves the story along."
Idris stars opposite Margot Robbie, who is the chaotic Harley Quinn in The Suicide Squad.
She joked to me that making this latest film was "awful" which sent Idris into a fit of laughter.
"I can't agree with Margot," he laughed.
"It was definitely a rare experience, it's a travelling circus to another travelling circus. Every now and then you bond with a film that you take with you for the rest of your life in some versions. This is one of those."
Idris also plays a mean character who's more Dirty Harry than Superman. In fact, he's a character who, by his own admission, put Superman in intensive care.
"Yeah that was something that developed," he said.
"When I signed on I didn't know I was playing Bloodsport and neither did (director) James (Gunn). We just knew this character was an anti-leader that had a personal connection to life that he needed to discover.
"Then it became Bloodsport and I discovered that him putting Superman in intensive care was a big part of Bloodsport's history I said, 'wow, we have to have that in there.'"
I also chatted to Idris about Love Island. Sadly, he's not really a fan but co-star Margot is…next week I'll bring you more from my chat with her…and why she's desperate to visit Scotland!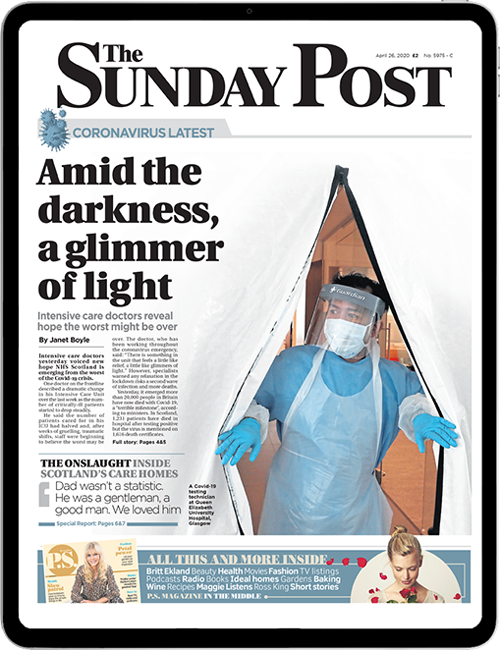 Enjoy the convenience of having The Sunday Post delivered as a digital ePaper straight to your smartphone, tablet or computer.
Subscribe for only £5.49 a month and enjoy all the benefits of the printed paper as a digital replica.
Subscribe