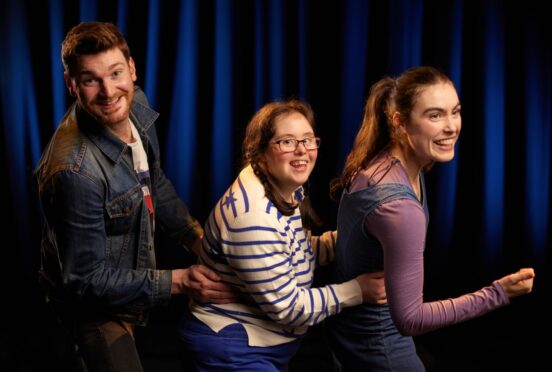 With a big smile and ambition to match, Abigail Brydon says life is good since becoming an actor.
The 28-year-old is starring in a touring show called Downs With Love, partly based on her own experiences of having Down's syndrome, and is backing calls to encourage others with learning disabilities to get on stage.
She hopes primetime BBC drama Ralph & Katie, a spin-off series from The A-Word, which follows a couple with Down's syndrome navigating the early days of marriage, will help open more doors.
"I watched Ralph & Katie and thought it was very good, I learned a lot from it," said Brydon. "It's good to see other people with Down's syndrome on film and TV as it might make others think they can do it, too.
"It's been a great challenge to put on the play and hopefully it encourages other people to do this. I would say to go for it. Being involved in this has made me more confident, not just in theatre but also outside in life.
"I feel a lot more experienced and it makes me feel confident."
Suzanne Lofthus, the founder of Cutting Edge Theatre, the company behind the play, says it isn't always easy for people with a disability to find a clear pathway to professional acting in Scotland and has called for more accessibility.
Lofthus set up Cutting Edge Theatre – whose patron is Sarah Gordy, the star of Ralph & Katie – in 1995 after leaving the oil industry because she wanted to make a difference through the arts.
She said: "I was first taken to youth theatre as a painfully shy 15-year-old and it felt like it was where I fit in and found confidence, so I'm very committed to making theatre that can make a difference.
"During lockdown, we created what we call a ladder stage – looking at equal access to the performing arts for learning disabled people – and that's been a huge learning journey for us. We set up a youth theatre for learning disabled people in Edinburgh as well as a young company, and it's been fascinating to see what works and what doesn't work, and how best to help and enable learning disabled young people to have the same journey I had from walking into a youth theatre to working professionally.
"Currently there is no formalised drama training pathways in Scotland for learning disabled people, so Cutting Edge and about 40 other individuals and organisations in Scotland are currently working on that. It will take a long time, but it's very necessary and very needed, so I'm learning all the time.
"We need to see more positive representation in Scotland on our stages and screens. We're actively talking to different people within film and TV about increasing access and a lot of work is going on behind the scenes. We need to see them beginning to listen and to programme and schedule more shows and currently that is not happening, but hopefully it will in the future."
Lofthus has adapted Downs With Love into a three-part TV drama but has so far had no interest from executives.
She first had the idea 30 years ago for a play where the central character had Down's syndrome, but it was only when Brydon attended Inspire, a programme created by Cutting Edge to offer drama training to young disabled adults, that she revived it.
She said: "We always ask the young adults what their dreams are so we can try to help them fulfil their potential and Abi said she wanted to be an actor. So I began to work with her and our lead tutor, Katie Milne, and we incorporated some of Abi's real-life experiences into the play. I think one of the key stories is when she went to a drama group and was rejected."
Brydon, from Fife, explained: "When I was studying acting at Fife College, I wanted to explore more acting so I looked for a drama group to join. My mum emailed a group and asked if I could join, but when I arrived a woman took me outside and said there was no part for me in the play. They told my mum they should have been made aware that I have Down's.
"I don't see why that is something I have to disclose before joining a drama group."
Downs With Love sees Abi as Beth, a happy and confident young woman who takes a shine to Mark, a singer in the local pub. But he is already falling for Tracy, Beth's support worker, and everything becomes complicated. Touring Scotland during Down's Syndrome Awareness Month, the play challenges perceptions about disability and relationships.
Abi's understudy is 18-year-old Alexandra Bald, who also has Down's syndrome, making her professional acting debut. The play also has an integrated BSL interpretation in every performance, with actor and interpreter Rachel Amey joining the cast to play Beth's confidante, while audio files to help visually-impaired audience members are available from Cutting Edge's website.
Brydon's ultimate dream is to be a part of her favourite TV show, Coronation Street, and she is already familiar with one of the soap's actors, Liam Bairstow, who plays Alex.
"I would love to be in Coronation Street. Tracy, one of the characters in our play, is named after Kate Ford's character in Coronation Street because when I first saw her on screen I felt a connection with her. I've written a storyline for me to be in the show, where I'm Tracy Barlow's biological sister. Also, my boyfriend Liam is in Coronation Street," she smiled.
Lofthus explained: "We were invited to London to perform an excerpt of the play for a disability-in-theatre conference and Liam was there. The two met afterwards and within five minutes they'd become boyfriend and girlfriend."
Lofthus is determined to make a difference to the lives of young learning disabled people through theatre. She said: "I get quite emotional when I see the advances they make, from them being able to stay in a room – which for some is a challenge at the beginning – to being able to recite Shakespeare in a play."
---
Downs With Love is touring St Andrews, Edinburgh, Aberdeen, Cumbernauld and Musselburgh from Tuesday. For full details of dates visit cuttingedgetheatre.co.uk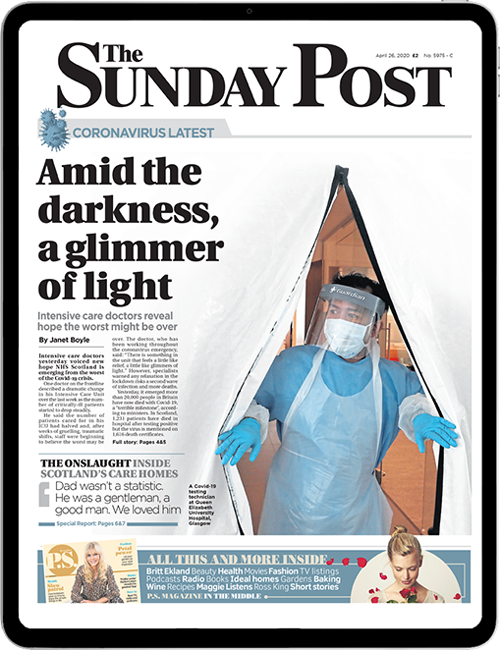 Enjoy the convenience of having The Sunday Post delivered as a digital ePaper straight to your smartphone, tablet or computer.
Subscribe for only £5.49 a month and enjoy all the benefits of the printed paper as a digital replica.
Subscribe