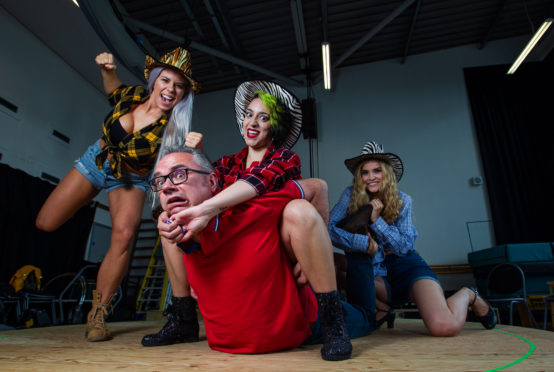 As The Weekly News publishes its final edition, writer Alan Shaw reflects on his time at the paper.
I joined the good ship Weekly News in September 1994.
I was a little older than the usual sports desk recruit, having been to university and completing an – utterly pointless – masters degree.
I also worked for the council as a clerk for a year after making a complete Horlicks of my first interview for DC Thomson.
With nothing to lose, I gave as good as I got the second time round when they tried to goad me, asking one senior chap: "Did your wife buy you that tie? As a joke?"
Apparently he liked my chutzpah and when I phoned home from holiday on Crete, my mum told me to phone a number in Dundee.
Standing in blazing sun in Agios Nikolaos as scooters buzzed past, I was told to report to The Weekly News sports desk on my return and that I wouldn't be required to undertake the usual DCT training course in Dundee.
I remember nothing else of that day.
Nicknames were still mandatory in journalism at the time and because of my uni background I was initially called the Student Prince, and my colleague Mr Craig Campbell, whom I've always known as "Vic", still occasionally refers to me as "Stu" – as in "Stu-dent".
The chief football writer of The Sunday Post at the time was the towering former Rangers defender Doug Baillie, known to all as "Big Man" and he'd played alongside two Shaws, nicknamed "Tattie" and "Tiger".
He felt I wasn't a Tattie and luckily the Tiger moniker was short-lived as I was overheard discussing modern architecture and someone commented: "Hark at Pat Kane" in reference to the know-it-all Scottish singer.
As a result "Kano" became the new addition to a sports team already comprising Brains, Banda, Lilo, Boon, Jooj and the aforementioned Vic, all under the command of Mark Clements who, like Brains, would become a firm friend and gig-going companion.
It was a world away from The Weekly News of today which is largely a three-man operation.
Us sports hacks had a double life, too, as we wrote and put together the WN from Monday to Wednesday, had Thursday off and then did the same for The Sunday Post on Friday and Saturday.
That was my existence for 17 years, working from 4pm till 11 most Saturday nights, meaning several weddings were missed.
My favourite job in the early days was being sent to get the film from our football photographers at the big game of the day – there was no wifi to send them electronically, so you'd collect the rolls of film and head back to the office at half-time.
I'd spend the entire first half hunkered down behind the advertising hoardings at Scotland's major grounds.
I'd then make a dash along the touchline and down the tunnel, which once saw me bundled to the ground by four burly Strathclyde "polis" who assumed I was going to punch the Hearts manager – or, worse, nick their half-time pies.
The Post also ran various competitions including a fishing one which entailed me driving around Scotland dropping specially-tagged trout off in various lochs and lakes.
I still have no explanation as to why one was found on Brechin high street.
We would try to cover football in a different way, often through photo stories, and when I found out that a young chap signed by Dundee United had done his national service in the Swedish Air Force's fire brigade, a phone call soon had him – and me – sat behind the foam cannon of a huge fire tender as it raced down Dundee Airport's runway at full tilt.
To be honest, I was getting fed up with football – more accurately, arrogant young footballers – so was excited when the sports boys were asked to start contributing to the rest of the paper.
I could now write about, well, anything, really and promptly started doing just that, building strong contacts in entertainment especially, and was living in hog heaven when a first round of staff cuts made it sensible to move to the Post's Edinburgh office as a general reporter in May 2011.
Unexpectedly, this turned out to be the most enjoyable spell in my time with DCT as that office filled the paper and I worked on anything and everything, from hard news to entertainment to my beloved rugby.
Brilliantly, I spent two days covering the filming in Edinburgh of a TV adaptation of Ian Rankin's crime novel Doors Open.
I was an extra in a pub scene – I was a natural – and although my contribution was left on the cutting-room floor meaning I can't claim Douglas Henshall as a co-star, I was left with fond memories of the catering, and less-than-fond memories of Stephen Fry, who made his dislike of the media abundantly obvious.
I bumped into Mr Rankin on the red carpet of the Edinburgh International Film Festival soon after, when I was lucky enough to grab a word with the surprisingly tall Jim Broadbent – the greatest-living British actor – and was winked at by the surprisingly tiny but jaw-droppingly gorgeous Gina Gershon.
But the "highlight" was having to walk around Edinburgh dressed in a hideous nylon Norwegian "onesie" for a spoof fashion shoot, giving the camera my best "Kays catalogue model pose" much to the delight and derision of the capital's good citizens.
Incredibly, that was the only day I bumped into my best friend and Edinburgh-dweller while working – he walked straight past me, shaking his head.
After 18 months the decision was taken to close that office and I came back to Glasgow after my first-ever promotion, to joint lead reporter for the WN alongside my "work wife" Mr Campbell.
Then began the long-running series of articles our editor Mr Billy Higgins likes to call "Alan makes a fool of himself again".
For your entertainment I have taken trapeze lessons, a Dirty Dancing masterclass (mortifying) and stripped off in Edinburgh's Meadows to "perform" with a troupe of acrobats.
I've been beaten up by a trio of lady wrestlers – actually, I quite enjoyed that – and stood in the Globe Of Terror as motorcycles whizzed past my ears. That didn't scare me but having a mad European from Cirque Berserk throw knives at me in Plymouth last summer was bloody terrifying.
Actually, that wasn't the first time I'd run away to join the circus thanks to my PR chum Mel, as she'd previously flown me out to Budapest to join Recirquel for a sexy show set in 1930s Montmartre.
The high point came when I was plonked on yet another bleedin' trapeze – but this time I was surrounded by more corsets, black lace and fishnets than you'd find in an Ann Summers catalogue.
I was flanked by Csilla and Zsanett, and with Olivia draping a shapely pin over my shoulder, I felt like I was starring in my own James Bond poster.
I had a similar experience when I joined Lorraine Chase for tea. She was fabulous, funny company and was genuinely tickled when I told her truthfully that every man's gaze had followed her as she walked into the room – and I was being glared at by envious chaps.
It was in contrast to the day before when, in the same venue, my interviewee was mobbed like no one I've ever talked to.
Yep, everyone wanted a slice of Mark Little – who'll be Neighbours' Joe Mangel for ever more.
---
Puzzled by Puddles, non-speaking clown
I'm often asked who I've enjoyed interviewing most and the genuine answer is John Lloyd.
The genius behind Blackadder, QI and Spitting Image was wonderful if horrifically hungover company.
Pointless co-host Richard Osman came close, I'd love to have a beer or four with him, and the same goes for Hairy Biker Dave Myers – while the chats I've had with David Essex were an absolute joy.
Speaking of singers, if you'd told the teen Alan that he'd one day interview his first pop crush Kim Wilde, he'd never have believed you.
One "interview" that stands out was with Puddles, the huge – and non-speaking – clown. How I got 800 words out of that I'll never know.
I got 10 times that when I sat for 45 minutes by the side of the A9 when Robert Powell was in a talkative mood.
At least I recognised Hollywood royalty Anne Archer's voice, unlike Frank Bruno who seemed amazed – and amused – to be asked: "Who's speaking, please?"
And it was a bit of a surprise when American Pie singer Don McLean rang my home number one evening as he'd missed my call earlier that day.
Almost as big a surprise as being asked out for a drink by a former Coronation Street star who was coming to Scotland on tour and said she'd fallen for my "Sean Connery accent".
Gosh.
But it's chats like the one with the late Peter Vaughan, his last-ever as it turned out, that will live longest in the memory.
He said he'd enjoyed it, that I'd obviously done my homework and made him relax, laugh and remember co-starring with Frank Sinatra.
If "genial" Harry Grout was happy, that'll do for me.
---
The day I made superstar Beckham giggle
Sometimes, something brilliant just falls into your lap, writes Alan Shaw.
In 2004, the sports editor offered the Northern Ireland international football gig to a junior colleague.
Foolishly, this fellow turned it down as it would mean travelling to Belfast several times a year – and he'd just got two cats.
I was mates with the sports editor and two days after telling him "I'd have bitten your hand off for that", I was sat in the Crown pub across from what would become my Belfast base of operations, the Europa hotel.
Thus began five fabulous years of making firm friends with local hacks and players alike, and the fact it coincided with Lawrie Sanchez taking Northern Ireland from goalless non-entities to 27th in the world was an absolute bonus.
I saw "us" – as I still now regard the team – inflict stunning defeats on Spain and Sweden, and hand Sven-Goran Eriksson his only competitive defeat as England boss.
I witnessed Beckham-mania at first hand and had him giggling at a couple of jokes I told him his two youngest would love.
That night, spent with the team in a Belfast nightclub with my pals and the victorious team, will live long in the memory.
If only I could remember it.
I walked every almost every inch of Belfast and did the same in away trips to Stockholm, Tirana and San Marino.
I fell for cold, beautiful Stockholm while Tirana is the oddest place I've ever been.
The traffic was insane, the kebabs – with a handful of French fries – delicious and I ended my trip hobnobbing with the natives at 4am in a bar in a part of town previously restricted to Communist Party apparatchiks.
Running late for the San Marino game, I hailed a taxi up the mountain with Kate Hoey, Labour MP and staunch NI fan – one of the weirdest lifts of my life.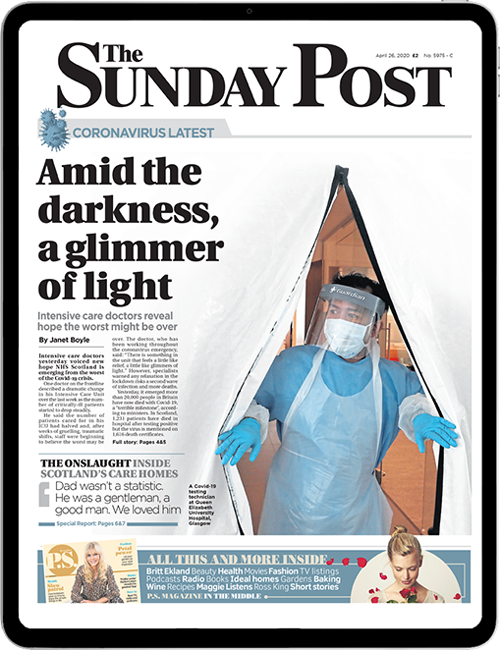 Enjoy the convenience of having The Sunday Post delivered as a digital ePaper straight to your smartphone, tablet or computer.
Subscribe for only £5.49 a month and enjoy all the benefits of the printed paper as a digital replica.
Subscribe