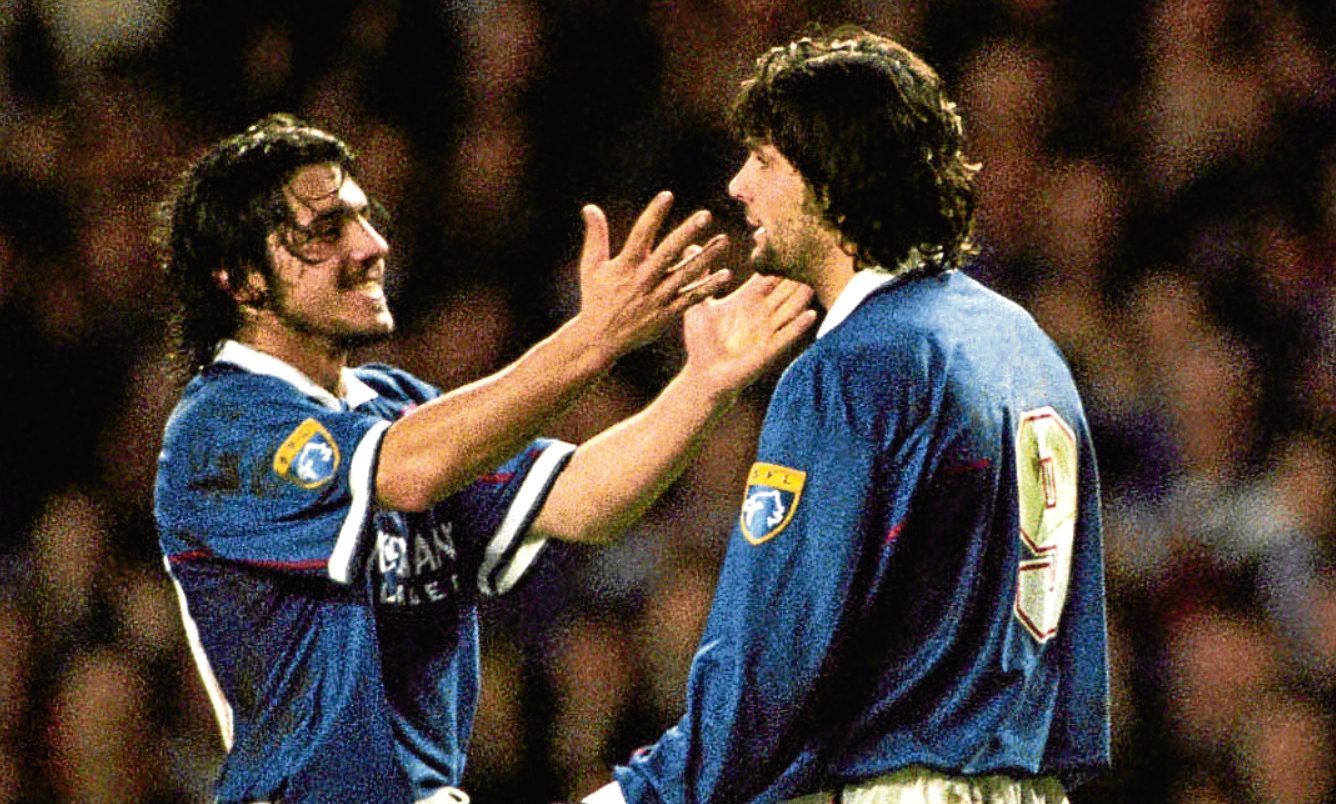 FIFTY-TWO days after Pedro Caixinha was sacked – and a run of results up till yesterday that had placed Graeme Murty in the frame to succeed him – the manager's office at Ibrox still has a "Situation Vacant" sign on the door.
Derek McInnes rejected the chance to manage Rangers, and there is a growing perception that the club is becoming a poisoned chalice no one wants to grasp.
Marco Negri, on the other hand, has his suitcase all packed and ready to go.
The former Light Blues favourite – recently appointed striker coach of Serie A outfit Udinese – says he would love the chance to do a similar job at Ibrox.
And, ideally, under his countryman and Rangers team-mate from the late 1990s, Rino Gattuso.
Gattuso was recently appointed manager of AC Milan, where he became a legendary combative midfielder after his 34 games in Light Blue.
Things change, though, and Negri says the notion that the man they call "The Growl" in his native Italy could lead Rangers before too long should not be discounted.
"Gattuso to Rangers? Could it happen? Maybe," he said.
"In my opinion, if he were to finish his time at Milan, then Rangers would be able to get him.
"That would be great for them because he has everything it takes to do well.
"Like all Italian coaches, Rino is very strong on the tactical side of the game.
"This is something we have always been famous for, and Rino played in a Milan side which was the very best in that regard.
"And, as we all know, he is blessed with an incredible determination to succeed.
"When he is in the dugout, he lives games in the same way he used to live them when he was a player.
"He shouts, he screams, urges, cajoles and generally does everything he can to transmit his wishes to the team."
Negri's view about both Gattuso's passion for the game and his lasting affection for Rangers is both endorsed and underlined by his assistant at Milan, Pierro Baffa.
"I discovered that Rino was in the hearts of the Rangers fans – and vice-versa – when I accompanied him to Glasgow for a charity match between Milan and Rangers legends in 2012," he said.
"Rino had played there only one season. But when he went on the field, 40,000 screamed his name.
"The noise made the hair on the back of your neck stand up.
"He is someone who knows how to be loved – by the fans, by his team-mates and now by his players."
Negri himself became an instant hit with the Rangers support, hitting 23 goals in his first 10 League games alongside Gattuso in season 1997-98 after a £3.5m move from Perugia.
He was back at Ibrox as recently as the match against Hamilton Accies, when he did co-commentary for Rangers TV.
The Italian got more than he bargained for, too, with the visitors running out winners in a League match at the Govan ground for the first time in 91 years.
"My passion and my support for Rangers are more alive than ever," Negri continued.
"I follow the Scottish game closely, and I never miss a single Rangers match.
"Unfortunately, I must admit that for all the money that was spent last summer, Celtic are still far ahead of us.
"For me, the current situation at this point is exactly like the one we were in last spring.
"A coach has been sacked and the team is in the hands of a caretaker.
"Last season it was Mark Warburton who had to leave, this time it has been Pedro Caixinha.
"In my opinion, Caixinha was never suitable to be Rangers manager.
"From what I have been told by people close to the situation, it just didn't work.
"He had bad relationships with a number of the players – especially with Kenny Miller – and in such a situation nobody can succeed."
Under Graeme Murty, the man who was caretaker boss last season and is again now, things are more united.
Wednesday night's victory over Hibs saw Rangers achieve a feat not even Celtic have managed this season – four League wins in a row.
For Negri, it could be the beginning of a proper challenge to the Hoops.
"We should never forget Rangers are a huge club, with one of the greatest histories anywhere," he said.
"It is a history which was built on strength of character. In recent times, it seems to me that this aspect has been missing.
"These wins, especially the two over Aberdeen, suggest that could be changing, which is great to see.
"I have always felt this was the key to getting back to being competitive for the title. You need to be much stronger than all the other teams outside Celtic, and be able to beat them all and not drop points along the way.
"Then, once you get that, you have to treat the games against Celtic as cup finals and see what happens.
"Then the players have to be warriors. They have to be ready for a battle.
"I say this as someone who has worn the jersey himself, and still feels strongly about Rangers!"
Common wisdom has it that Rangers' failure to lure Derek McInnes away from Aberdeen was a setback.
Negri, who is liking the upturn in results under Murty's charge, is philosophical, reasoning that perhaps it was just not meant to be.
"McInnes is certainly a good manager, one who had the added bonus of having been a Rangers player," he said.
"This would have helped because it meant he was familiar with the environment.
"I think this is so important.
"Rangers teams not only need to be technically and physically strong enough to meet all the challenges they face.
"They must also have the never-say-die spirit for which the club is famous.
"Over the years, there have been many in the shirt who have shown this desire.
"Many are still out there – men with a willingness to get involved and to help bring the club back to a position where it is winning trophies once again.
"For this reason, I do not worry too much about the failure to recruit one particular target to be the manager.
"It is the mentality and the spirit which is important, and I am sure this can be passed on through the generations.
"I know for myself that my suitcase is packed and ready to go!
"To return to Rangers and to coach the strikers to score goals for the fans would be a dream come true for me.
"That is what I am doing right now.
"For the past three weeks, I have been the coach of Udinese forwards.
"Their manager, Massimo Oddo, called me to ask me to do this, and I was very happy to accept.
"It might be a coincidence. But since I started working with them they can't stop scoring, with 13 in three games!
"But, as I say, if the call comes from Rangers in the future, I will not hesitate."