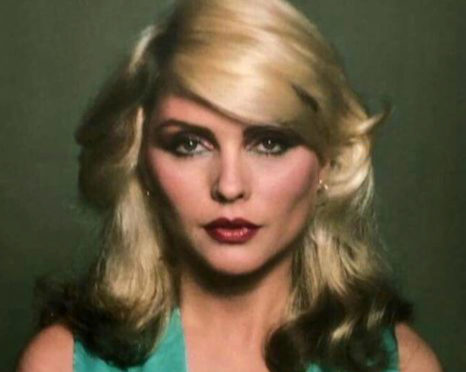 Bursting onto the scene with her shock of blonde hair, smudged red lipstick and cheekbones that could cut glass, Debbie Harry dragged punk rock from New York's backstreet basements and onto the world stage.
Now, after more than four decades in the limelight, the Blondie frontwoman's long-awaited memoir has been released, detailing the highs and lows of a career that defined a generation.
From finding stardom with band co-founder and then partner Chris Stein, to heroin addiction and bankruptcy, Face It offers a glimpse into Harry's enigmatic world, filled with familiar famous faces including Iggy Pop, David Bowie and Andy Warhol.
The now 74-year-old, who described her Blondie character as "an inflatable doll but with a dark, provocative, aggressive side", shares details of gigs, parties and events, painting a colourful picture of the Bohemian '70s and beyond, which turned her into an icon.
Here, we speak to two Scots inspired by Debbie Harry's music, style and attitude to explain what it takes to become an icon.
---
Pam Hogg 
Fashion designer Pam Hogg has been close friends with Debbie Harry for over 30 years after they met in London in the 80s.
Pam, whose designs have been worn by pop stars including Debbie, Siouxsie Sioux, Kylie Minogue and Lady Gaga, says they bonded over their shared love of music, fashion and art.
Pam, originally from Glasgow, recalls their first meeting and pays tribute to her "sister and goddess".
---
I was sprawled on a settee, cocktail in hand, wearing one of my black mesh catsuits and in walked Debbie. I motioned to my outfit, saying: 'You might like one of these.' She said, casually: 'Maybe I do'
Debbie always looked incredible in every photo without fail, she had awesome clothes and an aura of total desirability, but I didn't realise until we suddenly met just how much she'd touched me.
It was the night before one of my first London shows and I was gearing up for another all-nighter to finish the collection.
I'd turned down an invite to a party that was going on next door to my studio, but around midnight I thought I'd pop my head in. I only stayed a few minutes but as I headed back towards the door, I was caught by the hostess saying "don't go Debbie's about to arrive".
I had no idea who she meant but just at that moment in walked Debbie Harry.
I didn't have time to draw breath before being introduced. I became like a five-year-old, holding her hand, saying "I love you" on repeat. The look of distain on her face was shattering. Thankfully, I was saved by Blondie guitarist Chris Stein who whisked me off onto the dancefloor.
Two days later I was sprawled on a settee at a fashion week party. Cocktail in hand, I was wearing one of my black wet look and mesh catsuits straight off my catwalk.
In walked Debbie again, looking straight at me. I prayed she didn't recognise me and motioning to my outfit said: "I think you may like one of these". She said very casually "maybe I do" and we arranged to meet in my shop the next afternoon. When I got there the door was locked. I knocked and Debbie appeared from inside, waving her finger, saying through the glass, "Sorry we're closed!" That was it. We were friends for life.
Over the next few years we kept in touch. I often stayed with both her and Chris in New York, and she'd call me up every time she hit London.
Early 1993 she came to the Rocket on the Holloway Road when she found out I had joined a band. She was first backstage bearing a gift of a small bronze hog. The band were pinned to the wall when she walked in, they thought I was joking when I'd handed in my guest list.
She was incredibly supportive saying how much loved my performance and a few months later when Blondie were about to play Glasgow, she called up to see if I'd open up for them. It was insane, a chance to open for Blondie! Only problem was I'd left that band after only a handful of gigs. I somehow managed to get a band together in five days and made the last two dates. Sadly, I missed Glasgow, which would have been awesome but we opened up for Blondie in the then new Birmingham Opera house.
When were were hanging out it felt like sisters, she was incredibly funny, kind and generous. On the last of the two nights of the tour she had the dress straight off my back to go on stage. For the encore she called me out of the audience to come on stage and sing a duet with her.
Sadly, we don't see each other often enough now as we both work non-stop but whenever we meet it's like old times. The last time was two years ago when when she was doing a fashion fashion shoot for Wonderland magazine. She realised the location was really near my flat so said she'd pop round and pick me up and to grab a few of my pieces I may have hanging around that she could wear. I was actually wearing a pink blouse that she loved so I brought another. When we arrived the photographer asked if Id join the shoot for one photo, I reluctantly agreed as had no make up on and bed head hair. We shared a quick kiss, just a moment between two good friends, but someone caught it on camera and that ended up in one of the pages.
We have the same life philosophy of live and let live, and just be yourself – how pointless and exhausting trying to be like someone else.
We're both still loving what we do and continuing to be relevant is everything, nothing else seems important. Age is just a number when your spirit is alive.
Debbie and Blondie's music stands the test of time. It's difficult to choose a favourite song, but Dreaming is always a staple at the end of my DJ sets. It still lights up the room with everyone singing along. Rapture was way ahead of it's time and so pertinent now as it was written on the spot in true rapper style.
She's a goddess. Fashion will come and go but to stay in the game it's all about your attitude and strength of mind.
---
The Tribute 
Sarah Kennedy, 42, is a trained psychiatrist but also the lead singer of Scotland's best Blondie tribute band, Dirty Harry. She spends a fortune on outfits, wigs and make up to get the look just right and says the secret of paying proper tribute to the pop icon is to go for it, the way she would.
I think I was about six or seven when I first heard Blondie. My brother had a copy of Parallel Lines, which he borrowed from our next-door neighbour, and when I flicked through his albums, the black and white stripes and this cool, beautiful woman on the front really drew me in.
Unlike my brother's other favourite bands, I could sing along to Blondie, too. So, years later, when I started to think about what I could do for a tribute band, she was the only choice really.
When I'm performing you can see how alive she is in the minds of people who were fans back in the day – you can see them be almost transported back in time. It's an amazing thing to watch.
When I don't have on my platinum blonde wig, people actually say I look more like Agnetha from ABBA. But once I have on the wig, apply the make-up and wear the outfit, people do comment on the likeness.
Atomic has to be my favourite song to perform as Debbie. There's no better club song than Atomic – and it's just as fresh as it was when it was first released. Even when you hear it on the radio now, it's just ageless.
Debbie is an icon and also quite a complex character because she's this sex symbol while also being a strong feminist. It's fantastic fun performing as her.
She always wanted to collaborate with other artists, she had an acting career and she wrote music, so it wasn't just about the performance for her – but she makes it look effortless.
I think there's a general consensus that you never really get to know Debbie. She's an enigma and I don't think the memoir will change that. And I do wonder how much of the book will be true to fact and how much will be Debbie Harry's brilliant storytelling, blurring the lines between fantasy and reality.
---
The Book 
Here, in extracts from Face It, Debbie Harry's memoirs, she pays tribute to some of her own heroes.
On Marilyn Monroe
I felt that Marilyn was playing a character, the proverbial dumb blonde with the little-girl voice and big-girl body, and that there was a lot of smarts behind the act. My character in Blondie was partly a visual homage to Marilyn, and partly a statement about the good old double standard.
On Iggy Pop
There was nobody who could use a stage better than Iggy — except maybe David Bowie, who was a superstar at that point but still happy to play the role of sideman.
On Andy Warhol
I've lived with that Andy Warhol portrait for a long time now, so I'm much more used to it, but seeing all these portraits of yourself for the first time, by an artist who was so important to you, was startling. I guess I was just stunned. And humbled.
On Patti Smith
Rock was a very masculine business in the mid-seventies. Patti dressed more masculine. Though deep down I guess we came from a similar place, my approach was different. In many ways, you might say that what I did was more challenging.
On Janis Joplin
I loved the physicality and the sensuality of her performance — how her whole body was in the song, how she would grab the bottle of Southern Comfort on the piano and take a huge slug and belt out her lines with crazed Texan soul. I'd never seen anything like her onstage.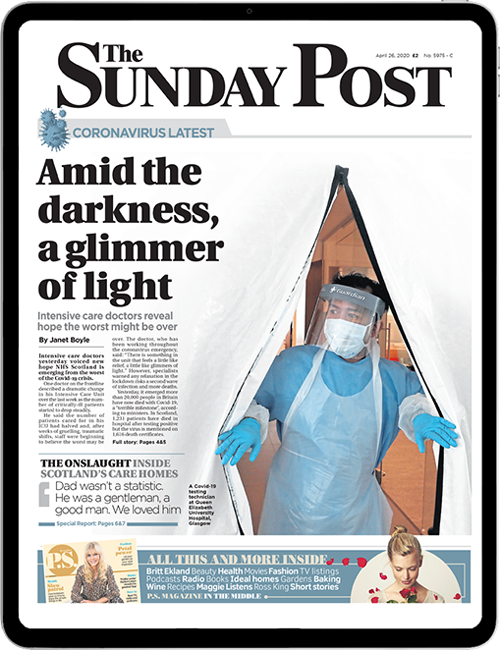 Enjoy the convenience of having The Sunday Post delivered as a digital ePaper straight to your smartphone, tablet or computer.
Subscribe for only £5.49 a month and enjoy all the benefits of the printed paper as a digital replica.
Subscribe