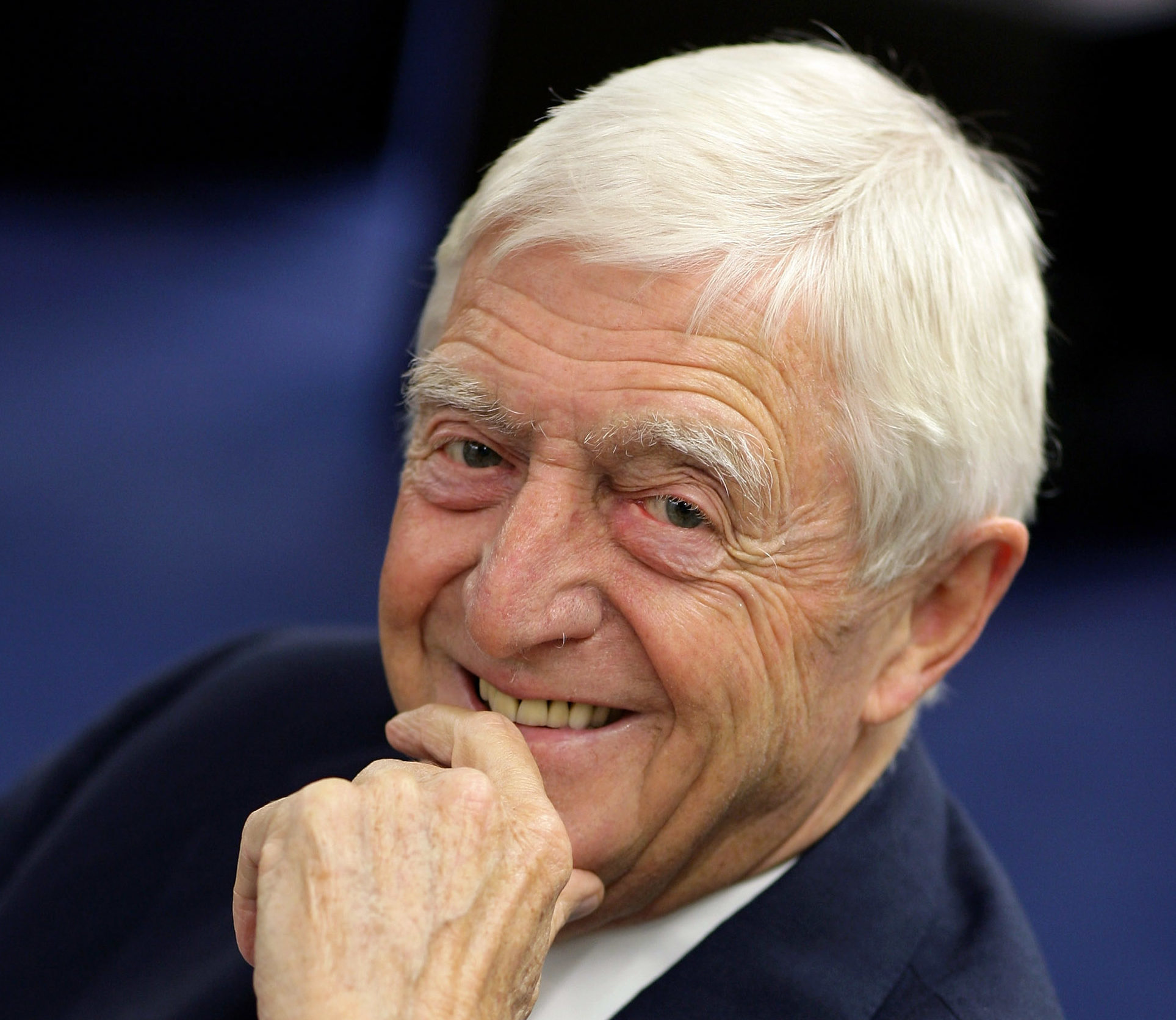 SIR Michael Parkinson may be 83, but retirement is still far from his mind.
He has endured a "rough four or five years" with regards to his health, but one of the things that keeps him going is his love of work.
More than a decade has passed since Parky stepped away from his iconic chat show, but the Yorkshireman has continued to busy himself with a variety of projects.
"I think it's terribly important to keep working and if you're in a job where you can do that – and get paid at the same time – then you are very blessed," he mused.
"There is a tendency now for older people to get old and be old. But generally speaking we are healthier and live longer.
"I wouldn't know what else to do. If you've done it from the age of 16, it's a lifelong habit and one which becomes difficult to break.
"I can't think of anything I would replace it with that could give me as much pleasure.
"When my son Michael and I go out on stage in front of a crowd and have that contact, there's a shared commonality of purpose.
"They are happy to be there and it's very gratifying to know you can still bring that kind of pleasure. It's very satisfying indeed."
Michael is referring to his new stage show, Our Kind Of Music, which comes to Glasgow and Edinburgh this month.
Musical clips from the Parkinson show archives are shown and discussed as he chats with his son about his love of music, specifically the Great American Songbook.
"I've probably gained more satisfaction from music than any other art form," Michael explained.
"From the age of seven or eight I became aware of artists like Louis Armstrong and Billie Holiday.
"When I did the talk show it was my policy to get as many of my musical heroes on as I could."
Scotland is very dear to Michael, and one reason is Billy Connolly.
It was thanks to Billy's appearance on Parkinson that the Big Yin became a household name throughout Britain.
"We gave him his first chance. He and Dame Edna Everage were on the most – 15 times each.
"I get the odd email from him – the last was about six months ago.
"What's happening to him now is very sad, one of the saddest things to happen in my career.
"We were great mates. At one point he lived next door but one to me.
"We went through everything together and had great times.
"It's a huge sadness that his immense talent has changed."
As for his own rough period of health, he was diagnosed with prostate cancer in 2013 and last year had a back operation.
He insists such health issues do not make him consider his mortality.
"I've never dwelt too much on that, I just deal with what comes."
Michael could never have imagined when he started in journalism more than 60 years ago that he would still be involved, although he says the industry has changed so much he probably wouldn't try to get a foot in the door today.
"A guy used to come round every Monday for details of the local cricket team from my father, who was the captain, and I thought it looked good," he smiled.
"It wasn't the journalist I envied, it was his bike. He had this big rally bike.
"Eventually that's the job I did, local correspondent. Those were great days. Learning your trade, learning to interview people – including those who didn't want to be interviewed – but the job as I knew it has disappeared.
"The industry has changed so radically I don't think I'd know where to start."
Coming from a working-class background, he admitted to often not feeling like he belonged in the career positions he reached, but learned to turn those negatives into positives.
"I don't think anybody from my background who went to Fleet Street did it nonchalantly.
"You would be aware all the time of being in the company of people who you thought were more intelligent or better educated, and all of that might be true, but what you soon have to realise is you wouldn't have been hired if something hadn't been seen in you.
"You lose that feeling as you go through your career, I think, and begin to have more confidence in yourself."
That self-confidence was needed as Michael came face-to-face with some of the world's biggest stars.
"I never was anxious or nervous before interviewing someone. You're not allowed to be nervous.
"You're the host, so you have the upper hand. You're the one waiting for the guest to fall down the stairs.
"You have to be in charge, even if you feel in awe of some guests.
"To see Ali, a man who was superhuman, physically the most extraordinary person you will ever see, walking towards you, there might just have been one or two doubts about what or who you are. But generally speaking you have to be relaxed to make them feel relaxed."
Chat shows have changed since Michael stepped away. Gone are the occasional probing questions, replaced by comedy and perennial friendliness.
Sir Michael says there are several reasons for the change in tack.
"People had never seen the real James Stewart, Bette Davis, James Cagney or Henry Fonda as the studios wouldn't allow them on to chat shows.
"But that changed in the '70s and all of a sudden they were there. People hadn't seen them in real life.
"It was almost mythical, a wonderful moment in time when we were introducing great stars.
"Nowadays, due to the internet, we know every sordid detail about people in the entertainment industry, so there is no longer shock or surprise.
"And broadcasters are chasing a younger audience and the format has gone back to comedy shows, as it has always been in America.
"There is nothing wrong with that and Graham Norton does it well. It's a difficult gig to pull off and few do it as well as he does. It's a very good show."
But if you long for the days of the undisputed master of chat, look no further than Michael Parkinson: Our Kind Of Music as he takes a trip down musical memory lane.
Assembly Rooms, Edinburgh, City Halls, Glasgow, April 21-22.