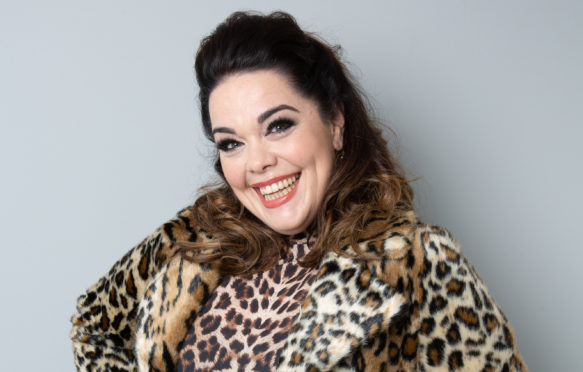 Emmerdale star Lisa Riley blasts into the room like a hurricane. It's her third attempt to steal some time away from a relentless schedule of line-learning and filming.
But she's determined to sit down and a catch-up with P.S. readers. Breathless but beaming, she says: "I'm filming every hour God sends. It's a studio day today and hectic but I'm glad we got to fit it in the end!"
After a 17-year break from the diva that is Mandy Dingle, Lisa, 43, made a surprise appearance on the ITV soap in January as an uninvited guest at cousin Marlon Dingle's wedding.
Last month saw the lairy legend back for good as she burst in unannounced on Jessie Dingle locking lips with sexy ex Al Chapman. And this week, viewers can tune in to caught-out casino scammers Mandy and son Vinny facing a Dingle court after trying to hack Lydia's bank account to pay back gambling boss Terry.
Lisa, who describes herself as "the salt" in the Emmerdale "broth", says she loves the show. And she puts her return down in part to po-faced Strictly Come Dancing judge Craig Revel Horwood, who she got to know while competing in the BBC One hit show in 2012.
Lisa, who with Craig and the show's professional dancers has for the last three summers joined cruise giant P&O for its Strictly-themed voyages, reveals with a chuckle: "The whole cruise ship becomes Strictly. I was hosting and interviewing Craig and one of the things that he said was that he would like to be Mandy Dingle's dad in drag.
"Then when we opened the Q&A up to the audience, someone said: 'Why don't you go back to Emmerdale?' I went back to my room and I thought, 'why not'? Wherever I have gone, no matter how many jobs or how many dramas I have done, everything always seemed to spiral back to Mandy. So here I am and it's lovely."
And she says her cherished mum Cath, who died shortly before she was plunged into the glittering world of ballroom dancing, would be thrilled with the Emmerdale return.
Lisa, who won the National Television Awards for Most Popular Newcomer for her part in the soap first time round, recalls: "My mum would always ask if she could drop it into the conversation with people because she was so proud. She would be elated if she knew that I was back in Emmerdale.
"I struggle hourly with grief for my mum. I have my own personal way of dealing with it. I would not go to a doctor and say give me some Diazepam. That's not me. If it is going to hurt it is hurting for a reason. I won't say how I cope with it. Grief is fully down to the individual.
"It is sink or swim, but what better therapy – and my mum would say the same – than to be dropped into Strictly covered in sequins, performing, and making people laugh rather than being under a duvet crying myself to sleep; and believe me I did do that.
"My mum was always there, even when you made mistakes. She was an advocate of, 'if you make a mistake you have to learn from it and try your best never to make that mistake in the future'. If I had kids that would be how I would try to bring them up."
Mancunian Lisa has been candid in the past about her and fiancé Al's failed bid to have children through IVF. She publicly revealed doctors had told her the procedure would not work for them. Now she has resigned herself to letting nature take its course.
The star, who still has her dad Terry and brother Liam, says: "My mum is not here to see me without children, but I know she would be the proudest gran. Liam lets me be involved with his kids – Jakey, who's eight, Joshua, five, and Evelyn, who's almost one – because I haven't got my own. And he always tells the kids that Nana Riley lives in the moon.
"It's absolutely beautiful. Jakey plays for Manchester City, he is in their football academy. I can brag, he is phenomenal. Whenever he plays he always says, 'I'll get an extra goal for Nana Riley.'
Lisa is unapologetically guarded about her relationship with Al, but she shares with P.S.: "She never met him but I know mum would love Al. We haven't got any plans for the big white wedding at all, if it happens it happens. We will do something of our own.
"To be very honest, it is like we are married, we don't need a piece of paper or another ring, we are dead happy in our little cosy life.
"We met through work. He is musician. It was a slow burner for both of us but here we are now five years on. It works because we are private. I have learned the hard way; the second you put your relationship in the public eye it goes wrong – it has for me on numerous occasions.
"All the reality (TV) people, they will tell you anything and leave nothing to the imagination. I am not getting any younger either, and you don't know how long you have left on this earth. Wherever I go people know who I am, so my idea of heaven is closing the door, putting the telly on and my joggers and us just being in our own little lovely way. That is my God-send in life. No make-up, no lashes, hair in a knot – it's perfect."
A self-confessed girly-girl, Lisa admits she is also a Tom-boy and top telly for her is mix of football and Strictly – especially when ex-Emmerdale actor Kelvin Fletcher (formerly Andy Sugden in the soap) is dancing up a storm.
Lisa reveals: "Kev rang me before the show and said, 'will you sit on front row and support me?' but I couldn't because of work. He was fantastic, everything that Strictly is about.
"I also know Oti (Mabuse, Fletcher's dance partner) so well. She is truly a task master, and he will get better and better."
So what's on the wish list now for the Queen of Soap who has done everything from pantomime to TV dramas and chat shows like Loose Women?
"There's nothing left for me to do. I want to be an Avon lady," she laughs. "I have always said I'd like to be the cook downstairs with no teeth stuffing the goose in a beautiful Christmas drama. That would be the only thing that I have not yet done.
"I do truly feel that I have ticked every career box I wanted to. I think of the directors and writers I have worked with and you get to a stage where they don't even audition you; they say, 'I want 'Leese' (Lisa) to play that.'
"If they feel you are capable of pulling that role off, it doesn't get any better than that."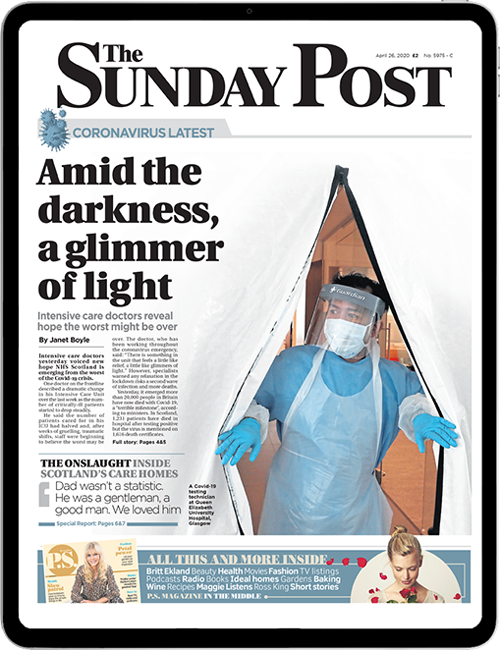 Enjoy the convenience of having The Sunday Post delivered as a digital ePaper straight to your smartphone, tablet or computer.
Subscribe for only £5.49 a month and enjoy all the benefits of the printed paper as a digital replica.
Subscribe