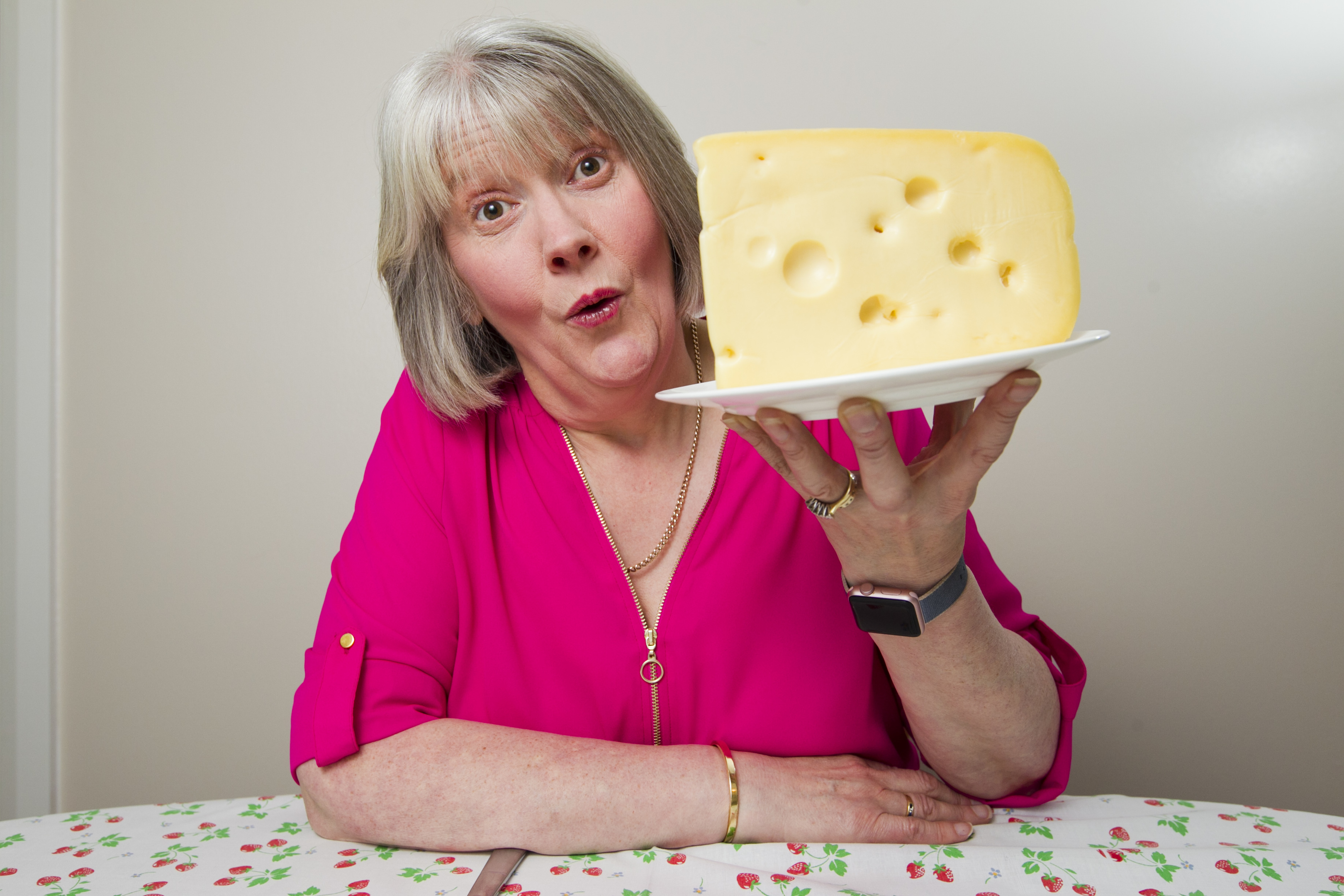 A self-confessed cheese addict lost nearly half of her body weight after cutting the dairy product from her diet.
Bonnie Kilroy, 53, would eat cheese with every meal and weighed 20.8 stone last January when she was at the height of her cheddar cravings.
She was getting through almost seven pounds of grated cheese every week – and using cheese spread instead of butter.
But the mother-of-two says people hardly recognise her in the local supermarket now that she weighs just 11 stone.
Bonnie, from Bishopbriggs, said: "Looking back now it was terrible. I was a strict cheese lover and I was going through half a dozen bags of grated cheese a week – and that's not including the spreadable cheese.
"I would've put cheese on top of cheese back then. For breakfast I'd maybe have grilled cheese on toast, for lunch a baked potato with cheese, pastas with cheese or a cheese salad.
"In the evenings I'd have crackers with Dairylea spreadable cheese and then sliced cheese on top."
But Bonnie cut it out completely after being inspired by the success of her son Kevin, 27, and daughter Colleen, 23.
She said: "Kevin is a top engineer and Colleen is a marketing executive. Watching them go to university and do amazing things for themselves really inspired me.
"I decided I wanted to make them proud of their mum."
---
HOW BONNIE USED TO CHEDDAR GORGE
Breakfast: Sliced cheese on two pieces of toast (grilled)
Lunch: Baked potato with cheese
Dinner: Margherita pizza with extra cheese
Snack: Crackers with soft, spreadable cheese with sliced cheese on top
---
Last January, Bonnie said enough was enough and joined a Weight Watchers club to curb her eating habits.
She was shocked by how much she didn't know about the food she was eating.
"I feel like education on food was such a big factor. If people knew exactly what was in their food, they'd change their diet. Because I certainly didn't realise how much fat was in things."
Each Friday, after weighing in, Bonnie would call her children and mum Patricia to report back on her progress.
She said: "My family are my support network. It turned into a weekly event – I'd call them and let them know how much weight I had lost that week. I definitely couldn't have done it without them."
Bonnie now has a new addiction – and luckily it's a healthy one.
She has substituted cheese with every meal for fruit.
"Five-a-day? More like 15-a-day sometimes. I snack on fruit all the time. I actually have to cut down on my fruit intake some weeks."
The 53-year-old now has banana on toast for breakfast, soup for lunch with some fruit – and for dinner she has soup with chicken and veg or a baked potato.
In the evenings Bonnie snacks on natural yoghurt and strawberries.
The former cheese-aholic has not been tempted to relapse since going cold turkey.
It is actually chocolate she misses the most – although she does allow herself a cracker and cheese as a treat every few weeks.
She said: "I don't miss it because I feel like a totally different person since changing my diet. I don't feel as slow and sluggish as I did.
"I've got more energy, I want to get up and do things and I'm so delighted about it, people have to double-take when I say hello or wave at them."
In 2015, a study published in the Public Library of Science One journal found that cheese contained a chemical found in addictive drugs.
The authors reported that the protein casein was the cause of "cheesey" cravings.
But Dr Charlotte Hardman, lecturer in psychological and food studies at Liverpool University, dismissed the 2015 study.
She said: "People develop unhealthy behaviours towards certain foods, but in terms of an actual substance addiction, I'm not so sure."