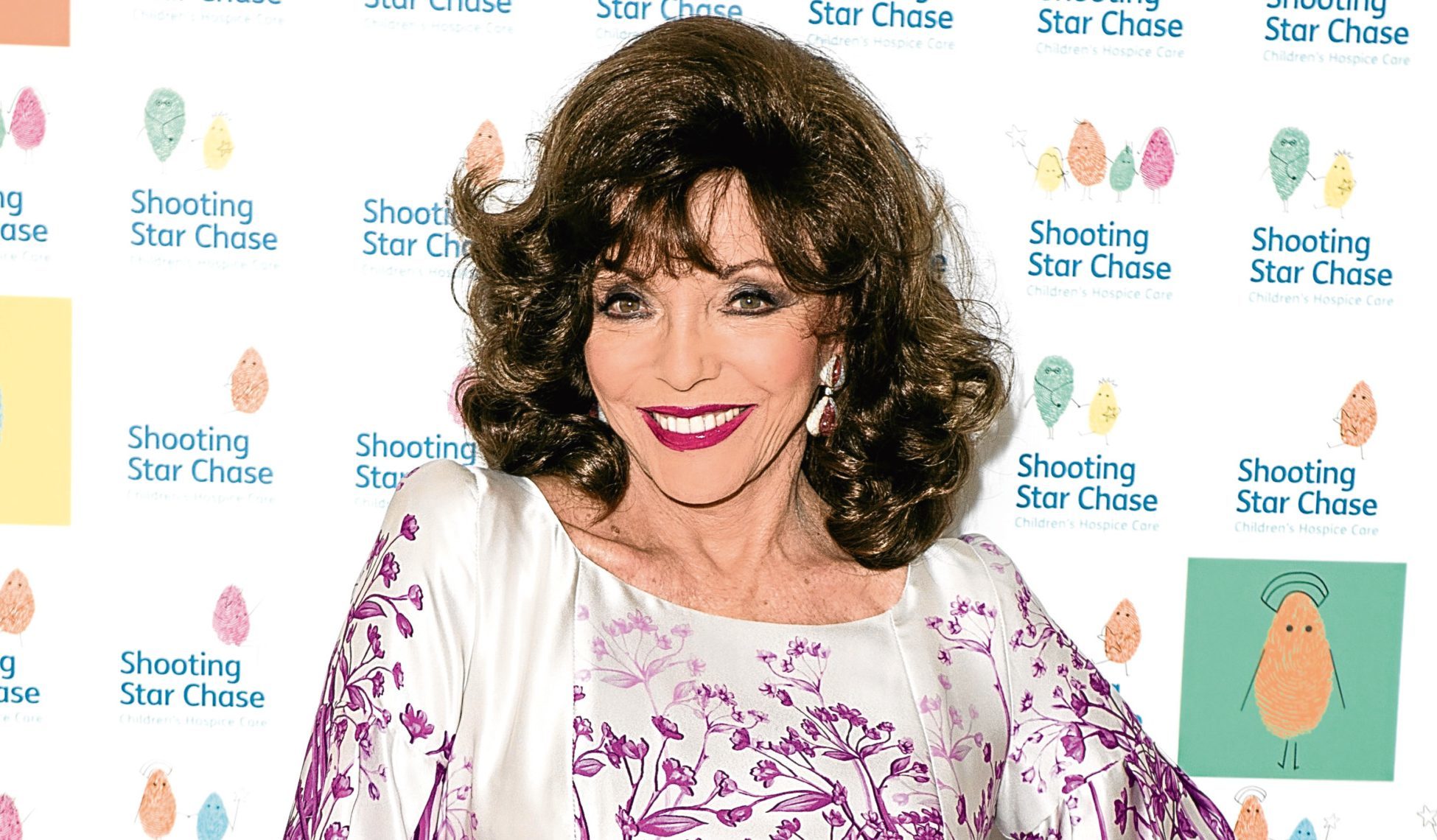 Life is never boring with Joan Collins around. Just this year she has been touring the country with her theatre show, working on another movie and even had a fire at her home in London – all that and still glamorous in her 80s.
"I am still loving life and that is, I am sure, one of the great secrets of keeping going – to be happy with what you do," said Joan.
"It also helps you cope with whatever is thrown at you.
"I go to bed at night looking forward to the next day and I think that is so important. If you go to bed at night dreading the next day then you cannot be happy and you really need to do something about that, otherwise stress will set in and life becomes really dreadful.
"It is true that I have had my share of disappointments and failures but the secret is not to get morose and dwell on them.
"Learn from them by all means but don't look back wishing you had done this or that.
"Look forward and focus on what you are going to do next. I think Irish people are great at that. Despite all their setbacks in history they always look forward with a smile on their face rather than moan about the past. They remember their heritage but they always look forward to the next challenge – or the next party.
"I love parties and I love to throw parties. I like each one to be an event that will always be remembered.
"I like to organise every little detail and make sure that my parties are simply the best. I have great guests, I have good food.
"All the parties that I've ever given have been really good and that's not just my opinion."
Joan must have been far from party mood when her Belgravia apartment caught fire some weeks ago.
"It was a bit scary," she admitted. "It was about a quarter past four in the morning and we could smell something and then hear something, and the next thing we knew was that we had a wall on fire!
"My husband Percy was brilliant – my superhero – because he grabbed a fire extinguisher and tackled the blaze before it got worse.
"The firemen turned up and finished off Percy's work and there were some ambulances and we were treated for smoke inhalation.
"I must say that the firemen were brilliant in keeping damage to a minimum and making it all safe, and the NHS people were also fantastic – they really looked after us and made sure there were no complications.
"It was a worry at the time of course but Percy kept cool and the whole thing passed off without too much fuss.
"It is not an experience I would want to have regularly though. It was bad enough when we were flooded a few years ago. But we survive these things. You have to have a cool mind and if you have to run away you make sure you grab a lipstick."
But it has not been all trauma for Joan this year.
During the first few months she was on tour with her one-woman "audience with" show, in which she talks about her life and career and takes questions from the countless fans who have packed the theatres.
"I love those shows because I really enjoy meeting people," Joan explained.
"Of course you get asked the same questions in the different places, but you get some really unusual and nice questions too, and I often try to remember them for the next time I am being interviewed.
"We have a lot of fun and laughter during those evenings too and that is what I am about really – having fun."
Joan does have her serious side of course.
"I support a number of charities but I like to do more than just be a token patron. They are all serious issues that need to be addressed and I do whatever I can to turn the spotlight on them and to try to help and make a difference to the lives of others. That sounds a bit twee but I mean it."
Joan is 86 on May 23 but really does not look anything like that age. She still radiates glamour and fun. She constantly receives huge amounts of fan mail and regular offers of new films or TV shows on both sides of the Atlantic, which is probably why she has homes both in Britain and the US.
"It gives us the best of both worlds," she revealed. "I like America and get on well with Americans, so we spend a fair bit of time there, but I am born and bred a Londoner and I still feel at home here – even though it has changed so much and is hardly recognisable as the wonderful city I grew up in and adored.
"I guess you have to move with the times but I do miss some of the London I grew up with. It is not the same these days but I still enjoy being here and I still like to see Regent's Park where I used to go as a child with Jackie, my sister.
"I like to think about the past but I don't dwell on it, I still have plenty of future left in me. I am only in my 80s! I hope to be around for another 20 years yet and I mean to make sure I keep busy. There is no way you will hear me talking about retirement, I enjoy my work and keeping busy far too much."
Not only has Joan been busy on a theatre tour this year, but she has also been filming for the modern TV series Hawaii Five-0 and appearing in American Horror Story.
"Television has changed a lot and when you appear in an episode of a series it is almost like making a film. If you are in a series then it is a series of films.
"It doesn't matter about the size of the screen, the production itself can be as huge for TV as for the cinema. I enjoy both and intend to do a lot more yet.
"I like breaking new ground and that is not always easy because people see you in one kind of role.
"For me, it has almost always been glamorous for many, many years but I love doing comedy. It is back to creating laughter again. Laughter is such great medicine.
"Even making American Horror Story is funny. In the series I am a cannibal but I am also a witch, I am also an ex-movie star and the wife of the ex-head of MGM so I get to be sinister, scary, witty and really catty at times. Great fun."
That just about sums up Dame Joan Collins – she is just such great fun and looks like being so for many years to come.