LOOKING out for your kids is the number one priority for every parent.
Making sure they don't go without, that they grow up with what they need.
But for Maggie, 42, providing food and clothes for her three children is a constant battle.
She has made many personal sacrifices – including existing only on noodles and cup-a-soups so her kids can eat better.
But Maggie's is a battle that would be totally impossible at Christmas if it weren't for Cash For Kids.
Her family, from Aberdeen, is one of thousands which have been helped by the annual campaign.
After a report revealing more than one in three kids in some parts of Scotland live in poverty, The Sunday Post has teamed up with the Cash For Kids Mission Christmas appeal to help deliver respite, and festive fun, to even more children.
Maggie's kids are 11, eight and four.
She recently split from her partner, but his job at a fruit and veg wholesaler meant there was just one wage coming in and no benefits available to help.
"I've not been able to work because of looking after the kids but I really want to get a job and I'll do just about anything," says Maggie, who has both hairdressing and mechanic's qualifications.
"I need to make sure I can still be here for the kids and don't have to spend half of my low-paid job wages on childcare.
"I'm just trying to do the best for my kids. I don't smoke, I don't drink and I don't take drugs. Everything I do is for them."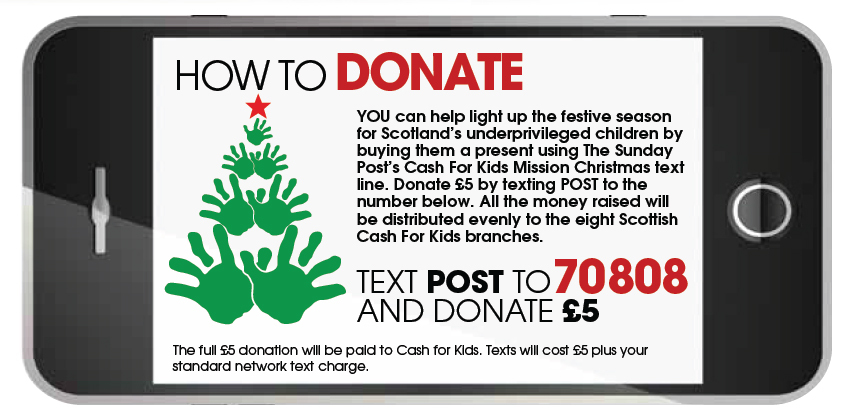 Getting the older two smartly dressed for school is just one of the struggles Maggie copes with.
But she makes sure the uniforms are bought, often one item at a time over a period of weeks as she ekes out a budget where every penny counts.
Holiday times aren't spent on sun-kissed foreign beaches but rather involve walks and playing in local parks. Or away-days for a couple of pounds a time organised by a local community project.
The day-to-day grind, though, never goes away.
"I have to budget for absolutely everything," she explains.
"I always look for the 'reduced' lines in the supermarket.
"The important thing is that the kids eat as well as we can manage. I try and make sure they get their five-a-day – I don't always manage it but they do get as much fruit and veg as possible.
"And while I might be serving them chicken nuggets I look to get the healthiest ones with 100% meat.
"But it meant that I was buying 50p packs of noodles for my partner and myself – just the supermarket own-brand ones – and three or four of them would last a week.
"Or we'd have the soups. Basically, it was anything which filled you up, regardless of how bland they tasted.
"When the kids would ask why we ate noodles we'd just say we liked them. They didn't need to know.
"Every pound is accounted for. It's tough on a Thursday or Friday when the kids ask why we don't have this or that and I have to say I'll do the shop at the weekend."
Maggie can't recall the last time she had enough for a night out with friends.
But even with the canniest juggling of the finances, Christmas is just too big a hurdle.
As a kid Maggie recalls her parents being able to provide plenty and she didn't want for toys and treats.
It's very different for her, however, as a mum trying to bring festive joy to her kids.
She has to take out a Provident loan each year, not paid back until the following year lest it take too much from the household budget. "I always tell the kids that they can only ask Santa for one present each," she says.
"They know there will be little odds and ends on top. I want to do more, I really do, but even with the loan the money just isn't there. Things like computers, which you know kids want, just aren't possible."
But Cash For Kids has been making Christmas that bit more special for the past couple of years.
Shortly before the big day, just as in homes all across the country, Santa comes early in the shape of the Cash For Kids delivery.
The beautifully-wrapped presents, a few toys and gifts for each of the kids, are handed over at the family home.
"I can't tell you the difference it makes," adds Maggie. "Instead of it being pretty empty under the tree there are presents for them all.
"And it's things they really want and love. I maybe can't do it all myself, but it's just wonderful to see their smiles and happy faces.
"Coming down on Christmas morning and knowing there will be stuff there means everything.
"I just don't know what we'd do without it."
Details on how to donate are above and if you don't want to donate by text, there are other ways you can contribute.
All you have to do is drop into your local Scottish Asda store to donate a gift or cash.
However, please be aware that in Glasgow and the west, only cash will be accepted because of the high numbers of kids being helped.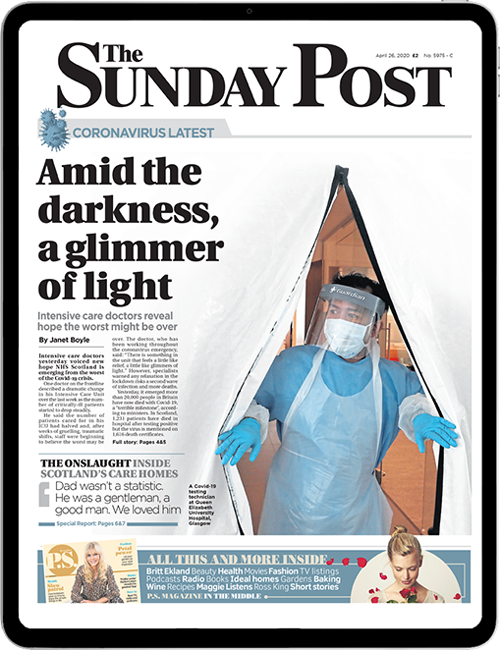 Enjoy the convenience of having The Sunday Post delivered as a digital ePaper straight to your smartphone, tablet or computer.
Subscribe for only £5.49 a month and enjoy all the benefits of the printed paper as a digital replica.
Subscribe