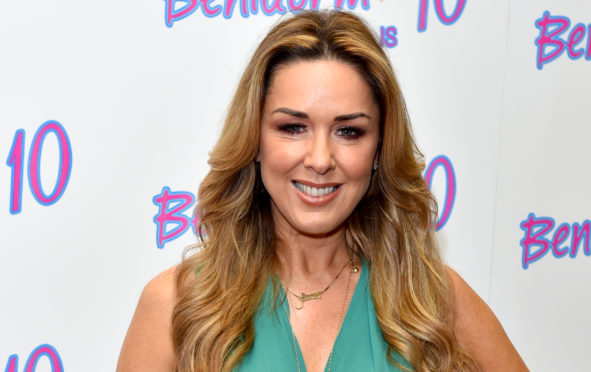 Life has never been better for Claire Sweeney. With a new BBC comedy-drama starting soon and a dream one-woman play coming next year, her career is still on the rise, 30 years after her Brookside breakthrough.
But it's becoming a mum that has brought Claire true happiness.
The actress and singer gave birth to Jaxon in September, 2014, at the age of 43, following two heartbreaking miscarriages.
And she says her little boy has finally made her life complete.
"He's brought me such joy," she smiled. "I feel I've found true happiness thanks to him, whereas before, it felt like I was still searching for that.
"I enjoy each day now and I've slowed down. I'm not killing myself going around the country on tour, like I did for 10 years.
"I have a balance between work and life now, whereas before it was work, work, work.
"He comes with me to work a lot of the time. When I do the Britannia cruise ships, I'll bring him and I have all day with him around the pool before my show.
"I realise how lucky I am. I still look forward to going to work – it's never been a chore. But now I also want to walk my son to nursery."
It won't be long before Claire is walking Jaxon – whose dad is Claire's former fiancé, Daniel Reilly – to the school gates. And she says Jaxon is more primed for the big day than she is.
She smiled: "He starts school next month and he feels ready for it. Nursery was great – it was school hours, so it got him prepared – and he's looking forward to school, but I know there will be tears from me that day!"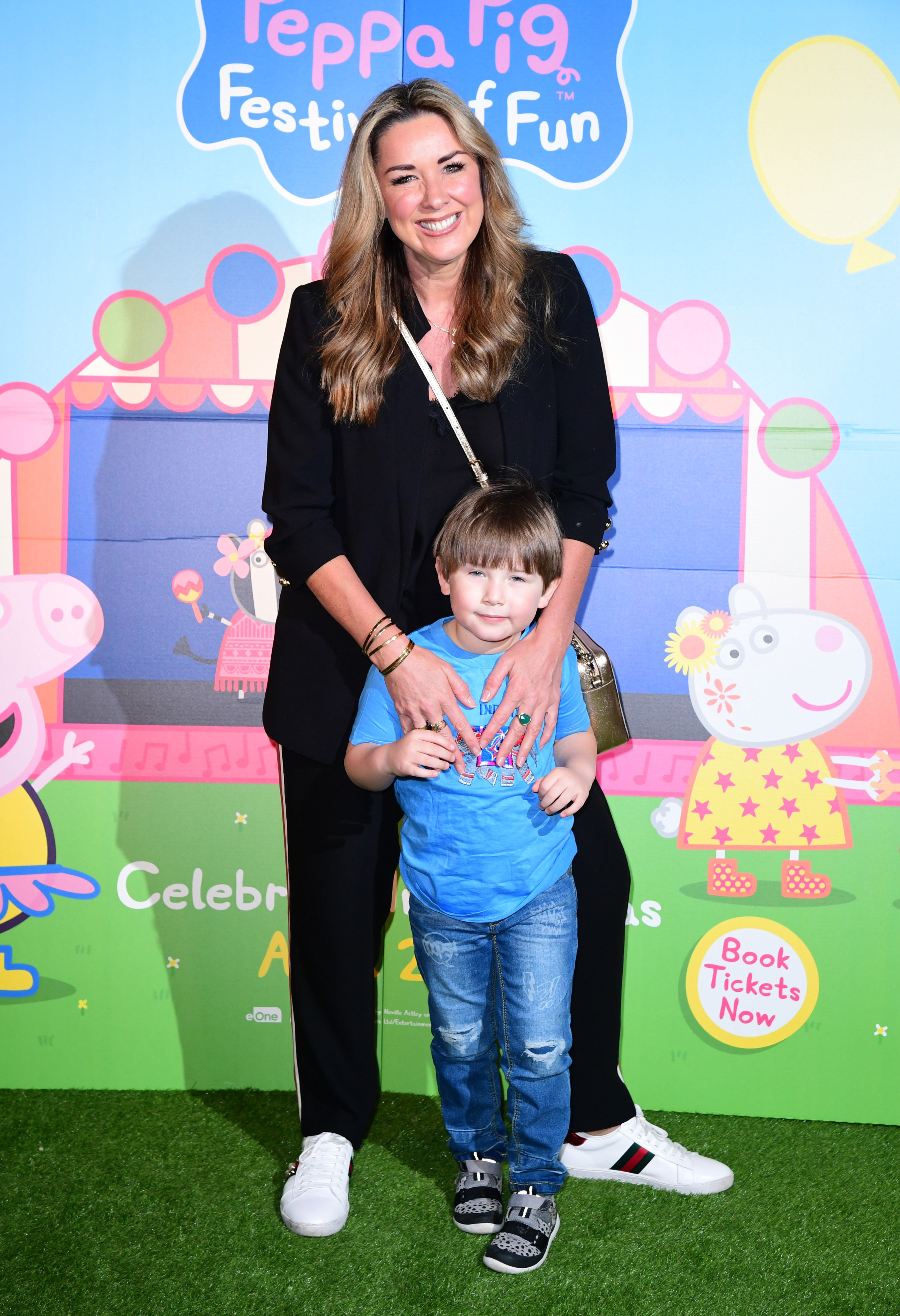 What Claire isn't crying about is her juicy new role in the much-anticipated new series from Benidorm writer-director, Derren Litten.
Following 10 series of the ITV holiday resort comedy, Derren has switched to the BBC for his next project, Scarborough.
Set in the North Yorkshire seaside town, it follows the lives of a motley crew of residents, who are bonded by family, friendship and their love of karaoke.
Alongside Claire, the cast line-up includes Jason Manford, Catherine Tyldesley and Stephanie Cole.
Claire plays Hayley Cox, a sassy, fiery character who doesn't care what anyone thinks of her.
"I'm thrilled to be part of it," the 48-year-old said. "It's such a great role.
"Hayley is feisty, no-nonsense, and she knows what she wants. She has no remorse or conscience.
"She's quite fabulous and uber glamorous. She's still living in the '80s and everything is larger than life with her.
"Her fiancé is the local gangster, Tony Peroni, and they are kind of outsiders, different from everyone else.
"Benidorm was a full-on comedy, but there is straight drama on Scarborough as well as laughs. Some of it brought a tear to my eye.
"It has a different feel to it, compared to Benidorm."
Claire was one of a long line of famous guest stars to feature in Benidorm. She appeared in the comedy's final episode as a rude and sarcastic airline check-in operator and she feels that performance led to her role in Scarborough.
"Absolutely, Benidorm was my audition for this role," she continued.
"I'd wanted to get back into acting for ages, and just needed one person to take a chance on me, so I'm grateful to Derren for doing that.
"He's such a brilliant writer.
"Benidorm ran for 10 years and still had a massive following when it finished.
"He's so good at writing one-liners that we as actors don't have to do a lot, except say the words he's written."
Claire is looking forward to the launch screening of the series, as it will mark her first visit to the town.
While the majority of the cast filmed on location, Claire shot all of her interior shots in Manchester, not far from her home city of Liverpool.
The daughter of a butcher, Claire worked weekends at her dad's shop while training at a local theatre school.
Her first gig came at just 14, with a fee of £25, and she went on to study at the Italia Conti Academy of Theatre Arts in London.
After graduating, she performed as a singer before fame beckoned with the role of Lindsey Corkhill in Brookside in 1989. She played the role, on and off, until the Channel 4 soap's demise in 2003.
Her Celebrity Big Brother appearance in 2001 catapulted her to greater fame, leading to the West End role of Roxie Hart in Chicago and becoming the face of Marks and Spencer.
She became a regular on Loose Women, was a contestant on the first series of Strictly in 2004, presented a number of TV shows, including 60 Minute Makeover, and released an album.
She also became the Forces Sweetheart, and was the first entertainer for the troops in Afghanistan.
Her stage work continued, starring in Tell Me On A Sunday, Legally Blonde: The Musical, Educating Rita, White Christmas and Sex And The Suburbs.
With 2019 marking 30 years in the business, Claire has been taking time to look back.
"Usually it's not until people say 'Remember when you did this thing, or that thing' that I'll reflect on what I've done. My mum has a great memory for my career.
"I do feel very proud of what I've accomplished. I talk about it a lot in the cabaret I've been doing on the cruise ships, about being the first entertainer in Afghanistan, starring alongside Patrick Swayze in Guys And Dolls – I've been blessed but I've also worked hard."
While some actresses have complained in that the work dries up as they reach a certain age, Claire is finding the opposite to be true.
"As I'm getting older, I'm now getting some great character roles," she enthused. "I'm enjoying it more as a mature woman.
"As you get older it's about being in the moment and embracing your age.
"I've had some great roles in Hairspray, Legally Blonde, Chitty Chitty Bang Bang, Benidorm – and long may it continue.
"The one I really want to play is Miss Hannigan in Annie."
Before that, though, is another iconic part.
"I'm playing Shirley Valentine next year, which is a dream role," Claire added.
"I feel the right age to play that part now and I can relate to a lot of what she talks about, even though I've not had the marriage.
"It's a one-woman show, so I've started reading the script already to make sure I'm prepared!"
Coverage can hurt
Claire says publications should be more careful when they comment on someone's appearance.
She received widespread support earlier this year when she hit out at a magazine that accused her of putting on two stone and being miserable about her weight.
An image of Claire appeared on the cover of a women's magazine with a negative headline and the star took to Twitter to voice her concerns.
Her tweet read, in part: "I cannot believe that in this day and age, mags are still fat-shaming."
I cannot believe that in this day and age, mags are still fat shaming. I've been in the business long enough to grow a thick skin, however I worry about those in the public eye who may not be so strong. Particularly relevant on Mental Heath Awareness Week.#nomisery pic.twitter.com/dLiyTD7J10

— Claire Sweeney (@clairesweeney) May 17, 2019
Claire told P.S.: "I didn't know anything about it until a friend told me. I didn't even recognise the picture.
"Usually they ask if you want to make a comment, but they didn't.
"When I spoke out, I explained I had been in the business for years and have become thick-skinned. I have more important things to worry about than something like that.
"But there are people out there who could be more vulnerable than I am, so you have to be careful, especially when the magazine came out during Mental Health Awareness Week."
---
Scarborough, BBC1, 9.30pm, September 6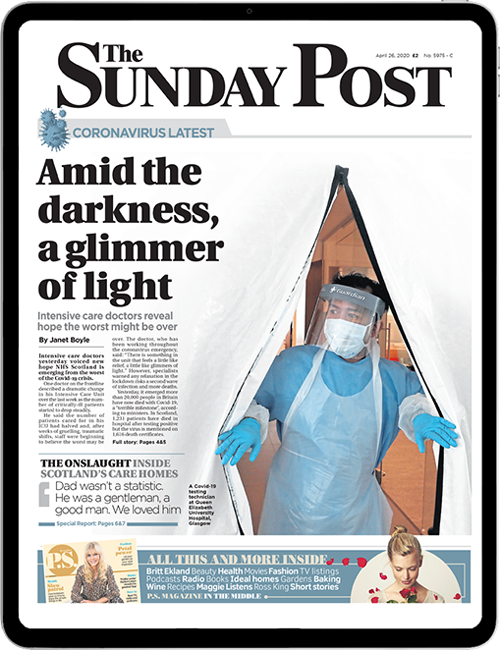 Enjoy the convenience of having The Sunday Post delivered as a digital ePaper straight to your smartphone, tablet or computer.
Subscribe for only £5.49 a month and enjoy all the benefits of the printed paper as a digital replica.
Subscribe