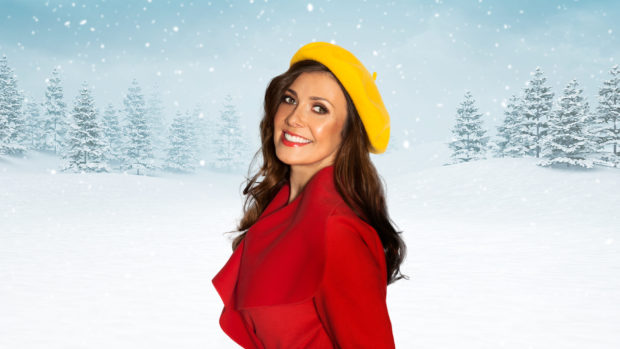 Kym Marsh might be starring in one of the biggest Christmas musicals ever to come to Scotland, but her feelings towards the festive season are best described as bittersweet.
Her Scottish boyfriend, Scott Ratcliffe, is away on military duties in the Middle East. And the Coronation Street star, whose character Michelle Connor is set to make an explosive exit from the soap after 14 years, admits to feeling anxious when Scott, a major in the Parachute Regiment, is out of contact.
"We're slowly counting down the days until he's home," she says. "It's never easy being away from each other but we try to keep in touch every day which makes a massive difference.
"When we can't do that it is really hard and a bit stressful but we are managing.
"We'll FaceTime on Christmas Day and I've sent him a care package of little things he can open to know we are thinking of him."
Her family, including eldest daughter Emilie, remains a huge support and Kym admits celebrating a first Christmas with her grandson, Teddy, will lift her spirits.
Kym, 43, says: "Because my Scott is away and not back for Christmas, they didn't want to leave me on my own so it was nice that they have all decided to come to me for a big family dinner.
"It's sweet. I really appreciate it, otherwise it would just be me and my youngest, Polly.
"I can't wait for Teddy's first Christmas. When you get older you lose the magic of Christmas a little but when you have kids you live it through them. That's exactly what's happening now."
Kym has plenty to distract her in the coming weeks as she stars in Elf: A Christmas Spectacular, which bursts on to the stage at Glasgow's SSE Hydro next weekend.
The Broadway musical, based on the hit 2003 film starring Will Ferrell, tours the UK as a super-sized Christmas spectacular this month and sees Kym's daughter Polly acting alongside mum for the first time.
"Polly is playing a slightly spoilt child telling Santa what she wants for Christmas. She is super-excited about it," says Kym.
"It will be interesting to see how she reacts to the amount of people in the audience. She'll love it and take it all in her stride. The nerves come as you get older, don't they?" Polly already has plenty of acting experience under her belt and the eight-year-old is determined to follow in her mum's footsteps.
She has just finished working on the film Lead Belly, about Armed Forces veterans affected by PTSD and homelessness, with her dad, former Hollyoaks star Jamie Lomas.
"It's something she's always wanted to do so we've just encouraged her," adds Kym. "She's always been a bit of an actress. She enjoys being the centre of attention, which always helps!
"It's impossible to be the daughter of someone on a show like Corrie for 14 years and not be aware of that side of my life.
"I knew from a young age – probably younger than Polly – that I wanted to be an entertainer and she's the same." Kym has thrown herself into the role of Jovie, Buddy the Elf's girlfriend, and is having a blast performing alongside Tam Ryan, as Buddy, and former EastEnders actor Shaun Williamson, who plays his "dad", Walter Hobbs.
With a cast of 100 and action spread over three stages, the sheer scale is unlike anything Kym has ever been a part of.
It's a role she admits she'd have been a cotton-headed ninny muggins to miss out on.
"It's nice to play something lighthearted and fun, to get back to singing again and being part of a new company," says Kym.
"We have a laugh with each other. There's a lot of camaraderie.
"Jovie is a great character. What's lovely is seeing her journey. She has never really had a Christmas and had always been a bit grumpy and sceptical of the whole thing, then really finds her Christmas spirit in the end.
"The film is a timeless classic and this adapts it wonderfully to the stage.
"There is so much going on visually and lots of audience participation.
"There's a police car chase, Santa's sleigh flying across the arena, huge snowball fights and aerial performances.
"It's a beautiful and magical thing to watch and be a part of. Scott's family is from Paisley so they will all be in Glasgow to watch me and Polly which will be really special, too."
Kym, who found fame on the reality TV show Popstars in 2001 and the resulting pop band Hear'Say, admits to being anxious about performing live again.
"I was nervous about singing because I don't really sing a lot these days, at least nothing as challenging as this. But I'm getting to grips with it and we have a great musical director.
"I do enjoy the atmosphere and the instant audience reaction of performing live."
Elf caps off a whirlwind year for Kym that saw her film her final scenes on the cobbles after more than a decade.
Having discovered her fiancé Robert's shocking affair on the eve of their wedding, it sounds like feisty restaurant owner Michelle is lined up for a dramatic exit from Weatherfield.
"It's all top secret but let's just say there's a lot of drama surrounding her departure," admits Kym.
"The last day was emotional. I did cry. It's a bit weird and I really will miss everyone. I've made some friends for life on the show and feel like I've lost part of my family.
"They've left the door open for me to go back. It's nice to think that one day I will.
"I saw it as not 'goodbye', but 'farewell for now'.
"It feels strange not playing Michelle, now I'm playing different characters, but that's what I wanted.
"It was my time to go. I've been there a long time. I hadn't experienced a lot of acting roles prior to Corrie. There are lots of things I haven't experienced yet that I'd like to, and I thought I should try them now before it's too late."
In May, Kym took on her most important role yet when she welcomed Teddy into the world.
"I was there at the birth. It was beautiful and Emilie was an absolute warrior.
"It was a special moment that I'll never forget. The biggest standout moments of my life aside from having my own kids."
When choosing her baby's name, Emilie, 22, paid a special tribute to her brother Archie, who passed away moments after being born prematurely in 2009.
Kym recalls: "They surprised me over dinner with flowers and a little present. It was a keyring inscribed with 'I love you, from Teddy Archie David'. I couldn't believe it, I was in tears."
Now seven months old, Teddy is the apple of his doting gran's eye. "I'm still not happy with being 'gran' so I've chosen the name 'Loli'," she laughs.
"It's amazing, though, and Teddy is just wonderful. He has filled a little space that was missing in our lives. He lights up everybody's day. He's so happy all the time."
The actress has also started working on her first feature film, The Loss Adjuster, a black comedy in which she stars alongside Dame Joan Collins, Luke Goss and Martin Kemp.
"It's early days but I'm very excited! I don't have an awful lot to do with Joan's character, so I'll mainly be working with Luke Goss and Martin Kemp which will be amazing.
"I'm really looking forward to a new challenge as this is something completely new for me. Things seem to be going my way so far, touch wood."
---
Elf: A Christmas Spectacular, SSE Hydro, December 14-15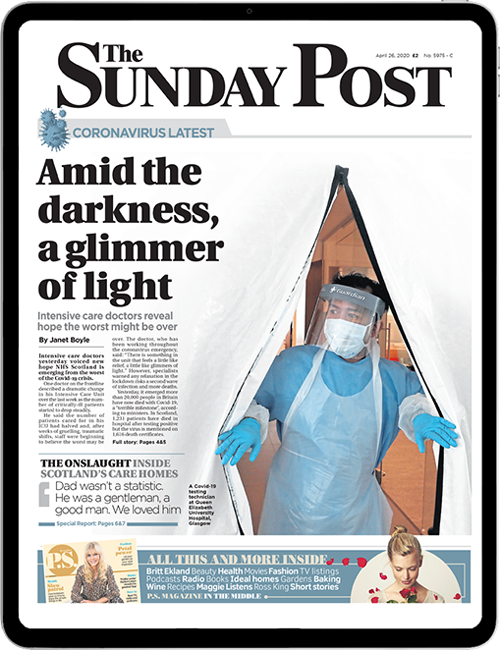 Enjoy the convenience of having The Sunday Post delivered as a digital ePaper straight to your smartphone, tablet or computer.
Subscribe for only £5.49 a month and enjoy all the benefits of the printed paper as a digital replica.
Subscribe