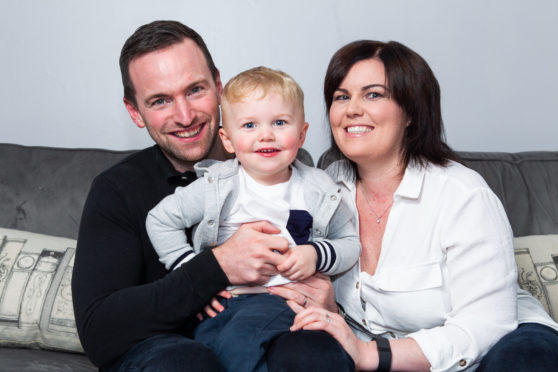 She had only been a mum for a few months when Danielle Roseweir was left stunned by a devastating diagnosis.
Just six months after the birth of baby son Jay, doctors told new mum Danielle, just 33, that she had stage-four bowel cancer and it had already spread to her liver and lymph nodes.
After months of chemotherapy, doctors said there was nothing else they could do and warned she might have only months to live.
Determined to see her son grow up, Danielle scoured the internet for answers and discovered a special type of surgery that could give her more time with Jay, now two, and last week she was given the best news possible after being told the potentially life-saving operations will go ahead in England.
Hailed as the gold star treatment for liver tumours, the "two-stage hepatectomy" is her only chance of long-term survival.
The surgery is not currently available in Scotland but this week Danielle was granted NHS funding and she is now hoping to go under the knife before Christmas. Surgeons will also remove her bowel tumour at the same time, meaning she could be cancer free.
Danielle said: "This is the miracle I have needed for two years. When I sit in that oncologist's waiting room every fortnight, I look around and realise I am the youngest patient by far. And I'm too young to take it lying down.
"I feel like I've had to project manage my own healthcare but it's literally life and death.
"Like many cases, it's a postcode lottery. If I lived in England, I could have had it by now."
Insurance worker Danielle, from Carluke, Lanarkshire, began experiencing symptoms when she was four months pregnant.
Her GP initially put it down to the pregnancy or Irritable Bowel Syndrome, but after Jay was born, her condition worsened.
"I was given various laxatives and fibre supplements and told to keep a food diary. The doctors suspected Irritable Bowel Syndrome," said Danielle. "I even Googled the symptoms myself and bowel cancer came up – but it said it was rare in the under 50s, so I dismissed it.
"Apart from being a new mum, I felt relatively healthy," she added. "But then I started having really bad episodes of discomfort and I knew something was wrong.
"I thought it was a lactose intolerance, so I cut out dairy, but when it continued, I started to convince myself something had changed during pregnancy.
"Jay was a big baby at 9lbs, so I worried the weight had upset something, or that there was some sort of hormone imbalance."
Eventually, in February 2018, Danielle was referred to Monklands Hospital in Airdrie for a colonoscopy which found a tumour in her bowel and further tests showed it had spread.
Danielle was suitable for targeted chemotherapy drug Cetuximab. She started nine cycles of treatment in April last year and initial scans showed the tumours had shrunk by 50%.
Her oncologist referred her for surgery to remove them, but after a break from chemo, the cancer had returned and she didn't have enough healthy liver left to survive cutting some away.
Last Christmas, Danielle started gruelling chemo again and endured another 17 sessions. Doctors had earlier warned she may only have a few months left to live.
Danielle said: "Getting that news was devastating.
"Finding out it was stage four and had spread to my liver and lymph nodes – and was inoperable and incurable – was even more so.
"I was terrified. The first thing I said was 'I have a six-month-old baby, I just can't accept this'.
"It was like the world just crashed down around me."
That's when Danielle took matters into her own hands and began trawling the internet for answers.
She said: "I read the profiles of people who had been told it was game over, but they outlived their prognosis by years.
"I realised there are things that can be done, and treatments can be successful.
"When I looked at the stats, I realised a small percentage of people survive past five years after diagnosis.
"And I became determined to beat the odds."
In January this year, she read on Facebook about a liver cancer sufferer undergoing a procedure that could allow surgeons to cut away the diseased organ, while also giving it time to regenerate.
Danielle emailed professor Long R Jiao, a senior surgeon based in Hammersmith and Royal Marsden Hospitals and Imperial College London, who was performing the life-changing treatment on patients in England with a 75% survival rate.
Prof Jiao told her she was eligible for the treatment but, as it wasn't available in Scotland, she had an agonising 11-month wait to see if NHS Scotland would pay for her treatment to be outsourced.
Danielle and husband Jamie are hopeful – depending on positive scan results this week – the surgery will be carried out by professor Jiao before Christmas.
"Even if I'm lying in hospital on Christmas Day with dry turkey for dinner, it will all be worth it," she said. "I want to be here for my wee boy…to see him start school and get married."
Dr John Keaney, NHS Lanarkshire's divisional medical director for acute services, said: "We are unable to comment on specific cases due to patient confidentiality.
"We have a system in place to make funded referrals to specialised services and treatments.
"These referrals often involve rare conditions so are considered on a case-by-case basis and are dependent on the proposed treatment having an evidence base that it is clinically effective."
The Scottish Government said: "Patient safety and well-being are paramount, no matter who is providing that care. Scottish Government guidance has been issued to all health boards to ensure services are always provided in the best interests of the patient.
"Should any patient have a need to travel for treatment, either within Scotland or beyond, we expect Scottish NHS Boards to have appropriate processes to enable this access."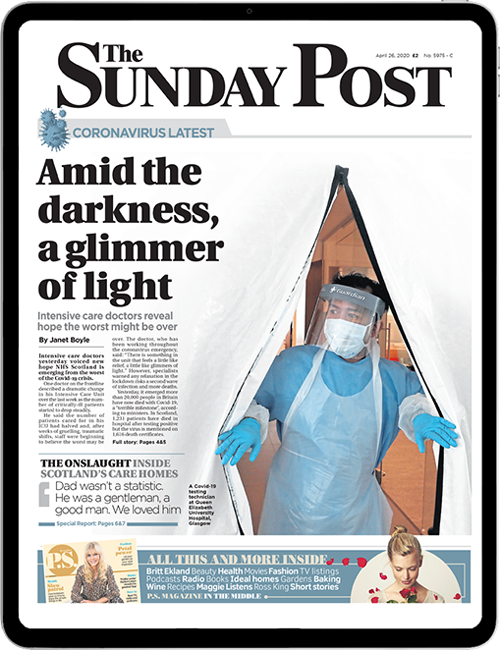 Enjoy the convenience of having The Sunday Post delivered as a digital ePaper straight to your smartphone, tablet or computer.
Subscribe for only £5.49 a month and enjoy all the benefits of the printed paper as a digital replica.
Subscribe